Courtesy of Felix Gaming, Fortune Deck is a simple guessing game of chance that requires players to predict the suit, suit color, or denomination range of the next card drawn. Betting on individual cards is also an option for players looking to pocket larger payouts. The game uses a deck containing 54 cards in total and yields a house edge of 2% only.
Volatility is low, meaning that players will experience frequent, albeit smaller wins. In terms of gameplay, Fortune Deck resembles the gamble feature incorporated into many modern online slots. With a top payout of $31,000 or the currency equivalent, this unique release by Felix Gaming definitely deserves a try if you are looking for a game that blends simplicity with decent odds of winning.
Fortune Deck Slot Summary
Game Provider: Felix Gaming
Release Date: 06.2023
Game Type: Video Slot
Theme(s): Card Game, Card theme
Reels: N/A
Wild Symbols: Yes
Rows: N/A
Scatters: No
Paylines: N/A
Free Spins: No
Payout/RTP: 98.00%
Bonus Game: No
Volatility Level: Low
Progressive Jackpot: No
Min Bet: 0.10
Autoplay: Yes
Max Bet: 500
Max Win: 31000x
Fortune Deck Theme
As simple as it is, Fortune Deck boasts an Egyptian theme and this becomes apparent as soon as you launch the game. The loading screen contains an image of a joker dressed like an Egyptian pharaoh with a crook and flail in hand. He wears a traditional three-pointed jester hat on his head, with jingle bells on each point. The joker's adornments are in gold and blue colors that traditionally symbolize a pharaoh's high status and prosperity.
Four aces, one of each suit, appear in the background behind the pharaoh jester, with the silhouettes of the mighty Sphinx and the pyramids of Giza showing in the distance. The color palette the developers have opted for perfectly complements the game's theme and evokes associations with the sun lazily setting over the Valley of the Kings.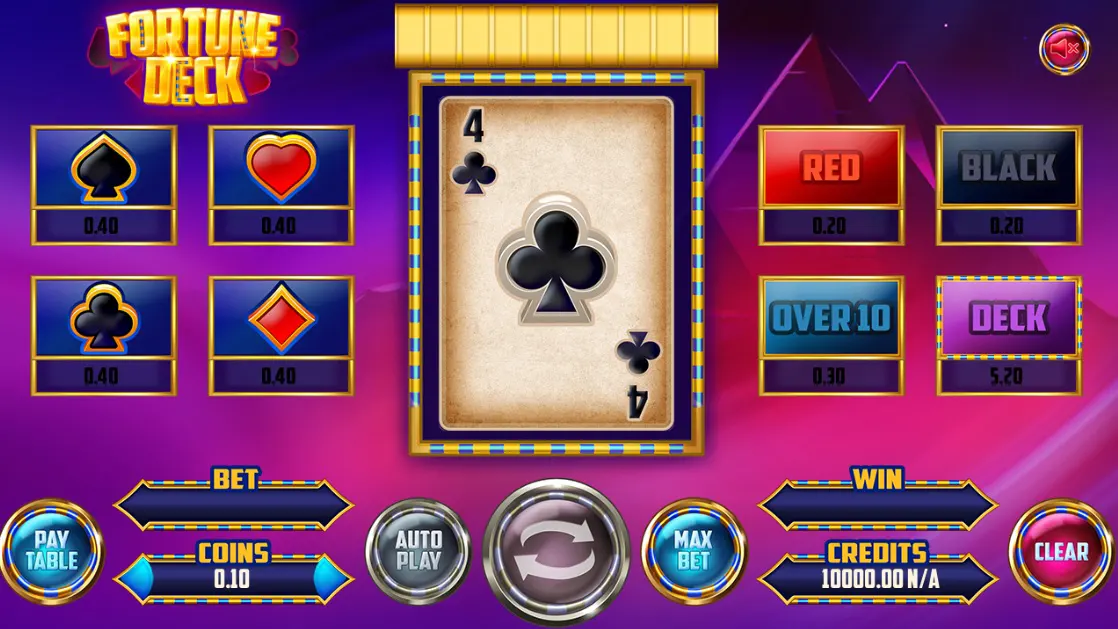 How Fortune Deck Compares to Other Slot Games
Fortune Deck bears a passing resemblance to online slots where gaming controls are concerned. The developers have equipped the game with a spin, autoplay, and max bet buttons but this is where the similarities pretty much end. There are no paylines in this game, nor reels for that matter. Fortune Deck is dealt out of a single deck, with the cards being reshuffled at the end of each round.
Players must correctly predict the suit, suit color, range, or exact denomination of the next card to be drawn. Unlike many recently released online slots, Fortune Deck has a relatively low maximum payout capped at 52 to 1. The game yields a higher-than-usual theoretical return that averages 98% and comes with low volatility, resulting in frequent but smaller wins. If you are interested in trying similar card guessing games, we can readily recommend any of the following releases.
Other Must-Try Guessing Games with Cards
Hi-Lo by Hacksaw Gaming (98.00% RTP)
Casino War by Light & Wonder (81.35% – 97.83% RTP)
Hi-Lo Premium by Playtech (97.17% – 97.50% RTP)
Four Aces by Evoplay (96.00% RTP)
Fortune Deck Symbols and Payouts
This Felix Gaming release is all about guessing as the player's objective is to predict the properties or value of the next card to be revealed. A round starts with the player adjusting their bet size, with individual wagers ranging from $0.10 to $500. Next, you must decide what to bet on. The game supports four types of wagers, with players having the option to place one or more bets per round.
You can bet on one of the four suits (spades, hearts, diamonds, and clubs) for the chance to pocket a payout of 4 times your winning wager. Betting on suit color (red or black) is another option and a correct guess pays at odds of 2 to 1. An Over 10 wager is successful provided that the denomination of the next drawn card is higher than 10. In other words, the player must pull out a jack, queen, king, or ace of any suit to win 3 times their bet. The Deck wager enables you to cover one or more individual cards with a bet and awards the highest payout of 52 to 1.
Fortune Deck Winning Combinations and Payouts
Bet Type
Payout
Suit
4 to 1
Suit Color
2 to 1
Over 10
2 to 1
Deck Bet on Individual Card
52 to 1
Bonus Features Overview
Unlike many video slots, Fortune Deck severely lacks in the bonus features department. If you expect bonus games, multipliers, or free spins, you will be bitterly disappointed and we recommend you look elsewhere as this release is highly unlikely to appeal to you. The most you can expect from Fortune Deck are two additional cards. One works in your favor, while the other one is disadvantageous to players, as you shall see in the next section.
Wild and Scatter Symbols
The jester pharaoh serves a special function as he is capable of replacing all other cards in the deck. If you back the spades outcome with a wager and pull out the jester, your bet automatically wins at house odds of 4 to 1. The same goes for all other possible outcomes with the exception of Deck bets placed on individual cards. From this perspective, the joker serves the same function as the wild symbols in online slots that substitute all other icons except for other special symbols like the scatter.
To partially offset the advantage this joker gives to players, the developers have also incorporated a blank card into the game (pictured above). The round results in an automatic loss for the player regardless of what outcome they were betting on. In other words, pulling out this blank card automatically voids all wins.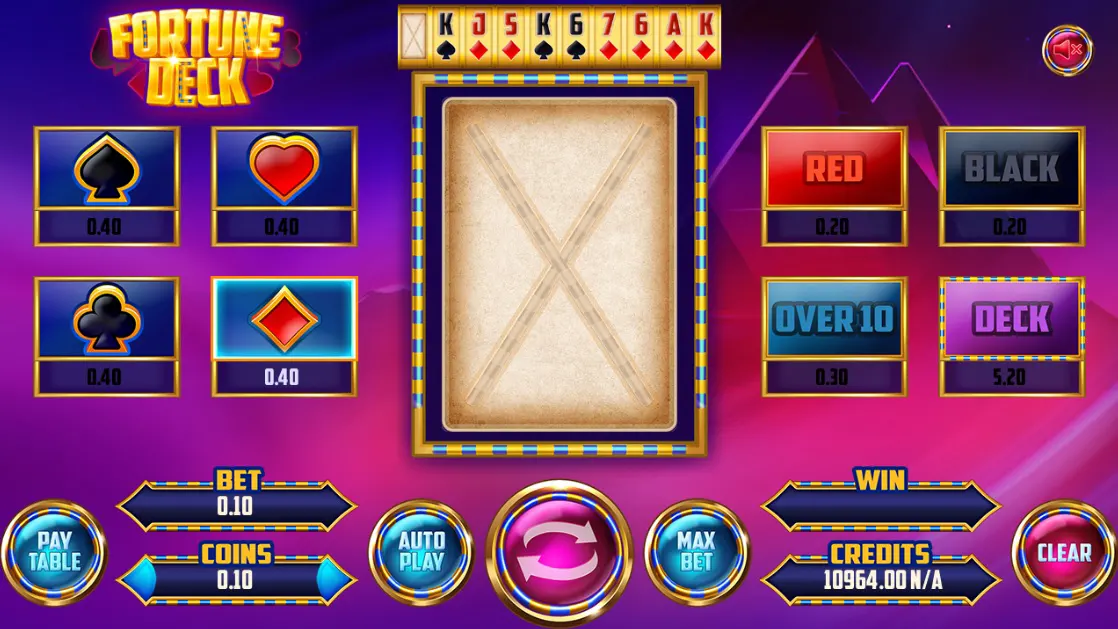 Other Functionalities in Fortune Deck
Not much is going on when it comes to functionalities, as Fortune Deck is equipped with an autoplay feature only. Activating this functionality is the ideal solution for players who wish to sit back, relax, and observe the course of the game without clicking or tapping any buttons at the end of each round. Before you turn on the feature, you must select the number of rounds to play automatically. Setting a loss limit for your autoplay session is highly recommended. Setting a single win limit for the autoplay session is also an option. The feature will deactivate whenever your preferred parameters are met.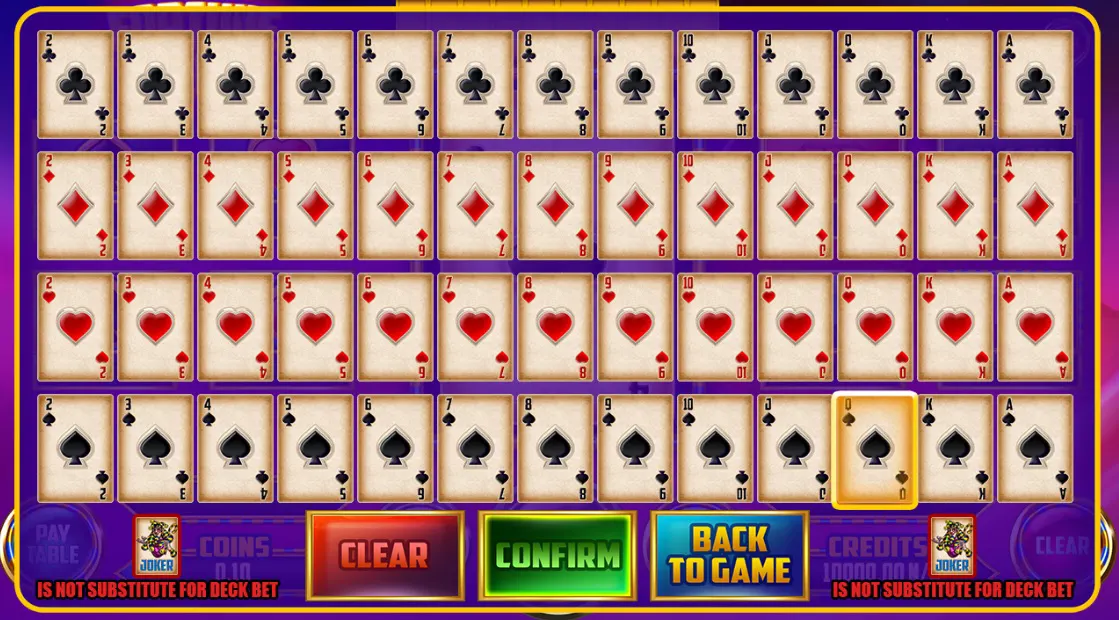 Pros & Cons of Fortune Deck
✅ What We Like about Fortune Deck
The straightforward gameplay works to the advantage of gambling rookies.
Very few online slots can compete with Fortune Deck in terms of payout percentage.
The low volatility prevents the game from quickly draining your balance.
❌ What We Dislike about Fortune Deck
The game quickly becomes monotonous.
There are no special features to keep players invested.
The maximum single payout is far from impressive.
Fortune Deck Slot FAQs
Does Fortune Deck have any paylines?
Fortune Deck bears a passing resemblance to online slots but it has no symbols, reels, or paylines. This greatly simplifies the gameplay as there are no confusing symbol combinations and special features to keep track of. The only decision players must make is whether to bet on a card's suit, suit color, range, or individual denomination.
Is Fortune Deck a profitable game?
We dare say it is. Fortune Deck surpasses the majority of modern online slots in terms of payback percentage, returning approximately 98% of all money wagered. By contrast, most online slots yield a theoretical return that ranges from 93% to 96%, which results in greater losses over time for the player.
Can I try Fortune Deck without depositing?
Yes, you can test the game at no cost by visiting the official website of Felix Gaming where a demo version is available. Some online casinos also provide free demo versions of the game, allowing you to play for fun without registering an account or depositing to your balance.
Related Games