Mini Roulette is a fresh take on the classic casino mainstay that plays on a single-zero wheel containing only 13 pockets with numbers 0 through 12. The smaller number of pockets translates into fewer wagering options, a peculiarity that renders the game a great choice for roulette rookies.
The payouts on all winning wagers have been reduced to accommodate the mini wheel. Another unique aspect of this bespoke roulette variation is that the green zero always pays no matter what you are betting on. Mini Roulette comes with flexible table limits that range from $0.10 to a whopping $10,000 per round.
| | |
| --- | --- |
| Game Provider: Playtech | Release Date: 2018 |
| Wheel Type: Single Zero | Wheel Number: 1 |
| Ball Number: 1 | Chip Values: 0.10, 0.50, 1, 5, 10, 25, 50, 100 |
| Bet Range: 0.10 - 10000 | Max Payout: 12x |
| Racetrack: No | Side Bets: No |
| Autoplay: Yes | Quick Spin: Yes |
| Progressive Jackpot: No | House Edge: 3.85% |
Interface and Gameplay
The interface is fittingly minimalistic, with the spinning roulette wheel on one side and the smaller betting layout on the other. Placing bets is equally convenient on desktop and mobile devices. Players face a broad choice of chip denominations that range from $0.01 to $100.
When you hover your mouse cursor over the layout, a box will pop up displaying the payouts and the limits for the respective bet. The control buttons are positioned under the layout, allowing you to double your wager or repeat the bet from the previous round with a single tap or click.
The chip tray is located below the roulette wheel. To make a bet, you must simply select your desired chip denomination and dump the chips on your chosen number or set of numbers on the layout. The outcome of the spin will appear in the center of the wheel but the software also marks the winning number with a dolly on the layout.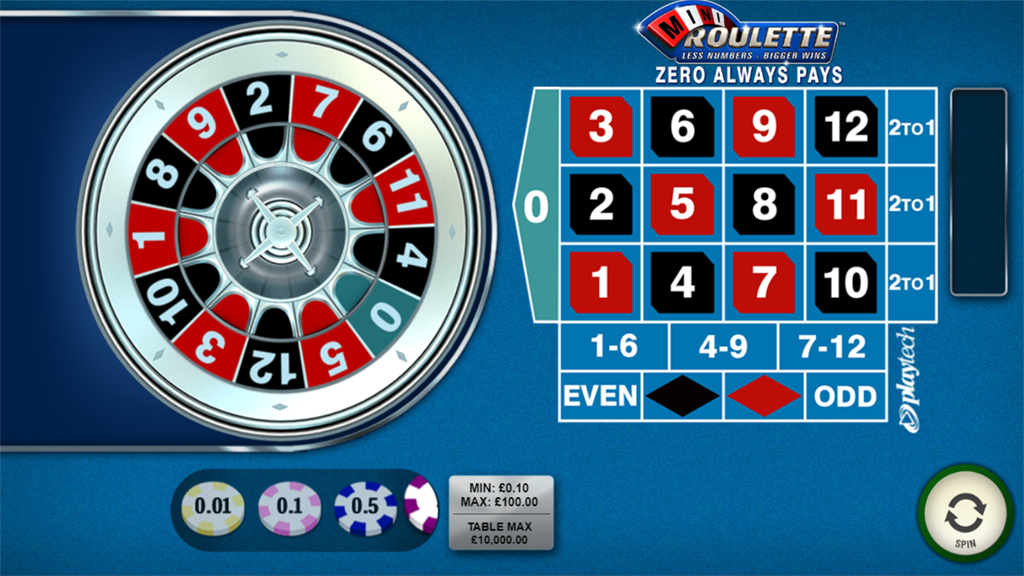 Paytable and Limits of Supported Bets
Mini Roulette offers fewer betting opportunities compared to conventional roulette games since the smaller wheel contains only numbers 0 through 12. Players can bet straight up on single numbers or go for splits, streets, corners, columns, and half dozens. Betting on number properties like color or parity is also an option, but high and low wagers are unavailable in the game.
A wheel containing fewer numbers translates into higher hit frequency for most outcomes. The probability of winning with a straight bet is nearly three times higher in Mini Roulette at 7.69%. By contrast, the likelihood of winning straight up on a standard single-zero wheel with 37 pockets is significantly lower at 2.70%. Similar tendencies are observed with all supported inside bets.
To offset this advantage, Playtech developers have significantly reduced the payouts of all inside wagers. Successful straight bets pay at house odds of 11 to 1, which is the most you can get from this game. Outside wagers on columns, red/black, and odd/even have retained their original payouts.
On the positive side of things, the zero always pays in Mini Roulette, regardless of what you are betting on. When the ball finds its way into the green pocket but your wager does not involve the zero, you get half of your stake back.
| Bet Type | Payout | Bet Limits | Winning Probability |
| --- | --- | --- | --- |
| Straight Up | 11 to 1 | $0.10 – $100 | 7.69% |
| Split | 5 to 1 | $0.10 – $200 | 15.38% |
| Street | 3 to 1 | $0.10 – $300 | 23.07% |
| Corner | 2 to 1 | $0.10 – $400 | 30.77% |
| Basket (0, 1, 2, 3) | 2 to 1 | $0.10 – $400 | 30.77% |
| Column | 2 to 1 | $1 – $1,000 | 30.77% |
| Half Dozen (1-6, 4-9, 7-12) | 1 to 1 | $0.10 – $1000 | 46.15% |
| Red/Black | 1 to 1 | $1 – $1,000 | 46.15% |
| Odd/Even | 1 to 1 | $0.10 – $1000 | 46.15% |
In-Game Features
Mini Roulette is equipped with several features we are confident many of you will find useful. A statistics panel sits right next to the layout, showing you the numbers that have won during the previous 12 rounds. Orange color is used to denote previously winning black numbers.
Players can disable the ambient sounds from the settings menu where a turbo mode is also available. When this feature is on, the software shows you the winning outcome in a split second.
Turbo mode is a great option for players who lack the patience to wait for the spinning ball to fall into a pocket. The Autoplay feature enables you to kick back and enjoy yourself as the software automatically plays several rounds in a row.
Pragmatic Play Roulette Return to Player
Mini Roulette yields a slightly lower theoretical return compared to standard single-zero variations of the game where players can anticipate getting back 97.30% of their wagers in the long run. By contrast, this bite-sized roulette variation has a long-term return to player of 96.15% and a house edge of 3.85%.
Another thing worth mentioning is that column, color and parity bets have a slightly lower hit frequency here. The opposite is true of inside wagers like the straights, corners, splits, and streets whose winning probabilities considerably surpass those in games with full-scale wheels.
Roulette by Pragmatic Play FAQ
Why should I play Mini Roulette?
We recommend Mini Roulette to players who are still learning the ropes. The game is far more simplistic than conventional roulette variations and has an uncomplicated interface. It also supports fewer bet types. All these factors combined render Mini Roulette appropriate for novice players. We suggest you give it a try in demo mode if you are a rookie.
Why do the payouts in Mini Roulette differ from those in other roulette variants?
Mini Roulette yields reduced payouts due to the limited number of pockets its smaller wheel contains. This has a pronounced impact on hit frequency and the payouts on most bets were adjusted to reflect this. The return percentage is also lower than usual but still surpasses that in double-zero variations.
Are other versions of Mini Roulette available online?
InBet Games released a similar variation of Mini Roulette a while ago but few online casinos have added it to their portfolios. The InBet version offers several additional betting options, including wagers on low (1-18) and high (19-36). The Playtech variation is far more prevalent and easy to find at real-money online casinos.
Related Games