American Roulette by NetEnt is the perfect option for daring players who can tolerate higher house edges and greater levels of risk. The renowned software studio released it in the first half of 2014 but the game has aged incredibly well. Or perhaps, it would be more fitting to say it has not aged at all.
The graphics look as spectacular and crisp as ever, not to mention the game is richer in features than many modern roulette releases. The variant uses a double-zero wheel that contains 38 pockets in total, which causes the theoretical return to decrease from the standard 97.30% to 94.74%.
| | |
| --- | --- |
| Game Provider: NetEnt | Release Date: 2014 |
| Wheel Type: Double Zero | Wheel Number: 1 |
| Ball Number: 1 | Chip Values: 0.10, 0.50, 1, 2, 5, 10, 25, 50, 100, 500, 1000 |
| Bet Range: 0.10 - 5000 | Max Payout: 36x |
| Racetrack: Yes | Side Bets: No |
| Autoplay: Yes | Quick Spin: Yes |
| Progressive Jackpot: No | House Edge: 5.26% |
Interface and Gameplay
Like most table games developed by the Swedish software studio, American Roulette comes with an intuitive interface that makes it a breeze to place bets. The double-zero wheel is positioned above the red table layout which covers most of the screen.
In the upper right corner, you will see a dynamic billboard that shows you the current hot and cold numbers. The gaming controls are positioned at the very bottom, allowing you to adjust your wagers, launch the ball onto the wheel, double your bet, and undo your wagers if needed.
You start by selecting a chip value from the available denominations below the table layout. If you are unfamiliar with the main roulette bet types, you can hover your cursor over the layout and the software will highlight the numbers included in each wager.
Once you make up your mind and place one or more bets, you click the spin button to initiate a game round. The software will launch the ball into the roulette wheel. Rather than waiting for the ball to settle in a pocket by itself, you can forcefully stop the wheel by clicking the spin button again. This function is unavailable in Autoplay mode, however. The winning number is then displayed on the screen and a new round can commence.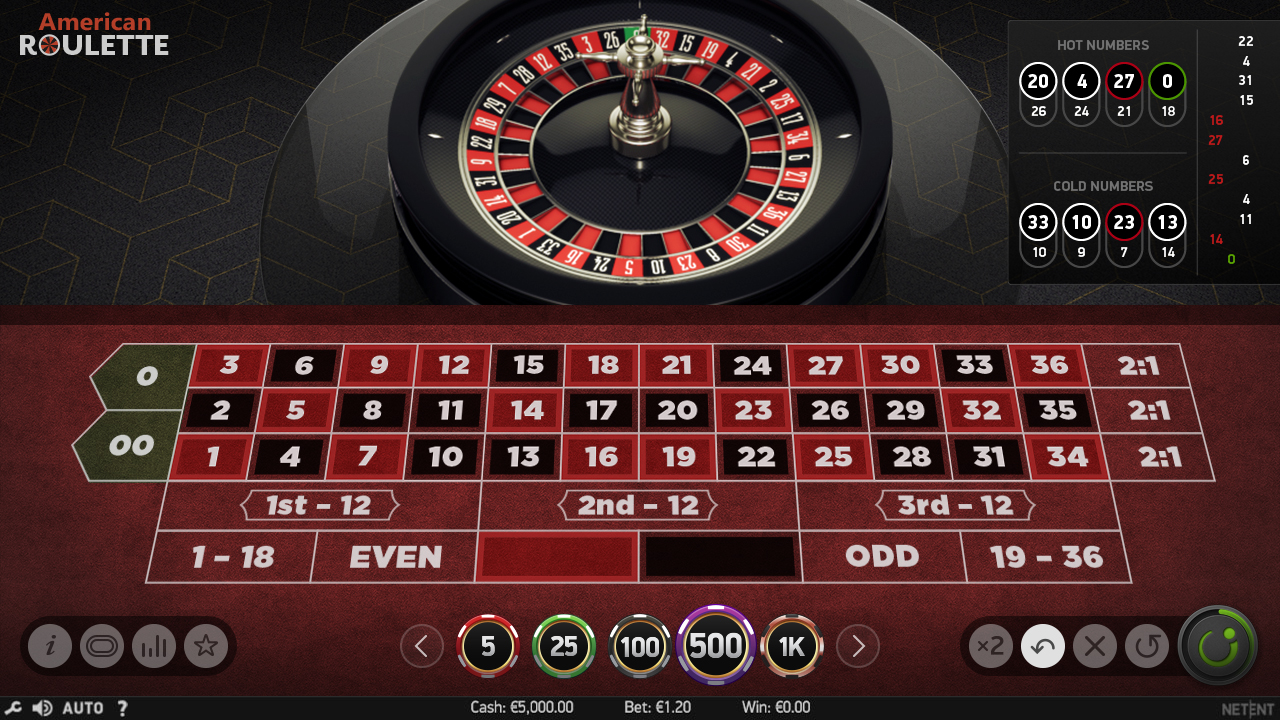 Paytable and Limits of Supported Bets
NetEnt's variation of American Roulette supports the standard outside and inside wagers whose payouts correspond to the winning probability of each bet. The more numbers a given bet covers, the lower it pays. The maximum you can earn amounts to 35 times your winning straight bet on any single number.
Risk-averse players can experiment with outside wagers like red/black, odd/even, high/low, dozens, and columns. These wagers have higher betting limits and significantly low payouts due to their greater hit frequency. Columns and dozens pay at odds of 2 to 1, while bets on number properties pay even money (1 to 1).
The NetEnt developers have added a racetrack where seasoned players can place neighbor bets. A neighbor bet covers one number plus the neighboring numbers surrounding it on both sides of the wheel. The maximum number of neighbors per side is set at 8, whereas the minimum is 2 numbers on each side.
Each number from the neighbor set is covered with a chip on the layout. In essence, you are placing several straight bets. As you can see below, the minimums and maximums vary across different bet types. You can have multiple wagers in action but their total value must not exceed the overall table limit of $5,000 per round.
| Bet Type | Payout | Bet Limits |
| --- | --- | --- |
| Straight | 35 to 1 | $1 – $100 |
| Split | 17 to 1 | $0.10 – $200 |
| Three Line | 11 to 1 | $0.10 – $300 |
| Corner | 8 to 1 | $0.10 – $400 |
| Top Line (Five-Number Bet) | 6 to 1 | $0.10 – $500 |
| Six Line | 5 to 1 | $0.10 – $600 |
| Column | 2 to 1 | $0.10 – $1,200 |
| Dozen | 2 to 1 | $0.10 – $1,200 |
| Red/Black | 1 to 1 | $0.10 – $2,000 |
| Odd/Even | 1 to 1 | $0.10 – $2,000 |
| 1-18/19-36 | 1 to 1 | $0.10 – $2,000 |
| Neighbors | 35 to 1 | $0.10 – $100 |
In-Game Features
One thing we particularly liked about NetEnt's version of double-zero roulette is that the game is loaded with a plethora of customization features. Detailed statistics are also available to the benefit of trend bettors. The Wheel Statistics panel shows you the distribution of the winning numbers during the last 500 spins.
You also get to see the 4 most drawn and the 4 least drawn numbers in the last 500 spins, as well as how many times they have hit. The bar charts in the statistics section display the percentage of game rounds that have ended in red/black and odd/even numbers. The dynamic billboard in the upper right corner gives you a glimpse of the winning numbers during the previous 15 rounds.
Players can save up to 10 of their favorite bets and place them with a single click, which we found convenient. The Game Settings menu enables you to further configure your gameplay. You can turn off the dealer's voice, the sound effects, and the background music. Players have five different backing tracks to choose from. The Quick Spin function speeds up the pace of the game, while Autoplay allows you to play up to one thousand uninterrupted rounds.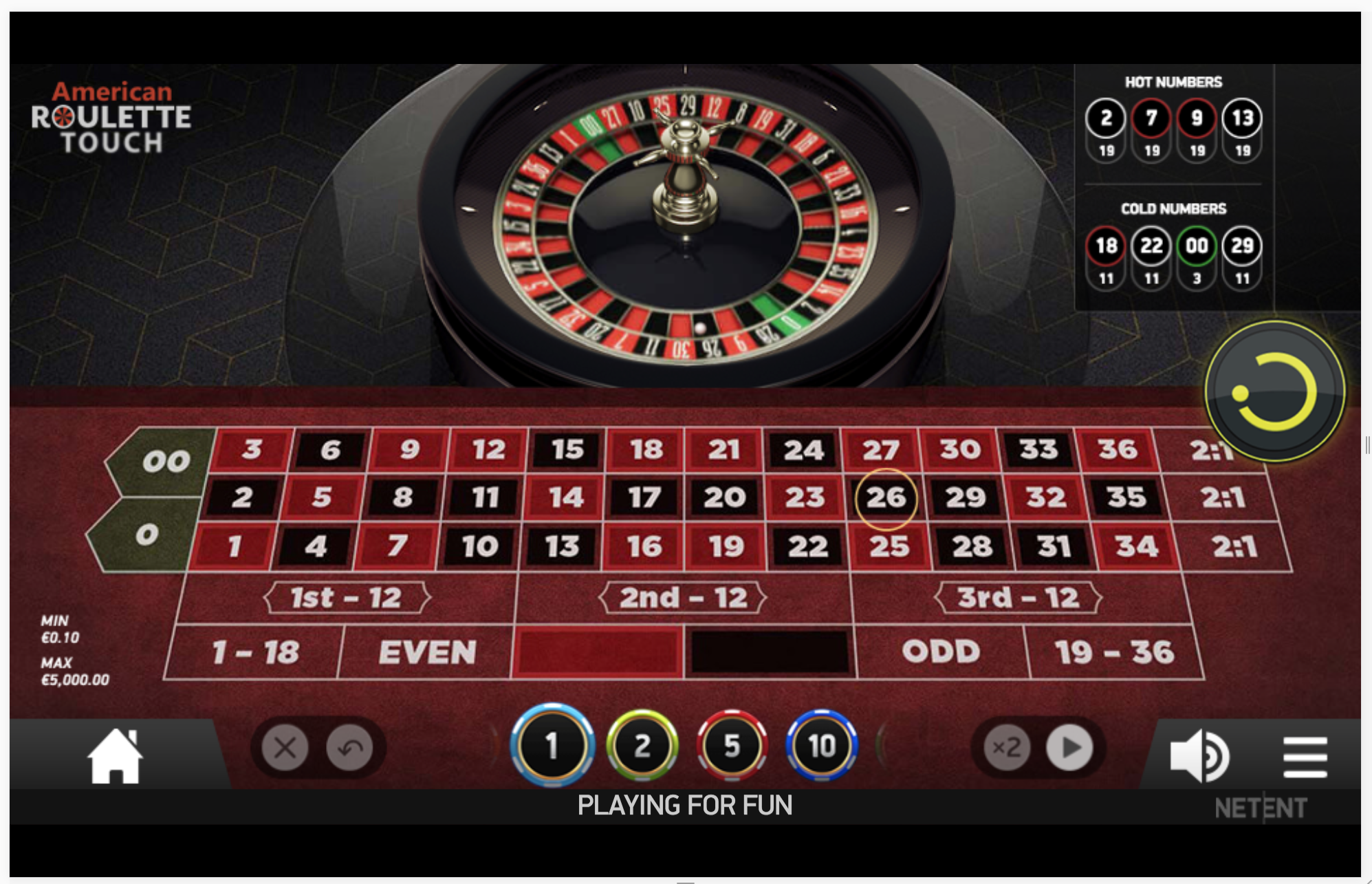 NetEnt American Roulette Return to Player
American Roulette carries a higher house edge than its European and French counterparts due to the presence of the double zero. The wheel has one extra pocket but the payouts remain the same, which causes the theoretical return to drop from 97.30% to 94.74%.
This percentage applies to all bets available in the game except the top-line wager. Also known as the five-number bet, this wager covers numbers 0, 00, 1, 2, and 3 and pays at reduced odds of 6 to 1. We recommend you avoid it since its theoretical return is significantly lower at 92.11%.
American Roulette by NetEnt FAQs
Can I place more than one bet per round in American Roulette?
Players can place as many wagers as they like as long as they fit into the overall table limit, which is set at $5,000 per round. Individual wager types have different maximums as well. Bets on number properties like color and parity have the highest maximums at $2,000. All wagers start at a minimum of $0.10.
Is there any way to customize the Autoplay function?
You can adjust the settings so that the feature stops after any win, when a single win exceeds the specified amount, or when your balance increases or decreases by a certain amount. Bear in mind some of these customization options are mandatory for certain jurisdictions due to regulatory requirements.
Does American Roulette by NetEnt support any call bets?
American Roulette features a racetrack where you can make neighbor bets only. Advanced wagers like tiers du cylindre, voisins du zéro, and orphelins are unavailable here since double-zero wheels use a different number sequence than their single-zero counterparts.
Related Games