Roulette Advanced landed in NetEnt-powered casinos in 2017 and quickly became a player favorite thanks to its innovative features, crisp graphics, and realistic sound effects. All these combined will immediately get you in the right mood for some quality roulette action. The game plays under the European set of rules and uses a wheel with one green zero pocket, offering a theoretical return of 97.30%.
Despite its bold name, Roulette Advanced can accommodate both casual players and seasoned strategists. The former will benefit from a simple yet innovative interface, while the latter can take advantage of a detailed statistics panel that provides information about the distribution of previous results.
| | |
| --- | --- |
| Game Provider: NetEnt | Release Date: 2017 |
| Wheel Type: N/A | Wheel Number: 1 |
| Ball Number: 2 | Chip Values: 0.10, 0.50, 1, 5, 10, 25, 50, 100, 500, 1000 |
| Bet Range: 0.10 - 5000 | Max Payout: 36x |
| Racetrack: Yes | Side Bets: No |
| Autoplay: Yes | Quick Spin: Yes |
| Progressive Jackpot: No | House Edge: 2.70% |
Interface and Gameplay
Roulette Advanced impresses with crystal clear graphics and great sound effects that enable players to fully immerse themselves in the gaming experience. The clean interface makes it easy for roulette rookies to find their way around without having to spend hours mastering the ins and outs of the popular casino game. Playing the game is incredibly easy despite the numerous extra features Roulette Advanced is packed with.
First, you must select the amount you wish to bet by clicking or tapping on your preferred chip value in the lower right corner. The game is playable for as little as $0.10 but wagers can go all the way up to $5,000 per round. Once you adjust your bet size, you must place your chips on the corresponding section of the layout.
The numbers included in your bet will be highlighted on the layout. You hit the Spin button if you crave some suspense or click Quick Spin when eager to instantly see the outcome. A winning number is marked with a dolly on the layout and the software displays it on the billboard in the lower left corner.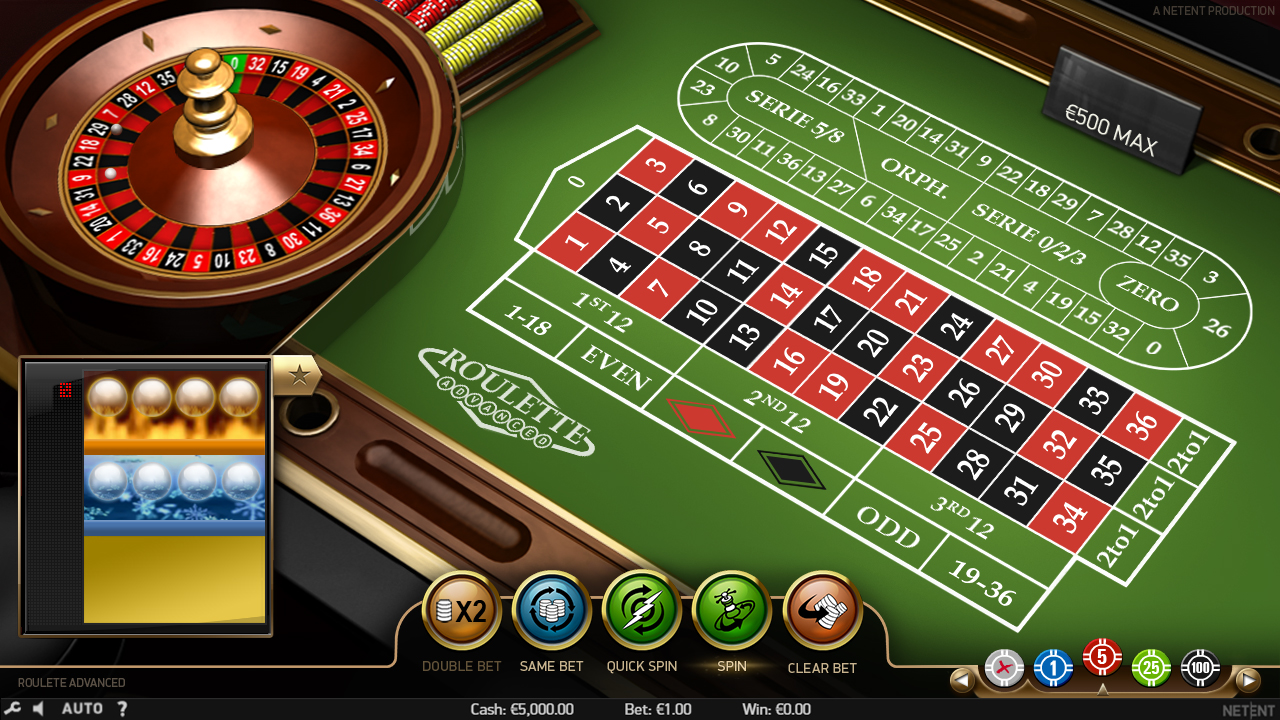 Paytable and Limits of Supported Bets
There are two categories of wagers in Roulette Advanced, starting with the standard inside and outside bets all fans of the game are familiar with. The minimum amount you can stake coincides across all wagers but the ceiling is bet-specific as you can see in the table below. The maximum payout players can anticipate is 35 to 1 for winning straight bets on single numbers.
The game caters to seasoned players with a plethora of advanced wagering options, including serie 0/2/3, serie 5/8, tiers du cylindre, les orphelins plein, finales a cheval, and finales en plein. Betting on the neighbors is also possible in Roulette Advanced, with a spread of 2 to 9 neighbors on either side of your chosen number. If you are unfamiliar with a certain bet, you can always consult the help section where you can find detailed descriptions of all supported wager types.
Bet Type
Payout
Bet Limits
Straight
35 to 1
$1 – $100
Split
17 to 1
$0.10 – $200
Three Line
11 to 1
$0.10 – $300
Corner
8 to 1
$0.10 – $400
Six Line
5 to 1
$0.10 – $600
Column
2 to 1
$0.10 – $1,200
Dozen
2 to 1
$0.10 – $1,200
High/Low
1 to 1
$0.10 – $2,000
Red/Black
1 to 1
$0.10 – $2,000
Odd/Even
1 to 1
$0.10 – $2,000
Red/Black Splits
17 to 1
$0.10 – $200
Les Orphelins Plein
35 to 1
$0.10 – $100
Finale Plein
35 to 1
$0.10 – $100
Finale Cheval
17 to 1
$0.10 – $200
Tiers du Cylindre
17 to 1
$0.10 – $200
Voisins du Zero
11 to 1 for three line
17 to 1 for splits
$0.10 – $300
$0.10 – $200
Series
11 to 1 for three line
17 to 1 for splits
$0.10 – $300
$0.10 – $200
Neighbors
35 to 1
$0.10 – $100
In-Game Features
Roulette Advanced brings customization to the fore, ensuring everyone can enjoy the gameplay regardless of personal preferences. The variation has a Favorite Bets feature that allows players to save up to 5 wagers of any configuration and post them on the layout automatically.
In the game settings, you can turn off the sound effects and the background music if you find them annoying. If you get tired of hitting the spin button after every round, you can take advantage of the Autoplay function that launches 10, 25, 50, 100, 250, 500, 750, or 1000 automatically played spins. The detailed Betting History panel is available only to those who play for real money.
The dynamic statistics billboard is the main attraction from the perspective of seasoned roulette players. It displays the most drawn and least drawn numbers during the previous 500 rounds. The percentage of instances red, black, and green have hit is also shown. The same goes for the odd and even numbers. Last but not least, the billboard displays which numbers have won during the previous 14 rounds.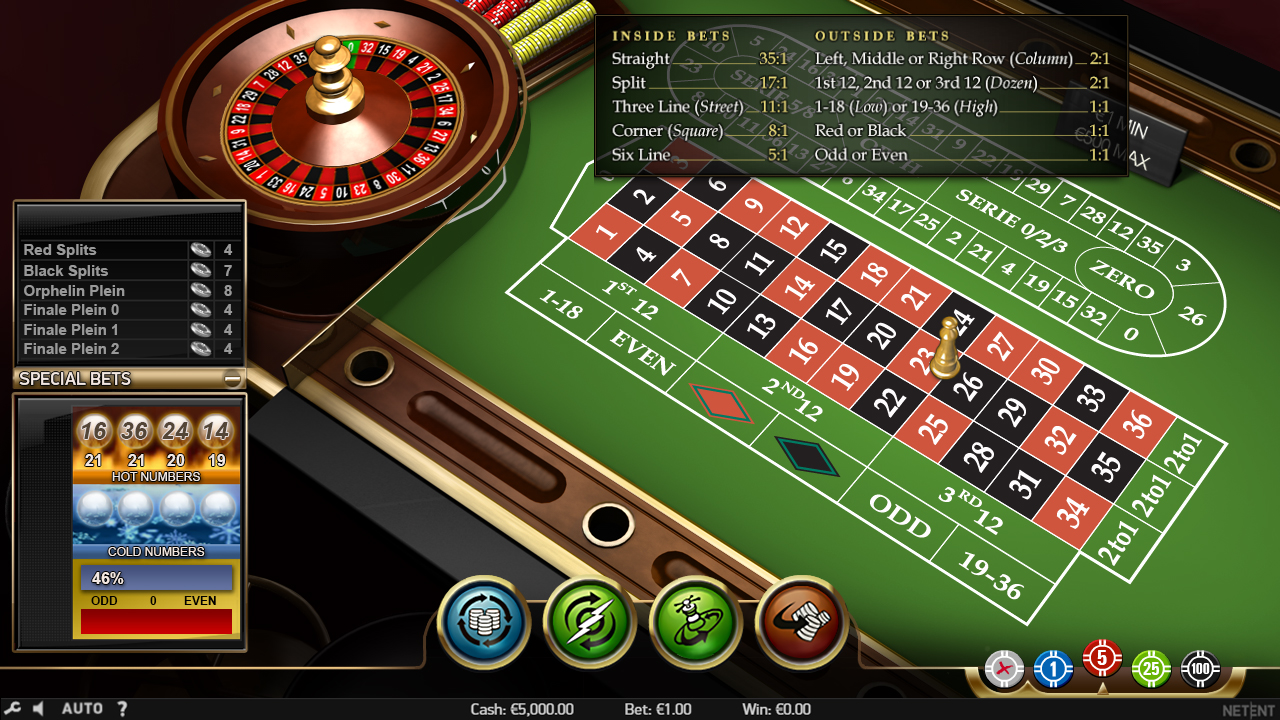 Roulette Advanced Return to Player
Players can anticipate a long-term theoretical return of 97.30%, which is the standard for most roulette variations that play on single-zero wheels with 37 pockets. This return percentage corresponds to a house advantage of 2.70%, which means the casino gets to retain nearly three cents per every dollar wagered in the long term.
Unfortunately, Roulette Advanced does not enforce the favorable la partage rule whereby players recover half of their losing even-money wagers when zero hits. Had this been the case, the game would have boasted a higher theoretical return of 98.65%.
Roulette Advanced by NetEnt FAQs
Is Roulette Advanced compatible with mobile devices?
Roulette Advanced runs effortlessly on any device you can think of, be it a desktop computer, tablet, or smartphone. The variation is compatible with portable devices running on the popular Android and iOS operating systems. The game will prompt you to turn your device sideways as it supports only landscape mode.
Where can I play Roulette Advanced?
Roulette Advanced is available for real-money play at a host of reputable online casinos powered by NetEnt. Players unfamiliar with the game can try it for free with demo credits. Some online casinos may prompt you to register before you gain access to the demo versions of the available games.
What languages does Roulette Advanced support?
Roulette Advanced is geared toward the needs of players from different markets and supports a variety of languages other than English. Some of the other language options include Swedish, Dutch, German, and Finnish.
Related Games