AvatarUX launched ReefPop™ in 2023, making the game one of the newer additions to the developer's ever-expanding catalog of slots. The game has an RTP of 96.038%, which is up to par with other modern slots, and the maximum possible win is a mouth-watering x10,000.
ReefPop™ has six reels and four rows initially, but thanks to the PopWins mechanic, the reels can become higher and, thus, give players even more opportunities to land impressive wins. Multipliers are another highlight of the goodies lucky ReefPop™ players are treated to.

ReefPop™ Slot Summary
Game Provider: AvatarUX
Release Date: 2023
Game Type: Video Slot
Theme(s): Fish, Sharks, Underwater
Reels: 6
Wild Symbols: No
Rows: 8
Scatters: No
Paylines: 262,144 ways to win
Free Spins: Yes
Payout/RTP: 96.038%
Bonus Game: No
Volatility Level: High
Progressive Jackpot: No
Min Bet: 0.2
Autoplay: Yes
Max Bet: 100
Max Win: 10000x
ReefPop™ Theme
ReefPop™ tells the tale of a war between the invading Crustaceans and the Noble Fish who are determined to protect their home, which is why most of the icons feature illustrations of sea creatures that are ready for battle. ReefPop™'s backdrop is a beautiful piece of artwork depicting the coral reef the slot's characters are fighting to protect, and all in all, the developers have done an amazing job with ReefPop™'s visuals. The ambient underwater sounds and majestic background music play a key role in immersing players in the slot's intense yet thrilling setting.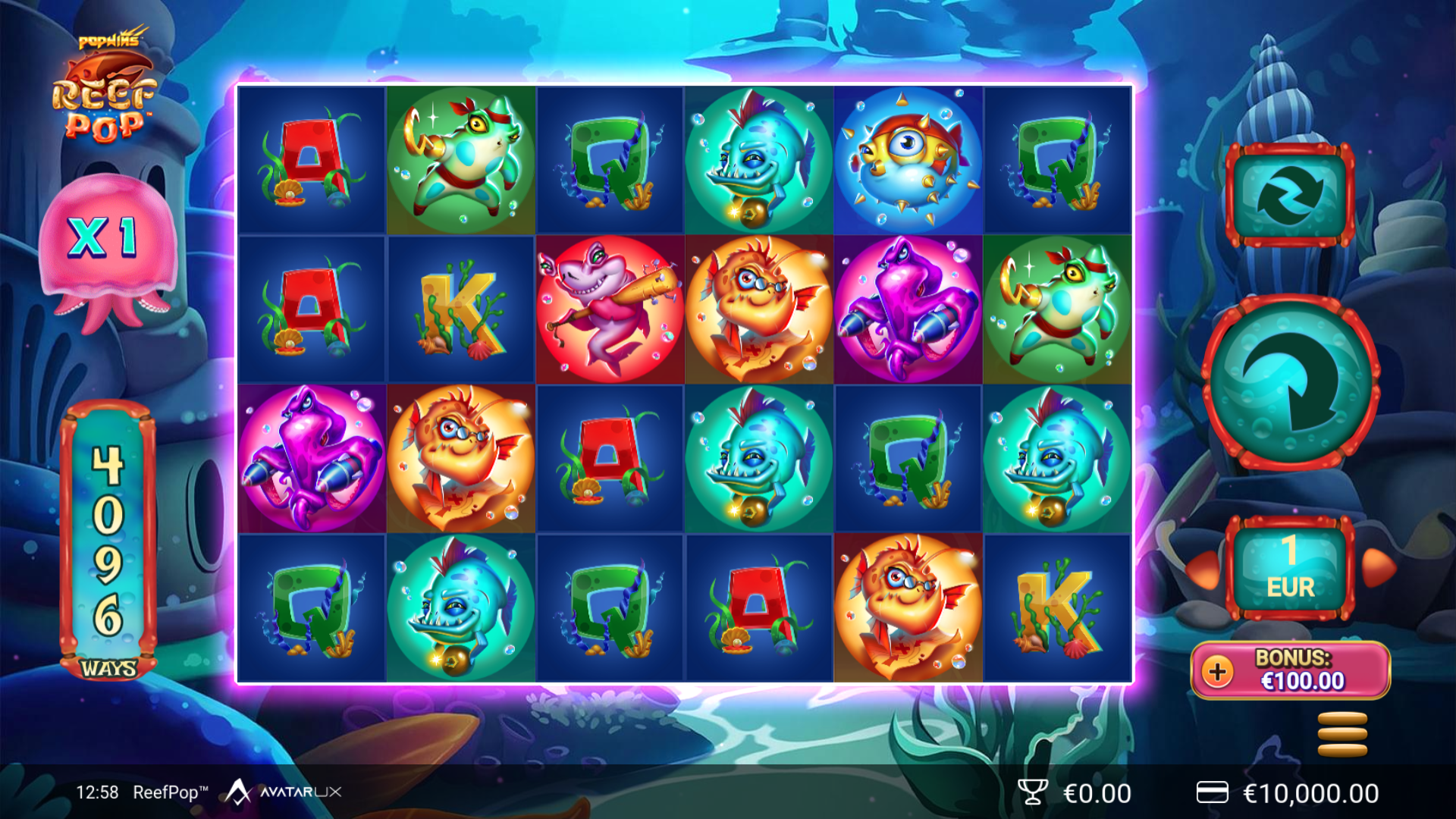 How ReefPop™ Compares to Other Slot Games
ReefPop™ has a rich backstory that sets it apart from other shark-themed slots. It is centered around a war between sentient marine creatures, which is certainly unique and not something you will come across every day. ReefPop™'s PopWins mechanic is another one of the game's distinct aspects. This feature is exclusive to AvatarUX slots, so suffice it to say, PopWins will be pretty novel even for experienced gaming enthusiasts if they have not encountered AvatarUX's excellent games before.
More similar slots:
Razor Shark by Push Gaming
CritterPop by AvatarUX
Ocean's Treasure by NetEnt
SharkGo by WorldMatch
ReefPop™ Symbols and Payouts
Winning combinations are a relatively simple matter in ReefPop™. For a win to be achieved, the only requirement is that at least three copies of the same symbol must land on adjacent reels. Their positions on their respective reels are irrelevant, and the first icon does not need to be located on the leftmost reel of the game.
ReefPop™'s icons are separated into four main categories, starting with the cards, which have the lowest values, as their max win is below the bet. The next group has better payouts, and each icon belonging to this group has a max payout of 1x for six-reel wins. High-paying symbols grant players their wagers times 1.5 when a max win is achieved, while the Super High icon is only one, the Golden Shark, which rewards a payout of 3x the bet. The last symbol also comes with additional multipliers of up to x20 whenever it lands during Free Spins.
*Payouts represent multipliers applied to bet per line amount
ReefPop™ Winning Combinations and Payouts
Symbols
3 Matches
4 Matches
5 Matches
6 Matches
Golden Shark
0.6x
1x
2x
3x
Purple Octopus
0.3x
0.5x
1x
1.5x
Anglerfish
0.3x
0.5x
1x
1.5x
Pink Shark
0.3x
0.5x
1x
1.5x
Blue Fish
0.2x
0.3x
0.5x
1x
Pufferfish
0.2x
0.3x
0.5x
1x
Green Slug
0.2x
0.3x
0.5x
1x
Ace
0.1x
0.2x
0.3x
0.6x
King
0.1x
0.2x
0.3x
0.6x
Queen
0.1x
0.2x
0.3x
0.6x
Bonus Features Overview
AvatarUX slots are known for having a stellar selection of bonus mechanics, and ReefPop™ is no exception. The game comes with the developer's famous PopWins mechanic, which essentially serves to make the slot layout taller with additional rows, and players can also look forward to free spins, multipliers, and more. A Gamble Wheel mechanic that exclusively affects the free spins is also present.
If you do not wish to wait for the free spins to trigger naturally, you can always take advantage of ReefPop™'s Bonus Buy function. It allows you to purchase one of several options, the first of which is the ordinary Free Spins feature. One of the alternatives if buying the Buy Bonus Max will ensure that the FS mode starts with 46,656 ways. Finally, you can go with the option that grants free spins but with the Gamble Wheel automatically selected.
Wilds and Scatters
Curiously, we have found no Wilds within ReefPop™'s paytable, nor are there any Scatters present either. This is a result of the game's other mechanics. The Free Spins feature, for instance, is not triggered by a scatter icon. Instead, players will activate the free spins when the reels reach the high of six symbols. As for the lack of Wilds, it can be explained by the inclusion of the PopWins mechanic, as single wins always lead to the introduction of more icons to the slot.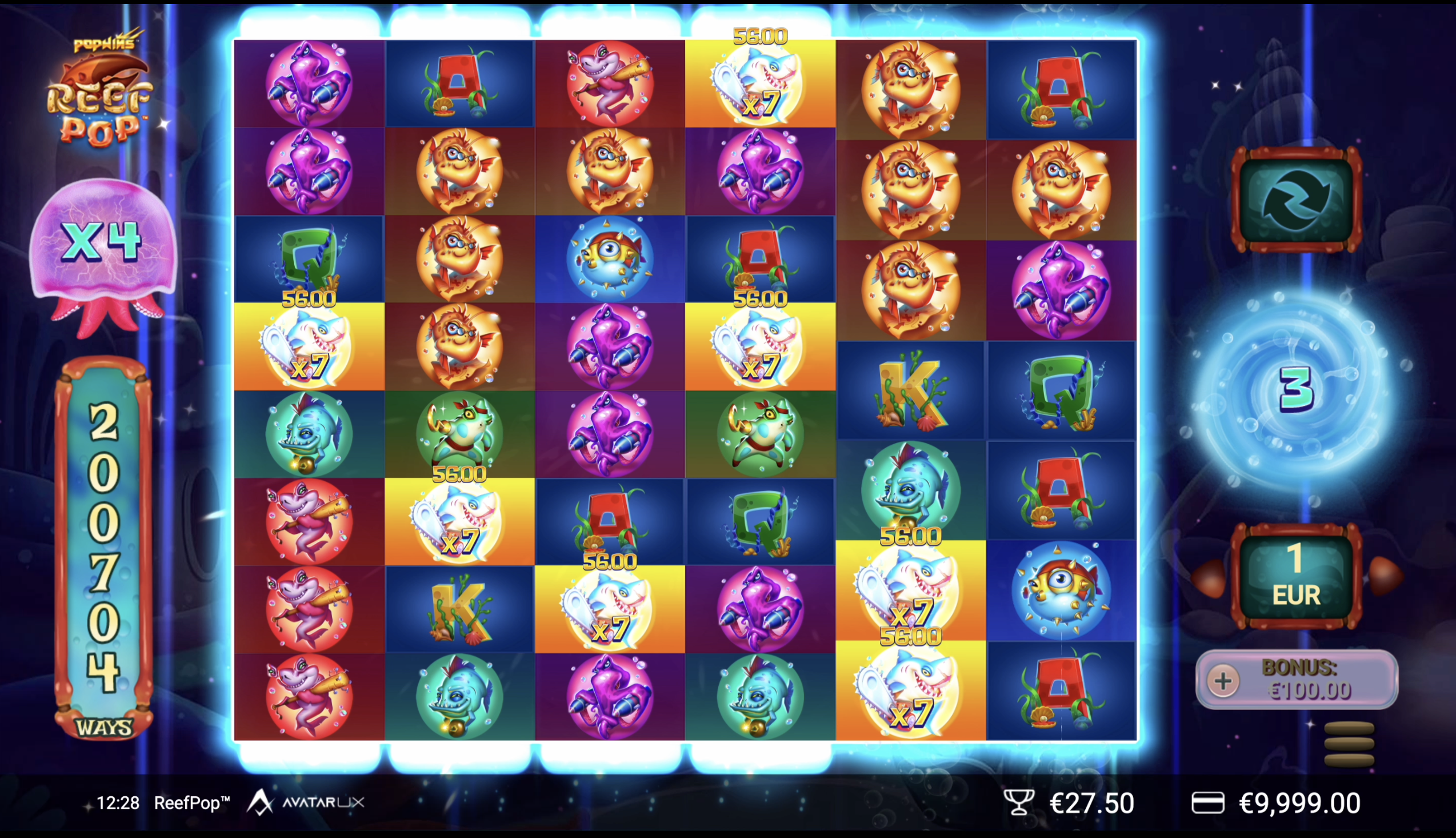 PopWins
PopWins is one of AvatarUX's signature mechanics and it is one of ReefPop™'s main extra functions. The PopWins feature revolves around the instances where three or more icons are matched. When this occurs, the said symbols "pop" and disappear. Then, each "popped" symbol's cell is doubled, and two new icons land. If the new symbols also form a win, the feature repeats and continues to do so until winning combinations no longer occur.
PopWins can increase the size of the reels until they reach the height of six symbols during the base game and eight symbols during Free Spins. The reel height is not kept between new bets in the base game, however, as the layout returns to its original height when PopWins ends.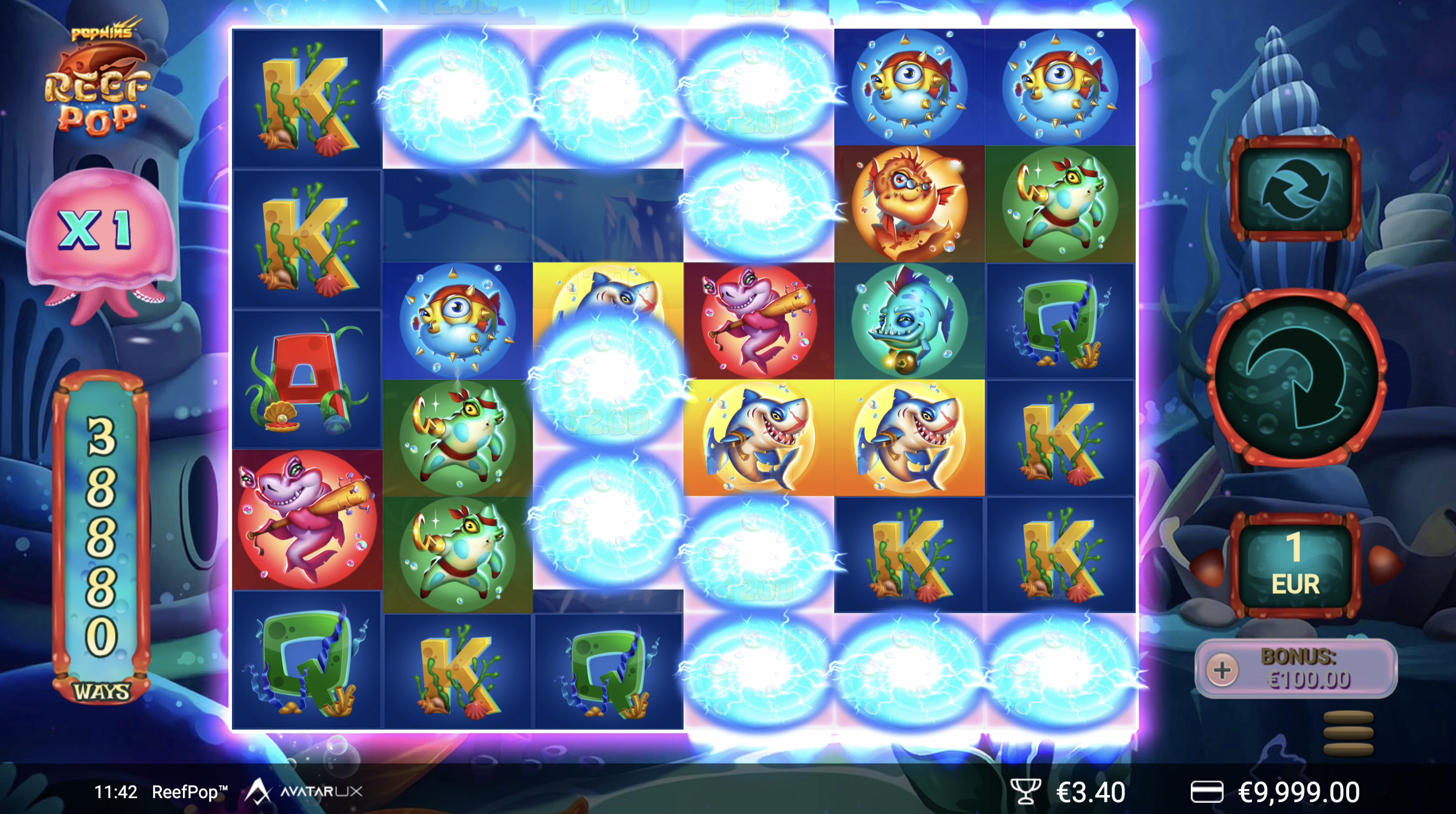 Unlimited Free Spins
Access to the Free Spins feature is tied to PopWins since it is triggered whenever all six reels of the base game gain two additional rows. Once triggered, the player is presented with the Gamble Wheel, and they can choose to keep their spins or risk losing them for the chance of starting out with five or four row reels. If they do not accept to gamble, they start the Free Spins with four-symbol-reels.
The initial number of free spins a player is treated to is three. However, this number resets back to three each time the player scores a winning combination, and there is no limit to how many times resets can occur. A single instance of the Free Spins feature can, therefore, grant an unlimited number of free spins.
The slot layout during Free Spins can reach eight rows in height, and once again, this hinges on the player scoring successful combinations of icons. Moreover, unlike in the base game, unlocked reels will reset to the shortest reel's height, as opposed to always going back to a four-symbol height. For example, if a complimentary spin changes an originally four-row layout so that the shortest reel is six symbols tall, all other reels will be reduced to the height of six rows as well once that instance of the PopWins ends.
During free spins, players are treated to a multiplier of x1 that is increased with each complimentary spin. Another multiplier mechanic revolves around the Golden Sharks, adding yet another factor that contributes towards the complimentary games being lucrative.
As we touched upon earlier, ReefPop™ has a Gamble Wheel mechanic that affects the complimentary spins one starts out with. Whenever someone triggers the Free Spins mode, they are given a choice between collecting their complimentary games or wagering them for a chance of starting with taller reels. If the player goes with the latter option and loses, they are sent back to the base game.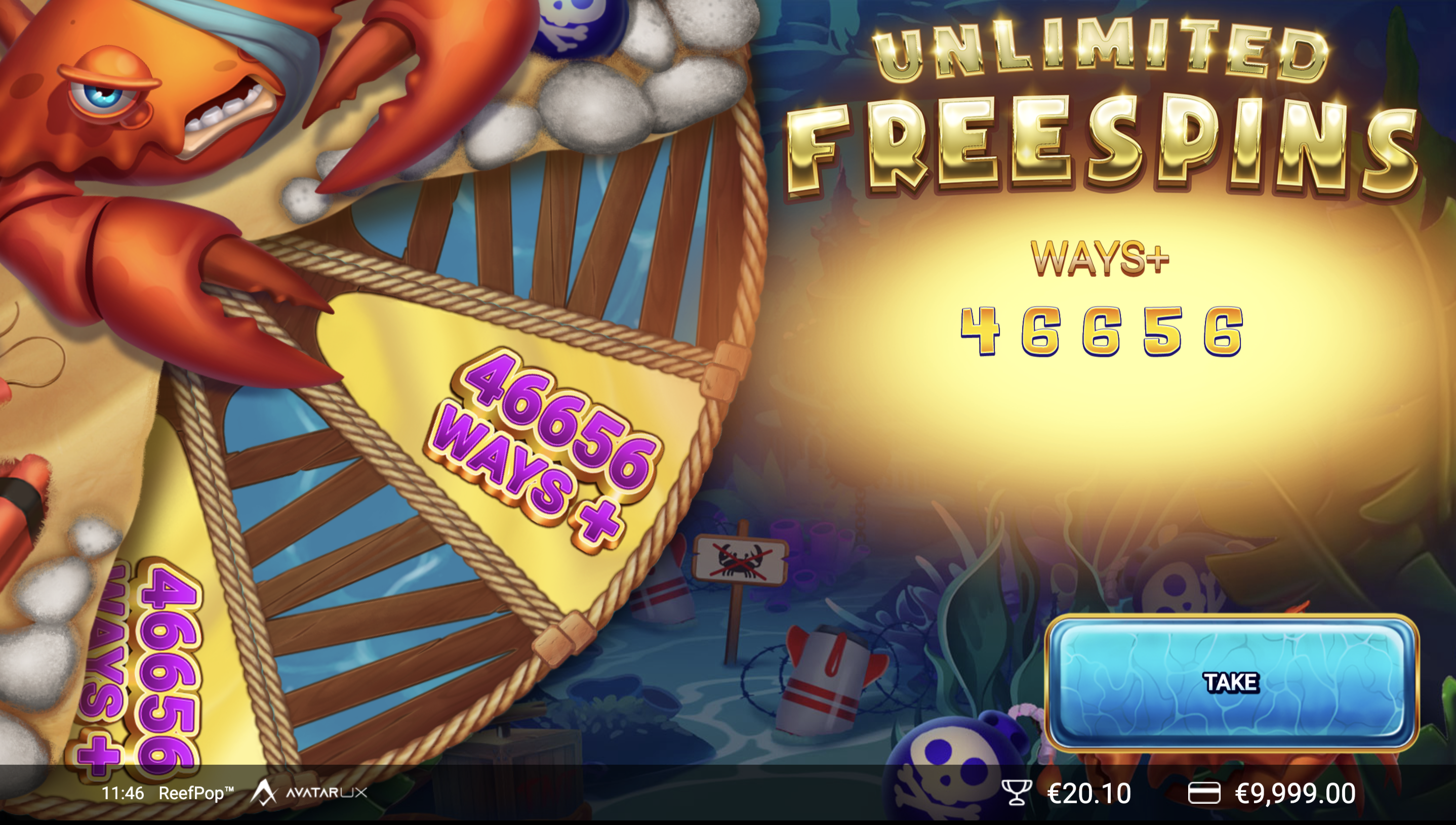 Multipliers
The game has two main ways of treating players to multipliers, both of which are exclusive to the Free Spins feature. The first one is the Jellyfish Multiplier shown at the upper right corner of the game. This multiplier has a value of x1 at the beginning, and each free spin increases the said multiplier by one.
ReefPop™'s other multiplier applies to the Golden Sharks. Essentially, each Golden Shark symbol is multiplied by the number of Golden Shark copies that have appeared on the reels. If multiple of this icon land while a full eight-row layout is unlocked, a single copy of the Golden Shark will multiply the icon's value by two.
Pros & Cons of ReefPop™
✅ What We Like about ReefPop™
ReefPop™'s animations are fun to observe during gameplay
The slot features the iconic PopWins mechanic
The max possible win is x10,000
❌ What We Dislike about ReefPop™
There is no turbo spins option
Accessing the Free Spins feature is not easy
The slot does not feature a bonus game
ReefPop™ FAQs
Can I opt out of the Gamble Wheel?
Yes, putting your complimentary spins at stake is entirely optional if you trigger the Free Spins function from the base game. The only time you will not be given the choice to "take" your spins is when you purchase the Gamble Buy Bonus. In addition, the Gamble Wheel is not a part of the ordinary Buy Bonus and Buy Bonus Max.
Can ReefPop™ be played on portable devices?
Yes, all of the games created by AvatarUX are compatible with smartphones and tablets. You can play the game on your mobile browser app of choice.
How much will I need to pay for the Buy Bonus function?
The cost of the Buy Bonus is dependent on the specific option you purchase. The ordinary Buy Bonus and the Gamble Buy Bonus cost 100x your wager each, while Buy Bonus Max is the most expensive option at 400x your bet.
Related Games