HelioPOPolis™ takes inspiration from the world of ancient Egypt. This theming alone will please many a veteran gaming devotee thanks to the sheer popularity of ancient Egypt when it comes to slots, but If you are looking for a game that has a bit more to offer in terms of the ideas and artwork, we are also pleased to point out the sci-fi elements of HelioPOPolis™. The slot's artwork heavily borrows from the aesthetics of science fiction worlds that boast technology far greater than our own.
PopWins™ is one of the biggest highlights of HelioPOPolis™, and his mechanic is active regardless of whether you are playing during the base game or the Free Spins feature. Thanks to PopWins™, spinning the reels is all the more lucrative,
We will not neglect to mention that the game interface has been translated into various languages, including but not limited to English, Japanese, French, German, and plenty more, making the game suitable for a global audience. The currencies supported will also cover the needs of the vast majority of casino devotees out there, as USD, CAD, EUR, BRL, GBP, and HKD are among the included currencies.

HelioPOPolis™ Slot Summary
Game Provider: AvatarUX
Release Date: 2022
Game Type: Video Slot
Theme(s): Egypt, Futuristic, Science Fiction
Reels: 6
Wild Symbols: Yes
Rows: 8
Scatters: Yes
Paylines: 65,536 ways to win
Free Spins: Yes
Payout/RTP: 96.05%
Bonus Game: No
Volatility Level: High
Progressive Jackpot: No
Min Bet: 0.2
Autoplay: Yes
Max Bet: 100
Max Win: 20000x
HelioPOPolis™ Theme
When it comes to the concepts that have seen quite a bit of success among gaming devotees for decades, the Egyptian theme is up there with the Wild West, classic slots, and the like. Gaming devotees who pick up HelioPOPolis™ specifically because of the ancient Egyptian aspects of the slot will not be disappointed, as the pyramid backdrop, the icons featuring Egyptian deities and artifacts, and the beautiful soundtrack are ideal for almost any gambler fond of this theme.
However, they will also notice that there is something unique about what we just outlined. Namely, everything is accented with a futuristic flair. This is most obvious with the deity icons, as Ra, Anubis, and Sobek are all depicted as robots. The music also features synths and beats reminiscent of what you will hear while watching science fiction cinema, especially the theme that can be heard while the free spins are underway.
How HelioPOPolis™ Compares to Other Slot Games
HelioPOPolis™ is certainly up to par with the plethora of excellent industry standard slots out there, and it even offers some exclusive advantages. The game comes with complimentary spins and wilds that become part of the icon pool during the Free Spins bonus mode. Expanding symbols are present, and multipliers will further improve potential winnings.
PopWins™, AvatarUX's proprietary bonus mechanic, is also present, and it succeeds in giving the game an additional level of excitement. As for the game's theming, ancient Egypt is well-loved among casino enthusiasts, so the game will be a comfort for many a player. The futuristic details give it a fresh charm, however, so the novelty present is another one of the game's upsides.
More similar slots:
Book of Cats by BGaming
Joker Ra by Endorphina
Book of Dead by Play'n GO
TikiPOP™ by AvatarUX
HelioPOPolis™ Symbols and Payouts
In HelioPOPolis™, a series of icon copies will net the player a win so long as it starts from either the leftmost or the rightmost reel. No less than three identical symbols are capable of forming a winning combination.
Of note is the way the PopWins™ mechanic affects the formation of matching combinations. When you manage to score a win, PopWins™ will basically give you another chance to land a successful combination of icons by making the participating reels higher.
As for the game's icons, there are low-value symbols from Ten to Ace that each payout 0.6x for a max win, while icons belonging to the artifact group have payouts between 1.5x and 2.5x the best for five-reel matches. Finally, the most generous symbols are the Egyptian deities, with Sobek having a payout of 3x, Anubis granting a player their wager times 3.5x, and Ra being an icon with a 4x payout. In addition to the paying symbols, HelioPOPolis™ also has a Scatter and a Wild that are connected to the game's bonus mechanics. Multipliers and Expanding Symbols are also present.
*Payouts represent multipliers applied to bet per line amount.
HelioPOPolis™ Winning Combinations and Payouts
Symbols
3 Matches
4 Matches
5 Matches
Ra
1.25x
2x
4x
Anubis
1x
1.75x
3.5x
Sobek
0.8x
1.5x
3x
Orange Artifact
0.7x
1.25x
2.25x
Green Artifact
0.6x
1x
2x
Pink Artifact
0.4x
0.75x
1.5x
Ace
0.15x
0.3x
0.6x
King
0.15x
0.3x
0.6x
Queen
0.15x
0.3x
0.6x
Jack
0.15x
0.3x
0.6x
10
0.15x
0.3x
0.6x
Bonus Features Overview
As avid slot fans have come to expect from AvatarUX products, HelioPOPolis™ packs quite a lot of bonuses in one gorgeous, well-animated, and entertaining package. The game's PopWins™ mechanic is its crown jewel, while the excellent Free Spins is the main bonus mode. It comes with a variety of goodies, including multipliers, expanding icons, and more.
There is an Ante Bet function that doubles your chances of triggering the Free Spins feature, and its cost is your wager x0.25. If you would like to do away with RNG completely, however, you can opt for Buy Bonus, which is also an option for HelioPOPolis™ fans. The mechanic is useful if you are not fond of the length of time it might take to trigger the free spins naturally or with the Ante Bet enabled, as it is a way of purchasing the free spins and, thus, getting them guaranteed.
The Big Sync version that comes with synced reels costs your wager times 125 without further improvements, and the same can be said about the Great Wilds choice. If you would like to purchase the Free Spins with all features enabled and increased to the max, it will cost you 1,000x your bet.
Wilds and Scatters
HelioPOPolis™ is one of AvatarUX's more conventional slots, as the game has both a Scatter icon and a Wild. The former is illustrated with a pyramid, and it triggers the Free Spins feature whenever at least three identical icons appear on the reels. The latter can only land during the said Free Spins mode, and it substitutes for all of the games' paying symbols. Another special icon is the Mystery Symbol, which is once again Free Spins-exclusive.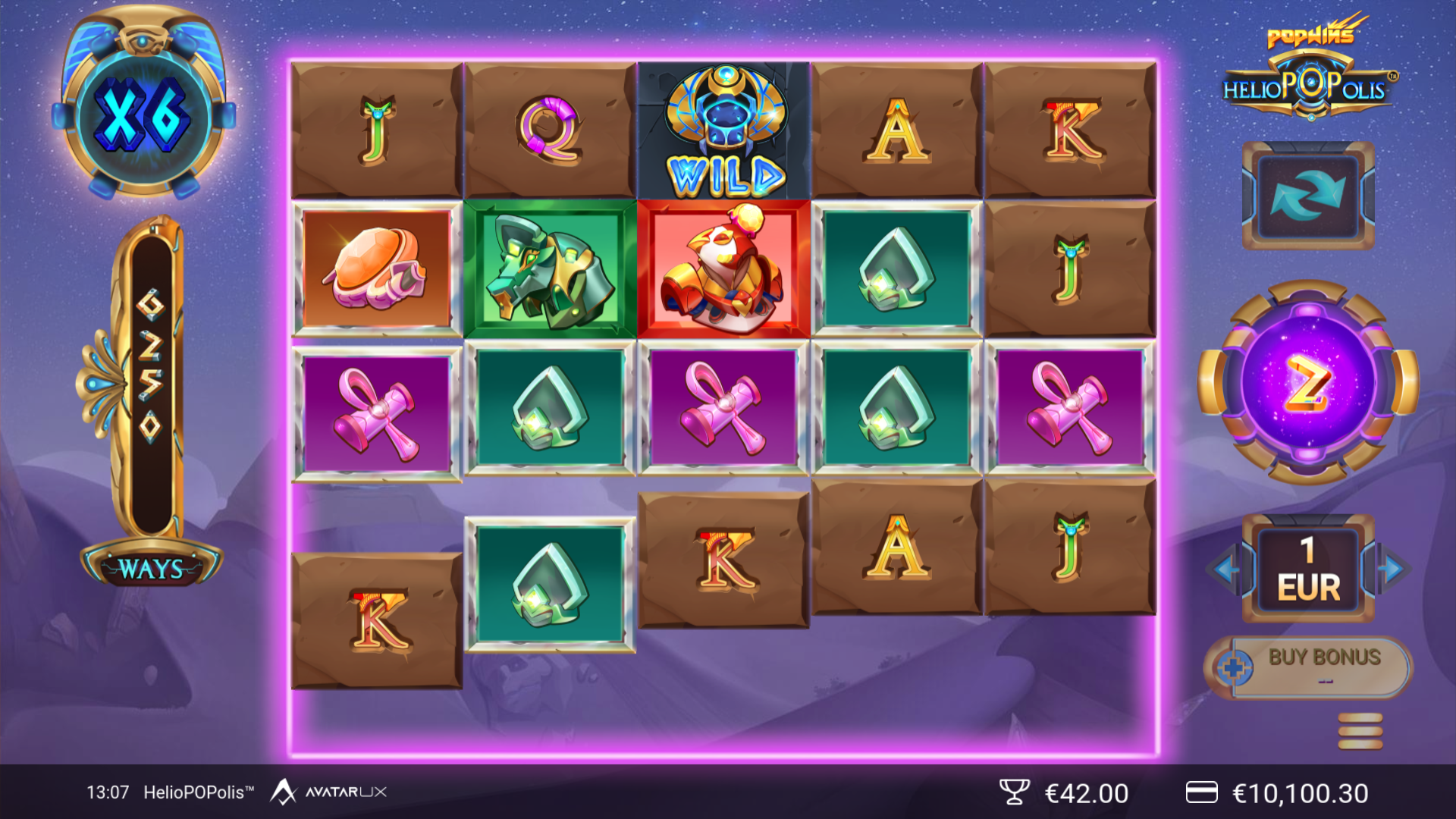 PopWins™
The PopWins™ feature makes a comeback and serves to make spinning the reels an absolute joy. This mechanic ensures that each time a symbol lands a winning combination, all copies of the icon that contributed to the win disappear. Then, the respective cell of each symbol copy splits into two cells, and brand-new symbols land in the new free spots. Then, if the said icons grant a win, the feature is triggered once again.
PopWins™ will continue to affect the reels until the player lands a non-winning combination, which will then cause the reels to return to their original height. This will only occur in the base game. Moreover, base game reels cannot be expanded to have more than six icons each.
The game's reels are enhanced while complimentary games are underway. For one, they will only shrink to the height of the shortest reel after an instance of PopWins™ ends. In addition, the slot layout can become eight symbols high.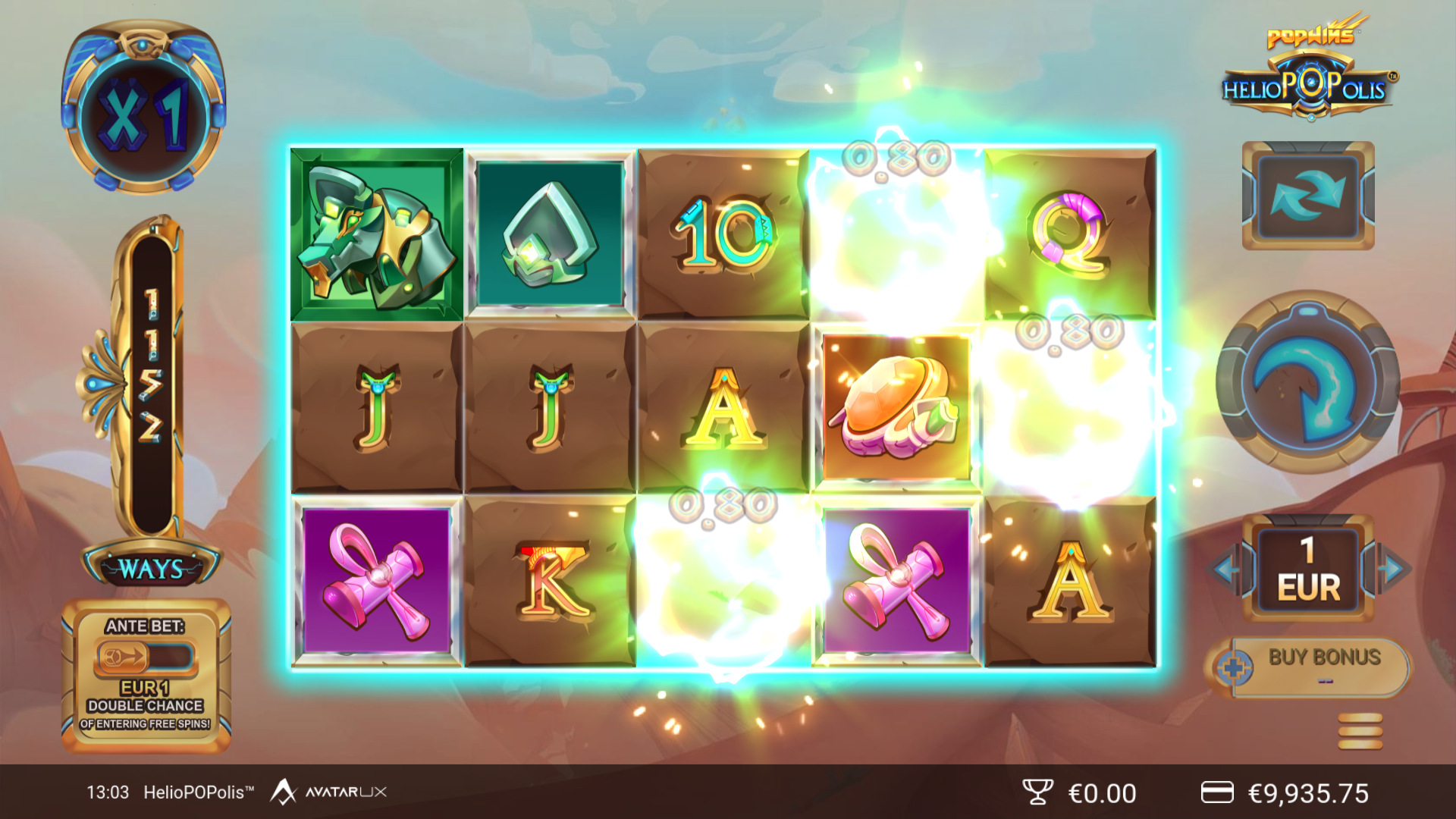 Free Spins
This aptly named game mode is your ticket to the complimentary games that can be won while spinning HelioPOPolis' reels. As established, it takes no less than three scatters for the Free Spins mode to be triggered. Before a player is taken to the free spins layout, however, they are given a choice between activating Synced Reels or the Expanded Win Symbol.
PopWins™ is also active while complimentary games are active, but with a twist–once a series of winning PopWins™ respins ends, the progress is reset to the reel that is shortest as opposed to returning all reels to their base height. In addition, the maximum height of the symbols can be eight symbols high, as opposed to six.
One of our favorite Free Spins aspects is how you can be awarded additional complimentary games. To achieve this, you need to unlock the reels fully so that the slot ends up with a layout of 8×6. If you succeed, you will have two more free games to look forward to, and the Synched Reels and Expanded Win Symbol mechanics are activated.
Certain additional mechanics can only appear during free spins. Mystery Symbols are one such example, and they reveal the same symbol when they land. Expanded Win Symbols are another perk, and the icons that gain the Expanded status are chosen at random for each spin. If such an icon achieves a win, it expands to fully cover its own reel. Do note that Bonus, Wild, and Mystery icons cannot take on this role, but all paying symbols may become expanding.
The next Free Spins exclusive mechanic we will cover is Synced Reels. As suggested, this bonus essentially synchronizes a pair of adjacent reels so that their icons are identical. The complimentary spins are further enhanced by Multiplier symbols. Multipliers are activated via the PopWins™ mechanics, specifically whenever consecutive wins are achieved.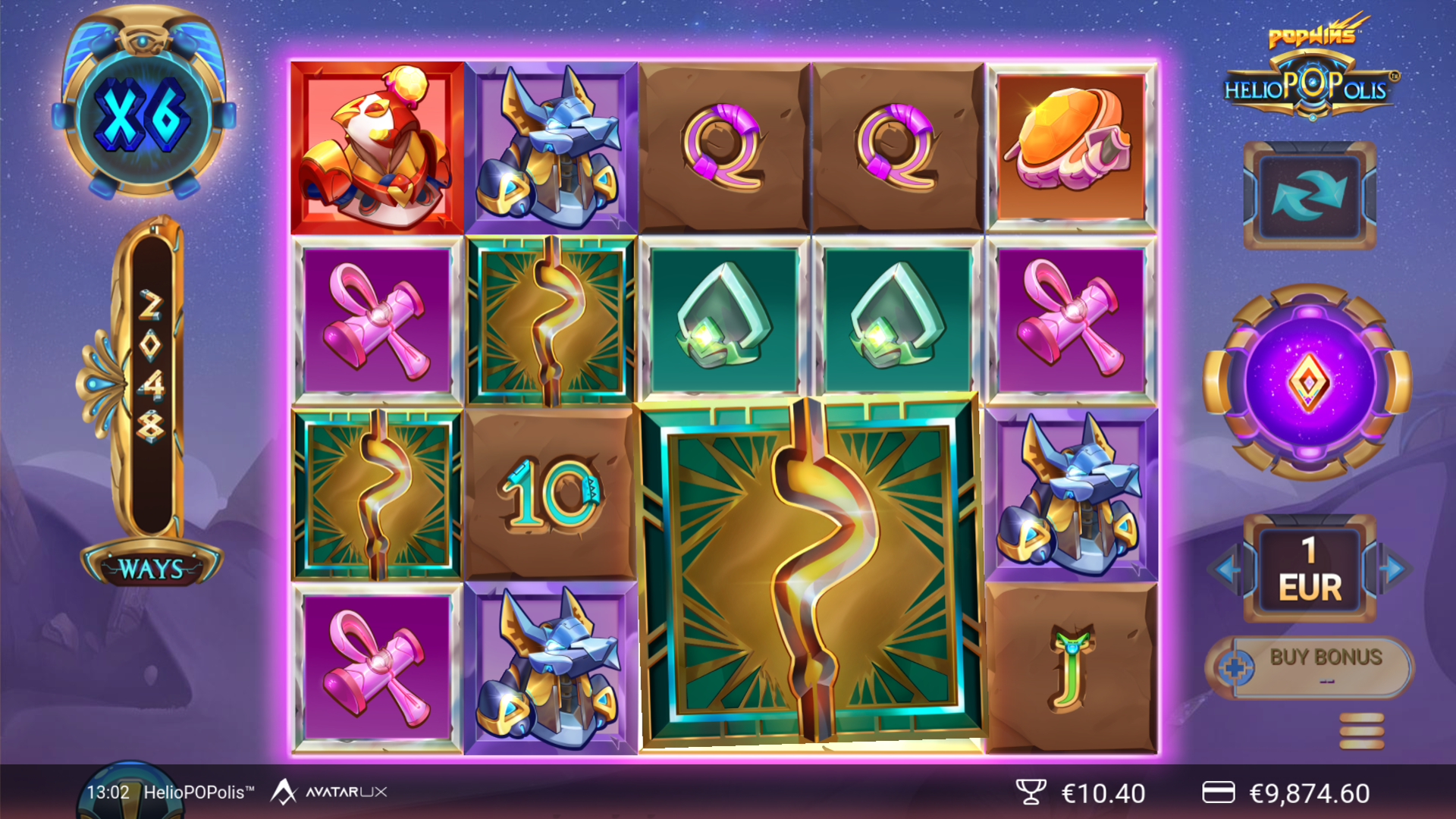 Multipliers
HelioPOPolis' multiplier mechanic is tied to the free spins feature. The multiplier starts at x1, but when a Free Spins layout is unlocked to a height of eight symbols, the multiplier is increased by x2 for each win achieved during an instance of PopWins™. As mentioned above, this is also how two more complimentary games are granted.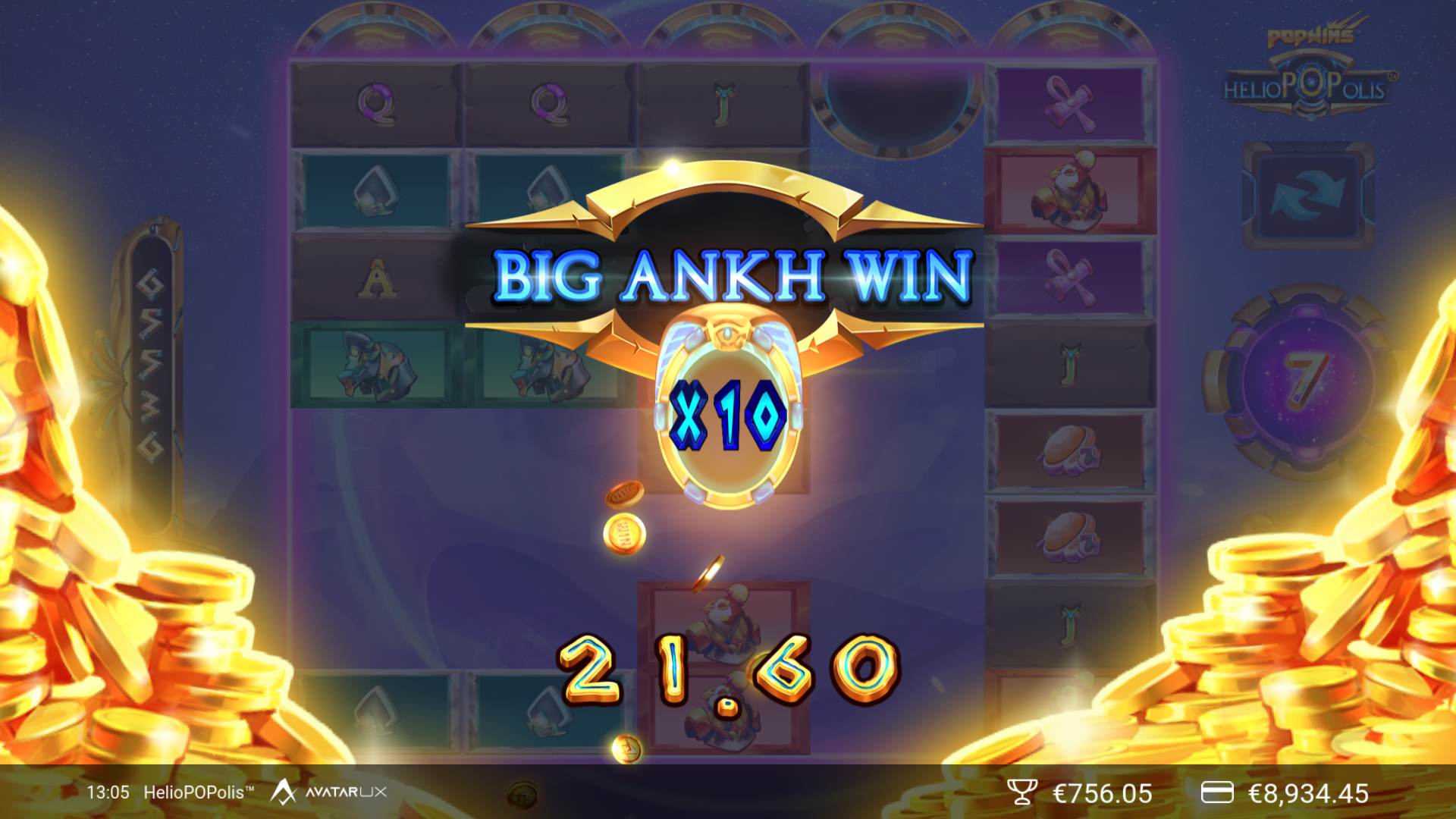 Pros & Cons of HelioPOPolis™
✅ What We Like about HelioPOPolis™
The concept is a unique take on a popular theme
Free Spins are available
The game offers both an Ante Bet feature and Bonus Buy
❌ What We Dislike about HelioPOPolis™
The starting 125x bet cost for bonus buy is a bit steep
Wilds are not available in the base game
You can win only two additional free spins during the Free Spins feature
HelioPOPolis™ FAQs
Does the game support autoplay?
Yes, you can choose to have the game spin the reels automatically if you wish. All subsequent spins are made with the bet size you selected initially. As for how many spins you can queue up, there are options between two spins and one hundred spins for a given set of games, or you may choose to select the Infinite Spins option.
I want to play HelioPOPolis™ on the go. Is that possible?
Yes, the technology behind HelioPOPolis™ is HTML5. This makes it possible for the game to be played on a wide range of browsers, with the officially supported ones being Chrome, Firefox, Microsoft Edge, and Microsoft IE. This compatibility counts for both the desktop version of the said browsers and their mobile applications. We are also happy to say that the game's performance is excellent on smartphones in terms of how smooth the gameplay and animations are.
Is there a turbo setting?
Unfortunately, HelioPOPolis™ does not support turbo play. The reel speed is quite fast as is, however, so most gaming devotees will not feel the urge to speed up the gameplay further.
Related Games