Space Stacks might be one of the most unorthodox slots in Push Gaming's library. The slot layout resembles that of cluster slots, except most of the symbols are Instant Prize blocks. Each icon is designated its own reel where copies of the said block will fall. The game revolves around the developer's Reel Bets mechanic, and to play, you basically place bets on whether certain blocks will fill up their entire reel. You can choose which blocks to wager on, and you are free to place a bet on a single block if you wish. You are also welcome to place bets on multiple reels or even all of the available blocks.
Space Stacks launched in 2022 with an RTP of 96.23%, and in addition to its fascinating core gameplay, it comes with a number of interesting bonus mechanics. This is the ideal slot to try out if you are looking for a novel gambling experience.

Space Stacks Slot Summary
Game Provider: Push Gaming
Release Date: 2022
Game Type: Video Slot
Theme(s): Space
Reels: 10
Wild Symbols: Yes
Rows: 10
Scatters: Yes
Paylines: N/A
Free Spins: No
Payout/RTP: 96.23%
Bonus Game: Yes
Volatility Level: Medium
Progressive Jackpot: No
Min Bet: 0.01
Autoplay: Yes
Max Bet: 100
Max Win: 5000x
Space Stacks Theme
As suggested by its name, Space Stacks is a slot where all of the action takes place in Outer Space. The art style is fairly cartoonesque, and Space Stacks features a slot layout full of colorful icons and a backdrop showcasing a beautiful planetary system. In terms of its graphics quality, the game looks bright and gorgeous on computers and smart devices alike. As for the music and overall ambiance, a playful and fit for the setting background track can be heard during gameplay.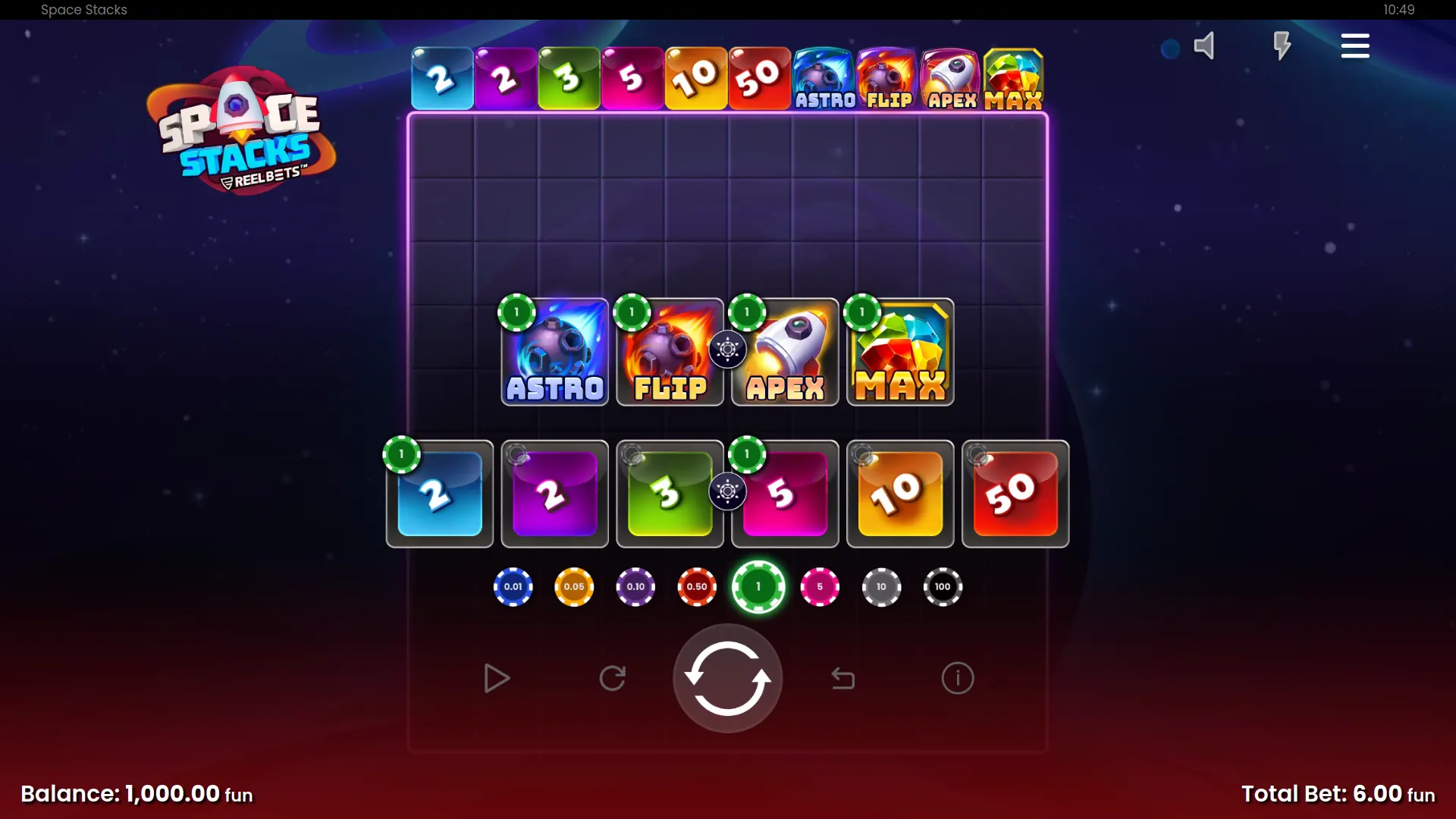 How Space Stacks Compares to Other Slot Games
To say that Space Stacks is unique would be an understatement. The game is so fundamentally different from the vast majority of online slots that many players, even long-term gambling aficionados, will find it to be pretty unique and fascinating. As opposed to traditional reel combinations, the goal when playing Space Stacks is for a specific block to fill up its respective reel. The theme of the game, on the other hand, is fairly conventional, and it will definitely appeal to gambling devotees who enjoy space settings.
More similar slots:
Space Digger by Playtech
Astro Legends by Foxium
Mystery Mission – To The Moon by Push Gaming
Starburst by NetEnt
Space Stacks Symbols and Payouts
As established, the game revolves around Push Gaming's Reel Bets mechanic, where a player places bets on whichever blocks they wish, and each icon has its own individual reel on the layout. Winning is achieved if a wagered on block fills up its respective reel. If multiple columns are full by the end of the spin, the player is rewarded the combined multiplier value of the said blocks.
The slot has several types of symbols, starting with the Instant Prize Blocks. The one with the lowest multiplier is the Blue 2, as its minimum payout is 2x, while its average multiplier is 2.76x, the lowest out of all of the icons. On the other end of the blocky rainbow, we have the Red 50, which boasts thebest minimum payout at 50x, and its average payout is 65.03x. The last instant prize icon is the Diamonds icon, which always pays out one's bet times 5,000, making it the most lucrative symbol in the game.
Space Stack's other set of icons is linked to the slot's bonus features. Although these blocks are responsible for triggering the game's various mechanics, they also have their own average payouts. Astro is the most modest, granting a player their bet times 34.23 on average, while in second place, we have the Flip with a multiplier value of 64.14x. The most generous icon of the bunch is the Apex, with an average payout of 299.34x.
*The payouts from the table are awarded when the selected bet amount is €1.
Space StacksWinning Combinations and Payouts
Block
Minimum Payout
Average Payout
Exact Payout
RTP
Diamonds (Max Instant Prize Block)
–
–
5000x
96.07%
Apex (Feature Block)
–
299.34x
–
96.09%
Flip (Feature Block)
–
64.14x
–
96.17%
Astro (Feature Block)
–
34.14x
–
96.19%
Red 50 (Instant Prize Block)
50x
65.03x
–
96.13%
Yellow 10 (Instant Prize Block)
10x
13.71x
–
96.22%
Pink 5 (Instant Prize Block)
5x
6.94x
–
96.31%
Green 3 (Instant Prize Block)
3x
4.48x
–
96.33%
Purple 2 (Instant Prize Block)
2x
2.76x
–
96.35%
Blue 2 (Instant Prize Block)
2x
2.46x
–
96.39%
Bonus Features Overview
One of Space Stacks' main appealing traits is the number of goodies the developer has included as extra mechanics. An Enhancement Feature, for example, is always activated before a spin commences, granting symbols additional multipliers. What is more, there are three bonus games, so players have much to look forward to when they pick up this slot.
Wilds and Scatters
Due to the way the Space Stacks slot works, there is no wild symbol present. The slot does have three scatters, however, which include the Astro block, the Flip block, and the Apex block. Each triggers its respective bonus game, provided it succeeds in filling its column on the slot layout.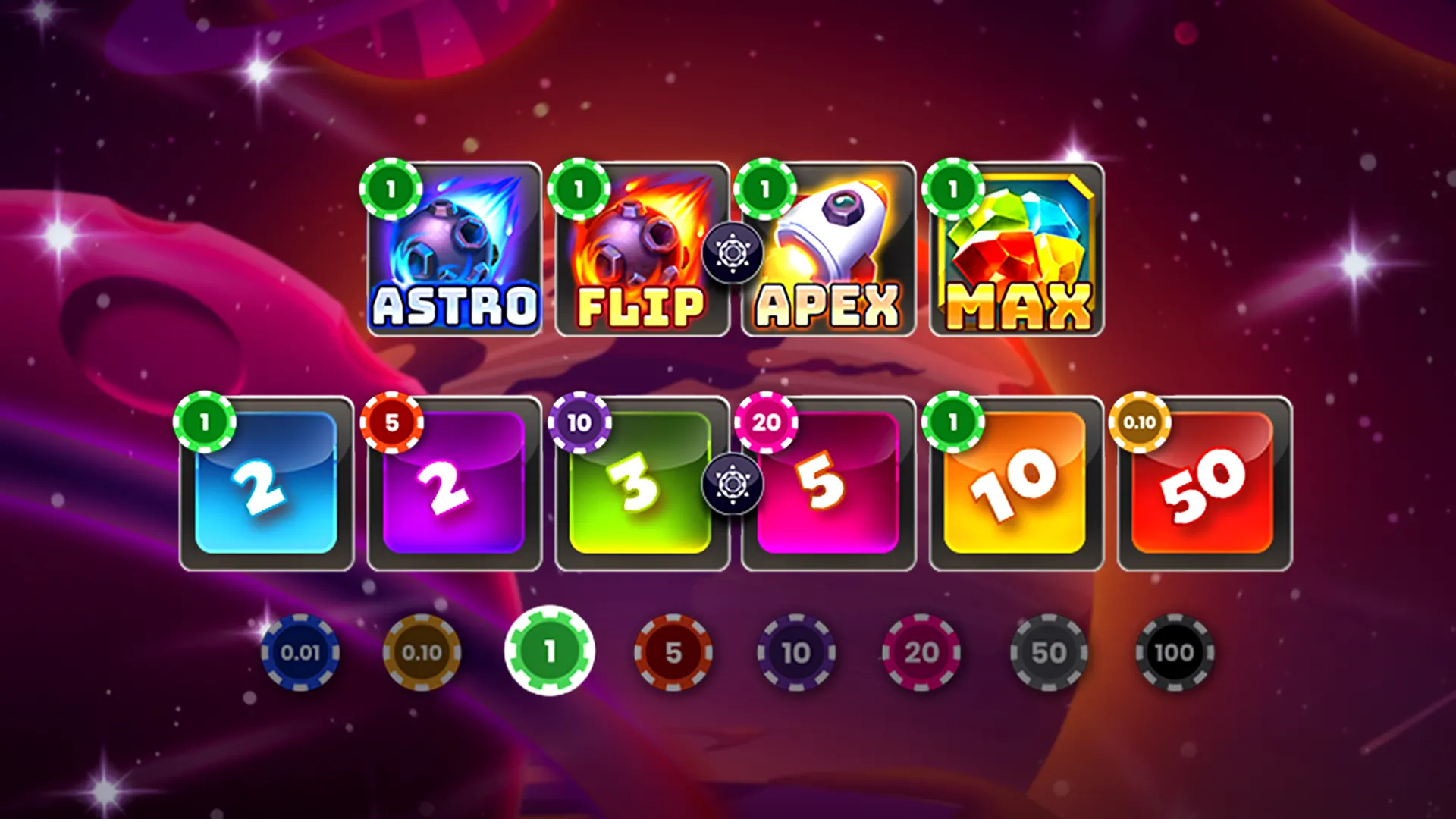 Astro Bonus Game
Space Stacks has several extra features that will net you plenty of exciting wins. The first one is the Astro feature, triggered by the block bearing the same name. When players access this feature, they are greeted with the Instant Prize wheel, which includes rewards like multipliers and instant prizes:
Multiplier prizes – 2x, 3x, 5x, 10x, 25x, 50x, 100x
Instant prizes – +2, +3, +5, +10, +25, +50, +100, +250, +500, +1000
Apart from the prize segments, the wheel also contains Collect segments, and landing on such a segment marks the end of this feature.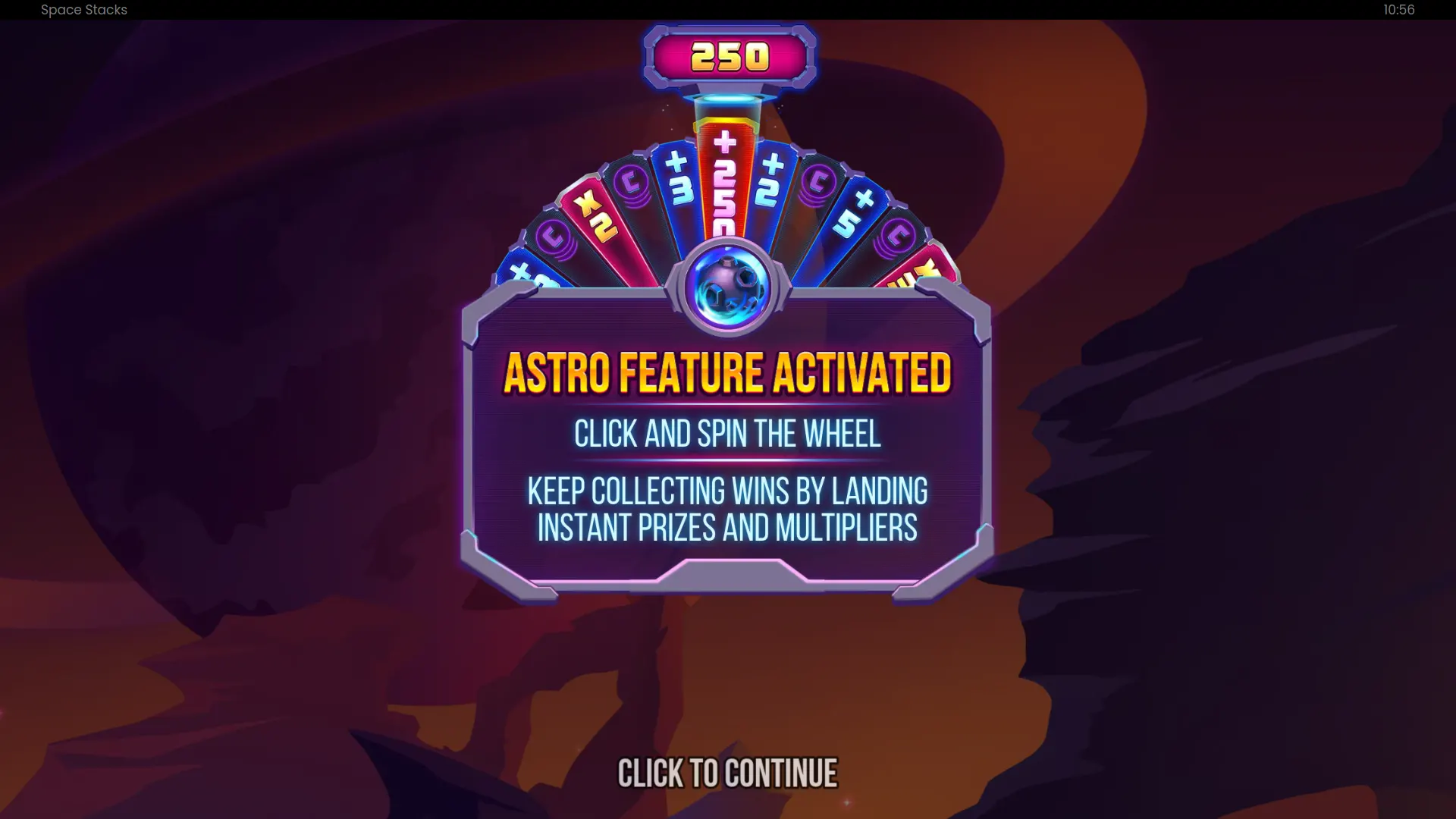 Flip Bonus Game
The second bonus game is the Flip feature. You need the Flip block to fill up a reel in order to access this game, and it is essentially a 6×6 grid with prizes hidden behind pink blocks. You can tap on the blocks up to three times, and if you get a Rocket Symbol, you will unlock a 2x win multiplier that will increase with each new Rocket Symbol revealed. The next multiplier is 5x, followed by 10x, and finally 100x. Do note that if you luck out on an Instant Prize on your first try, you will be left with a single pick as opposed to two. Finally, using up all of your available tries will end this mode.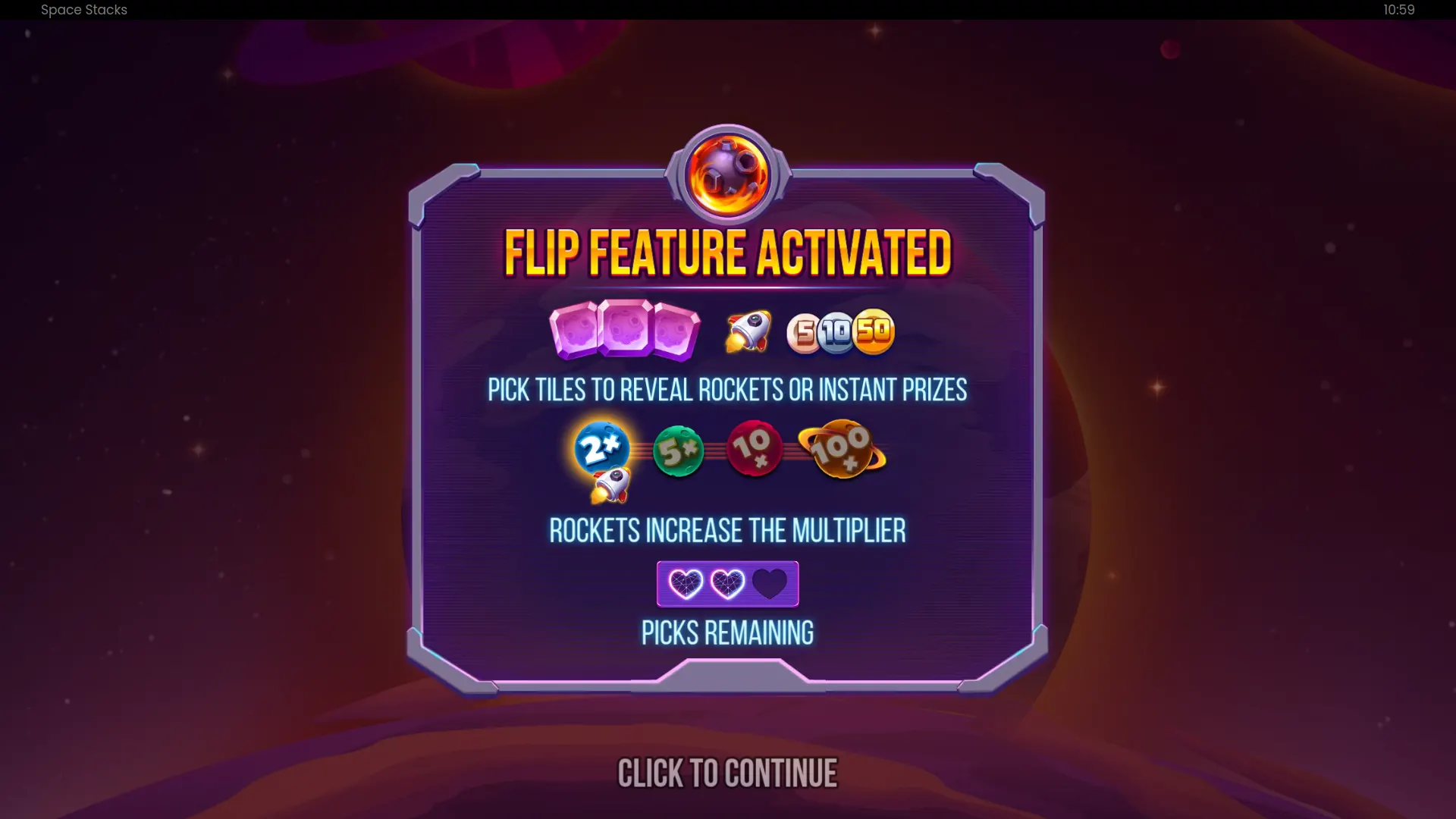 Apex Bonus Game
In this bonus, the Instant Prize symbols from the base game are granted new initial multiplier values: 2x,3x,5x,7x,10x, and 20x. The Enhancement Feature is triggered at the beginning, and the enhancement values during this mode start from 2x and can go up to 20x.
When the blocks drop on the reels, the block of the second column to be filled will multiply the collected winning, and the next full reel will do the same. When the player fills two reels, they are granted three lives, which are consumed when symbols do not land. When all columns are full, the feature ends regardless of how many lives there are left, and the total payout is multiplied by the value of the bet. The feature will also end if a player runs out of lives before all columns are full.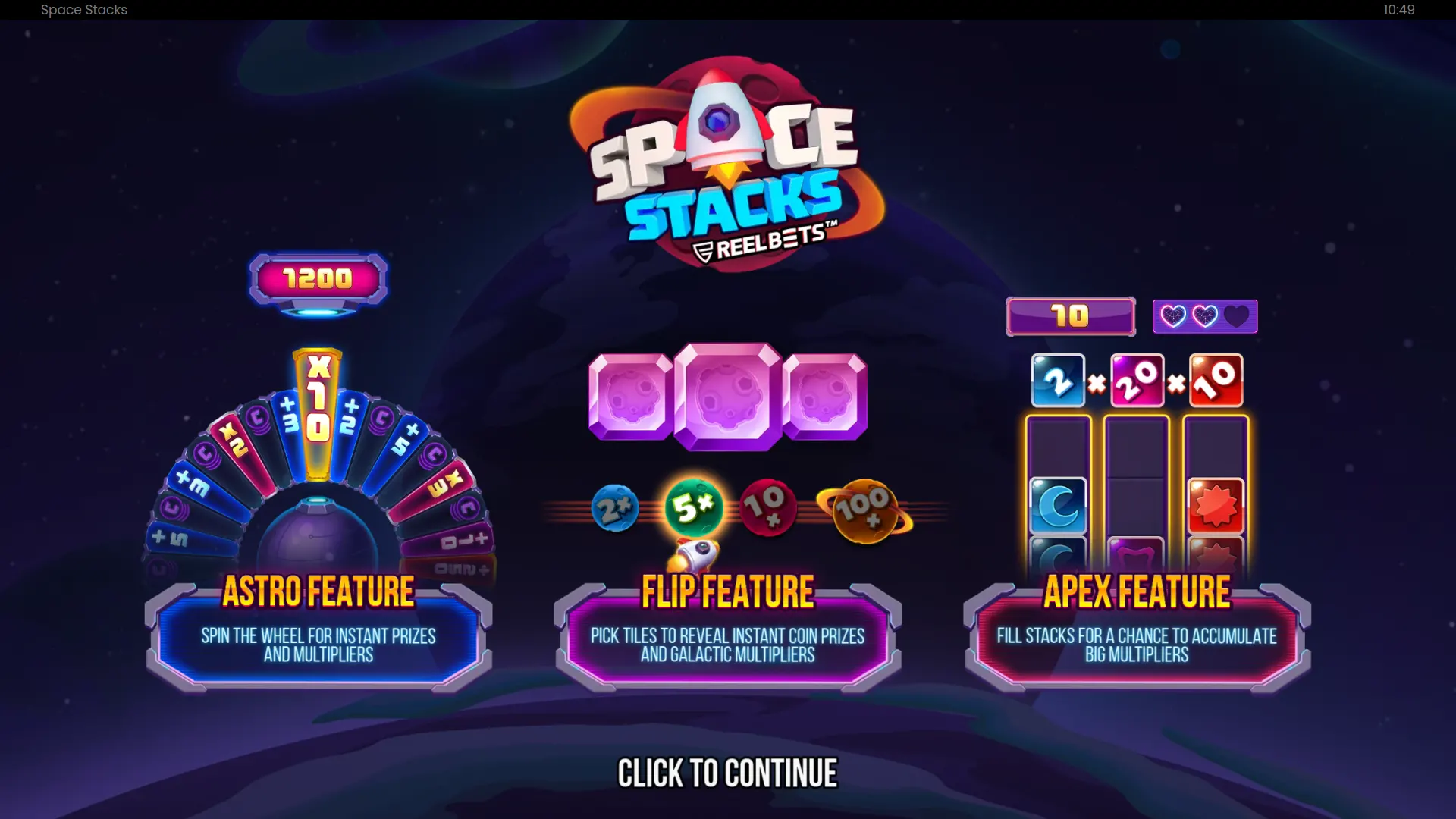 Multipliers
The majority of blocks that are part of Space Stacks' paytable are Instant Prize blocks that have a minimum multiplier value and an average value. The one exception is the Diamonds block, which always pays out 5,000x the base bet.
Each time a spin is about to start, the value of at least one instant prize symbol is increased, excluding the Diamonds block. As touched upon earlier, this mechanic is dubbed the Enhancement Feature, and the additional values range between +2 and +1,000. Additionally, a single block might be enhanced multiple times if the player is lucky.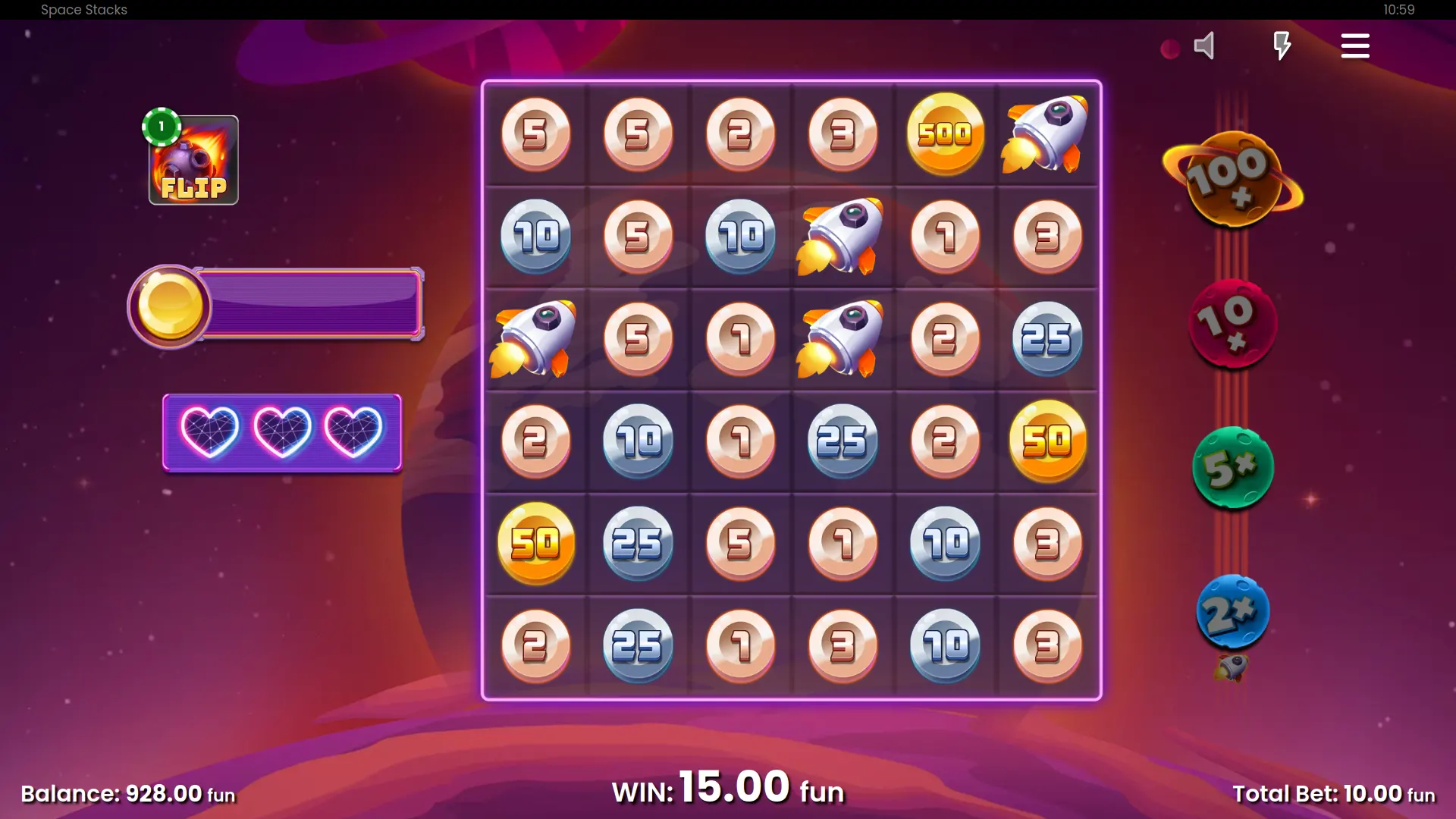 Pros & Cons of Space Stacks
✅ What We Like about Space Stacks
Unique and entertaining gameplay
The bet range will suit the needs of casual players and high rollers alike
Space Stacks features multiple bonus games
❌ What We Dislike about Space Stacks
The space theme is relatively common
Space Stacks' gameplay can take some getting used to
The max possible win is 5,000x, while most of Push Gaming's slots have max wins of 10,000x or more
Space Stacks FAQs
Can I win free spins while playing Space Stacks?
No, the game does not feature complimentary spins. It does, however, have several bonus mechanics.
Can I play Space Stacks on my phone?
If you have a smartphone, yes. Space Stacks is powered by HTML5, which means that it can run on basically any popular browser application. It works well on both Android and iOS devices.
Does the game offer bonus buy?
No, Space Stacks does not have a bonus buy feature. You will need to rely on luck in order to access the bonus games.
Related Games