Brought to you by Playtech, Aces and Faces is an enjoyable and straightforward online video poker variation that allows you to bet on up to 25 hands per round. The game is similar to video poker staples like Tens or Better and Aces and Faces in terms of structure but uses a different paytable. Players are awarded bonus payouts for hands that contain four face cards or aces.
This Playtech creation comes with a clutter-free design, easy-to-understand gaming controls, polished graphics, and fluid animations. Aces and Faces is playable across all mobile and desktop devices, with bets starting at $0.01 only. The game will certainly appeal to deep-pocketed players as maximum wagers reach a whopping $1,250 per round with 25 hands in play.
| | |
| --- | --- |
| Game Provider: Playtech | Release Date: 2016 |
| Number of Hands: Up to 25 hands | Coin Values: 0.10, 0.50, 1, 5, 10, 25, 50 |
| Min Bet: 0.10 | Max Bet: 1250 |
| Progressive Jackpot: No | House Edge: 0.74% |
Design and Gameplay
Playtech's multi-hand version of Aces and Faces plays against a purplish background that makes it stand out from other variants you can play online. The developers have paid great attention to detail when crafting the game.
The realistically rendered cards are large enough for players to distinguish their values when enjoying the variation in single-hand mode on small-screen devices. The cards scale down in multi-hand mode and are not as clearly visible, especially if you play 25 hands at a time.
The dynamic paytable with the qualifying five-card poker hands is located on the left side of the screen. The smart yet simple controls at the bottom facilitate effortless bet sizing and gameplay. Coin denominations range from 0.01 to 50 and players can select 1, 4, 10, or 25 hands to bet on per round.
The game is easy to pick up even for video poker rookies. You are dealt a five-card hand at the start of a round and must decide which cards to keep and which ones to replace at the draw. Your winning hands, if any, are highlighted in the paytable and you can either collect your payout or try to double it via the Gamble feature.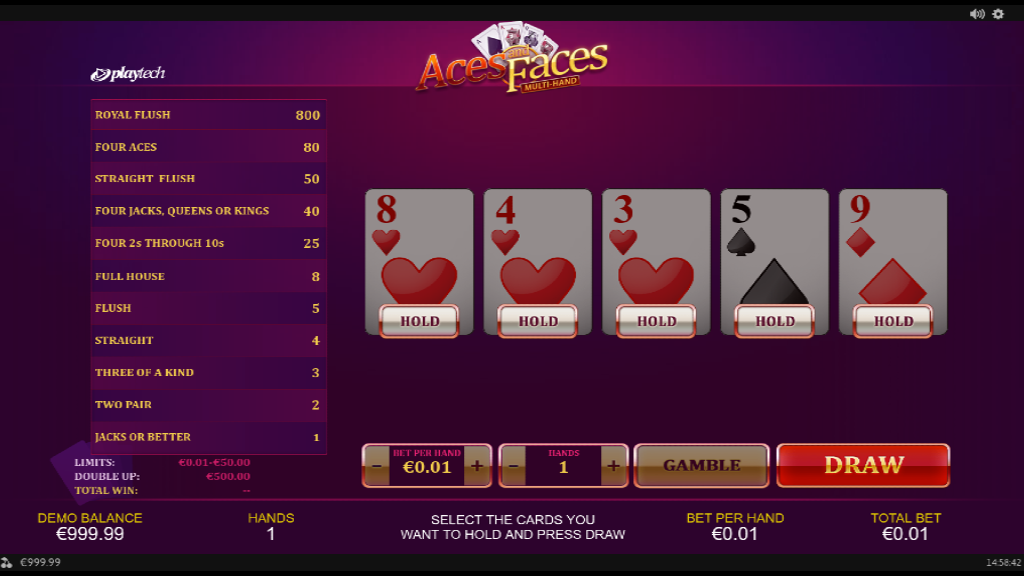 Qualifying Hands and Paytable
Hand Ranking and Payouts in Aces and Faces Video Poker
Royal Flush
x800
Four Aces
x80
Straight Flush
x50
Four Jacks, Queens, or Kings
x40
Four 2s through 10s
x25
Full House
x8
Flush
x5
Straight
x4
3 of a Kind
x3
Two Pair
x2
Aces and Faces
x1
Aces and Faces is similar to Aces and Faces but awards higher payouts for specific four-of-a-kind hands. It is also worth mentioning that this multi-hand variant has only one bet level, which means you can wager no more than one coin of your chosen denomination per hand. The highest payout of 800 to 1 is awarded for royal flushes.
Four aces comprise the second most valuable hand in this game and pay at house odds of 80 to 1. Four Jacks, Queens, or Kings award payouts of 40 to 1, while quads with cards deuce through ten offer prizes of 25 to 1. The rest of the qualifying hands coincide with those in the Jacks or Better payable but there are some discrepancies in the payouts. Paired Jacks, Queens, Kings, or Aces comprise the lowest-ranking hands and pay at even-money odds
In-Game Features of Aces and Faces Video Poker
| | |
| --- | --- |
| Gamble Feature | Yes |
| Quick Play | Yes |
| Auto Hold | Yes |
Similarly to other video poker games, Playtech's Aces and Faces is almost entirely stripped of in-game features. The few functionalities included here largely overlap with what you can commonly find in most other variations. The Auto-Hold function facilitates the decision-making process for rookie players as it automatically keeps the cards that make up a winning hand after the initial deal.
The winning hands on each round are highlighted in the dynamic paytable on the left-hand side of the screen. In multi-hand mode, a small box with the number of qualifying hands will appear next to the respective winning combination in the paytable.
Players can attempt to double all or half of the profits they have won during the last round by clicking or tapping the gold-colored Gamble button. Five facedown cards will appear on the screen and you must guess the color of the suit (red or black) of the first card to be flipped over. If your guess is correct, you can collect your profits or attempt to double them again. Players can continue trying to double their wins until they either lose or reach the feature's limit of $500.
Theoretical Return of Aces and Faces Video Poker
Aces and Faces yields a slightly lower theoretical return compared to some of the other video poker variants you can play online. Playtech's version of Aces and Faces has an RTP of 99.26%. Respectively, the house edge stands at 0.74% which means you will lose 74 cents on average for every hundred dollars you put at stake. Bear in mind you must play optimally and implement the correct strategy for Aces and Faces or else you will be facing a higher house edge and a lower theoretical return.
Aces and Faces Video Poker FAQs
Is there a Quick Play feature in Playtech's version of Aces and Faces?
Not to our knowledge. Players cannot accelerate the speed of the card dealing from the settings menu, which only gives them the option to disable the splash screen, skip the introductory video at the start of the game, and regulate the volume of the sound effects.
Does the number of hands in play affect my overall stake?
It certainly does. Your total stake grows proportionally to the number of hands you have in action since you must cover each hand you play with a bet. To give you an example, suppose you have set the number of hands at 25 and have selected a coin value of $0.50. Your overall wager per round will amount to $12.50 in this case.
How can I be sure Aces and Faces is a fair game?
Playtech, the software studio behind Aces and Faces, has obtained licenses from many top-tier gambling regulators, including the Malta Gaming Authority and the UK Gambling Commission. The outcomes in all games created by the company, Aces and Faces included, are governed by random number generators. Playtech's portfolio is regularly tested for fairness by independent auditors
Related Games