NetEnt may be better known for its extensive collection of online slots but the Swedish software studio does not entirely ignore the needs of video poker mavens. The renowned gaming supplier caters to fans of the genre with a polished variation of Jacks or Better that is guaranteed to entice them with its fast-paced gameplay and straightforward interface.
And while the game's visual appeal is undeniable, it is the low house edge that attracts video poker purists. The betting range is broad enough to accommodate all budgets as the variation is playable for as little as $0.10 per hand. Players craving more action can satiate their appetites by betting on up to 25 hands in a single round.
| | |
| --- | --- |
| Game Provider: NetEnt | Release Date: 2014 |
| Number of Hands: Up to 25 hands | Coin Values: 0.10, 0.20, 0.50, 1, 2, 5, 10 |
| Min Bet: 0.10 | Max Bet: 62.50 |
| Progressive Jackpot: No | House Edge: 0.44% |
Design and Gameplay
Jacks or Better Double Up is easy on the eye, with a clean interface encumbered by any unnecessary clutter. The realistically rendered cards are dealt against a simple dark gray background that makes them stand out even more. Everything is clearly visible and to the point. You have the qualifying hands and their corresponding payouts at the left side of the screen and the gaming controls at the bottom.
The control buttons allow you to tailor the gaming experience to your liking. You can alter how many hands you play per round, having a choice from 1, 5, 10, and 25 hands. Next up, you must adjust your bet level and bet size. The game supports five bet levels which means you can wager up to five coins of your chosen denomination on each hand you play. The Max Bet button conveniently enables you to place the maximum wager with a single click or tap.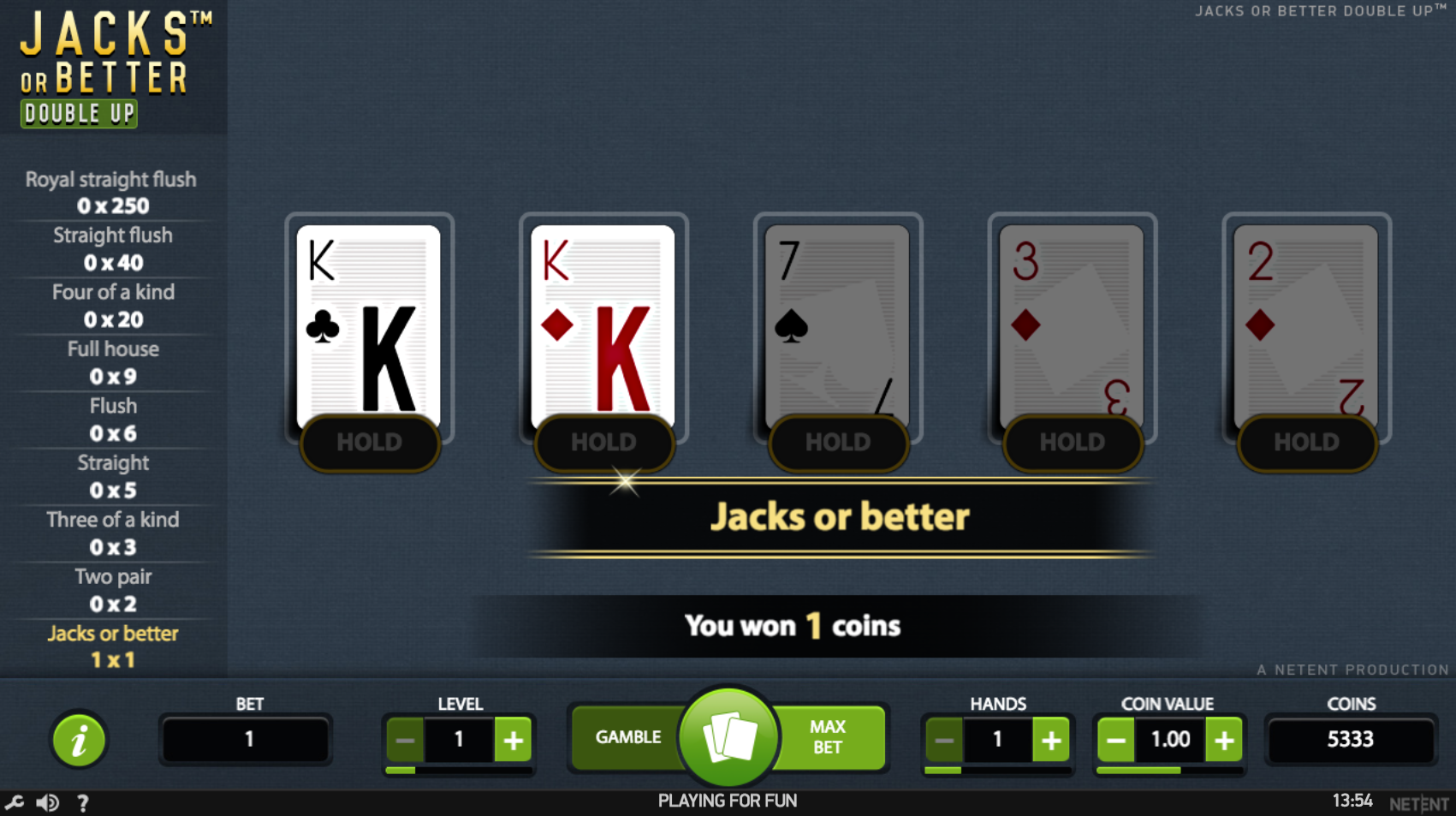 Qualifying Hands and Paytable
Hand Ranking and Payouts in Jacks or Better Double Up
Hand
1 Coin
2 Coins
3 Coins
4 Coins
5 Coins
Royal Flush
x250
x500
x750
x1000
x4000
Straight Flush
x40
x80
x120
x160
x200
4 of a Kind
x20
x40
x60
x80
x100
Full House
x9
x18
x27
x36
x45
Flush
x6
x12
x18
x24
x30
Straight
x5
x10
x15
x24
x30
3 of a Kind
x3
x6
x9
x12
x15
Two Pair
x2
x4
x6
x8
x10
Jacks or Better
x1
x2
x3
x4
x5
As the name of the variation suggests, the lowest hand that qualifies for a payout must contain a pair of Jacks, Queens, Kings, or Aces. These pairs award the smallest payouts in the game since their frequency of occurrence is higher. They pay even money which basically means you receive one coin per every coin you have wagered.
The most you can win in Jacks or Better Double Up is 4,000 times your stake at the highest betting level with five coins. The maximum payout is awarded for a royal straight flush that contains suited A, K, Q, J, and 10. No wild cards are in play in this variation.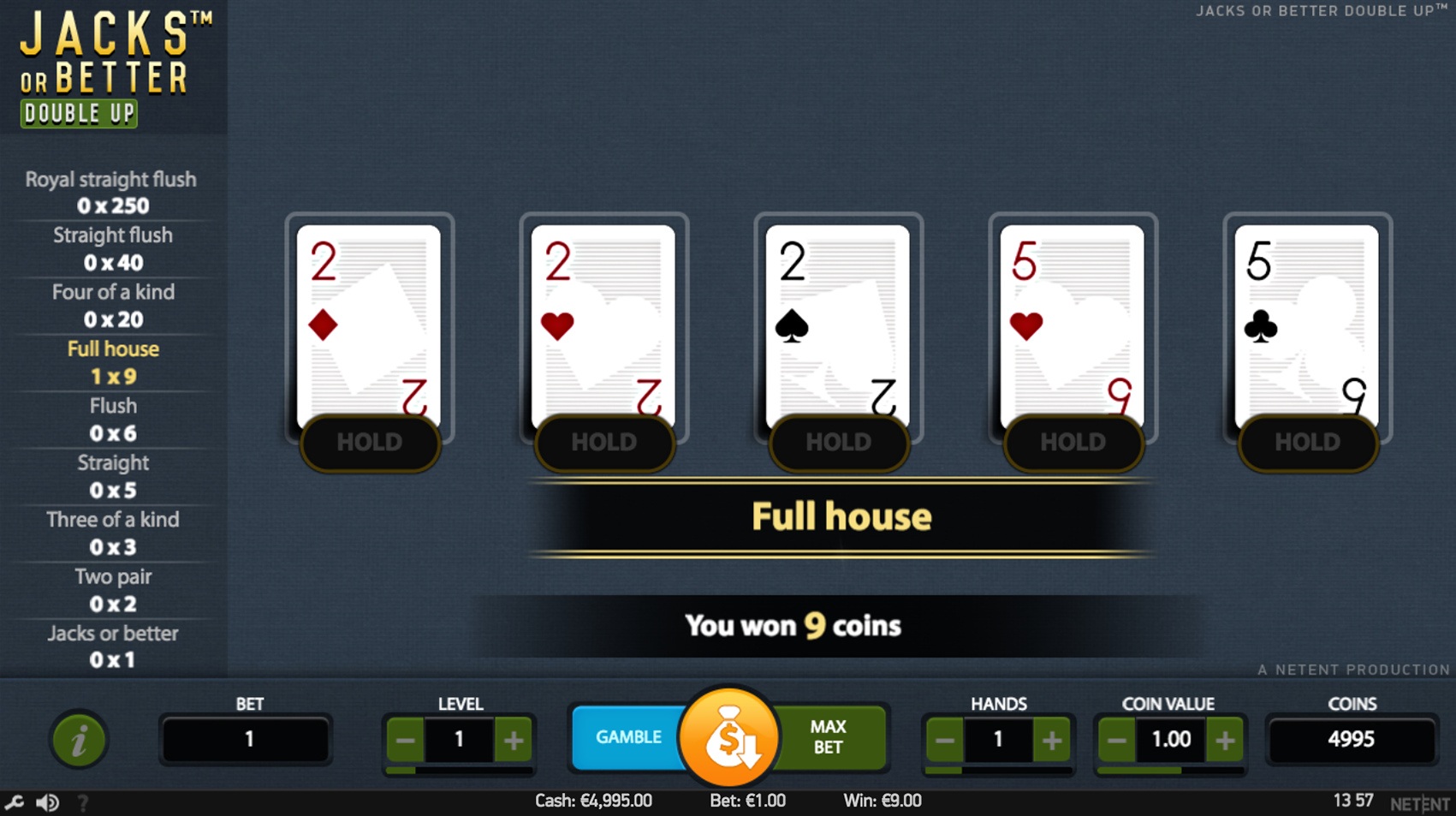 In-Game Features of Jacks or Better Video Poker
| | |
| --- | --- |
| Gamble Feature | Yes |
| Quick Play | Yes |
| Auto Hold | Yes |
The variation compensates for its lack of visual flair with several handy in-game functions, starting with the double-up feature. It activates after every winning hand and gives players the chance to boost their profits from the last round to potentially increase them. The feature involves five cards dealt face down on a new screen and you must guess the suit color of the first card to be flipped over.
A correct guess will double your winnings but an incorrect one will cause you to lose what you have earned during the last round. You can gamble your winnings up to five times, with the option to collect what you have earned after each successful double. Those who do not intend to use the feature can easily deactivate it from the settings by clicking the wrench-shaped button in the lower left corner.
Another option is to adjust the settings so that the double-up feature activates on its own after each winning hand. The auto-hold feature automatically selects the best cards for you to hold onto. We consider it particularly useful for novices who are still learning the ropes strategy-wise. The fast-play function speeds up the card dealing and the bet settlement process.
Theoretical Return of Jacks or Better Video Poker
There is a correlation between the theoretical return you can anticipate and the number of coins you risk per round. The return to player is lower at 98.40% when you wager one to four coins per hand, which corresponds to a house edge of 1.60%. Those playing at the highest bet level with five coins per hand face a house advantage of less than half a percent (0.44% to be specific) and enjoy a higher theoretical return of 99.56%.
Jacks or Better Video Poker FAQs
Can I check my game history?
Yes, Jacks and Better Double Up features a game history panel where players can track the results of their gaming sessions in detail. The feature is only available to those who play the game for real money. It will not show in the settings menu if you play the demo version for free.
Is Jacks or Better available in English only?
NetEnt caters to players from all major European markets with a multilingual interface. Video poker fans who are not fluent enough in English face several other language options, including German, Dutch, Finnish and Swedish.
What is the maximum win in Jacks or Better Double Up?
The maximum payout of 4,000 times the bet is awarded for a royal straight flush. This translates into winnings of up to $200,000 at the highest betting level with five maximum-value coins in single-hand mode. You can attempt to double this amount with the gambling feature but we strongly recommend against attempting this.
Related Games