Better known for its collection of stunning online slots, Play'n GO tapped into the video poker genre in 2015 with the release of Joker Poker where you can play up to one hundred hands per round. Jokers are wild in this exciting and fast-paced variation which rewards players with bonus payouts for hand combinations like the five of a kind and the wild royal flush.
The game's layout is quite familiar and does not deviate from what we are accustomed to seeing in most other variations. The extra-large cards make it a breeze to play both on desktop and hand-held devices. Bets start at 0.25 at the lowest bet level, rendering the game suitable for players on a shoestring budget.
| | |
| --- | --- |
| Game Provider: Play'n GO | Release Date: 2015 |
| Number of Hands: Up to 100 hands | Coin Values: 0.10, 0.20, 0.50, 1, 5 |
| Min Bet: 0.25 | Max Bet: 25.00 |
| Progressive Jackpot: No | House Edge: 95.01% |
Design and Gameplay
Play'n GO's version of Joker Poker does not deviate from the beaten path as it opens to the standard blue backdrop most old-school video poker games use. As this is a multi-hand variant, the layout changes depending on the number of hands you have in action. The paytable moves to the left side of the screen when you switch from single to multi-hand mode.
Players will find the control buttons in their usual spot at the bottom. The game has five bet levels and allows you to adjust the number of hands you play per round to 1, 4, 10, 25, 50, or 100. The coin denominations you can choose from depend on how many hands you have activated.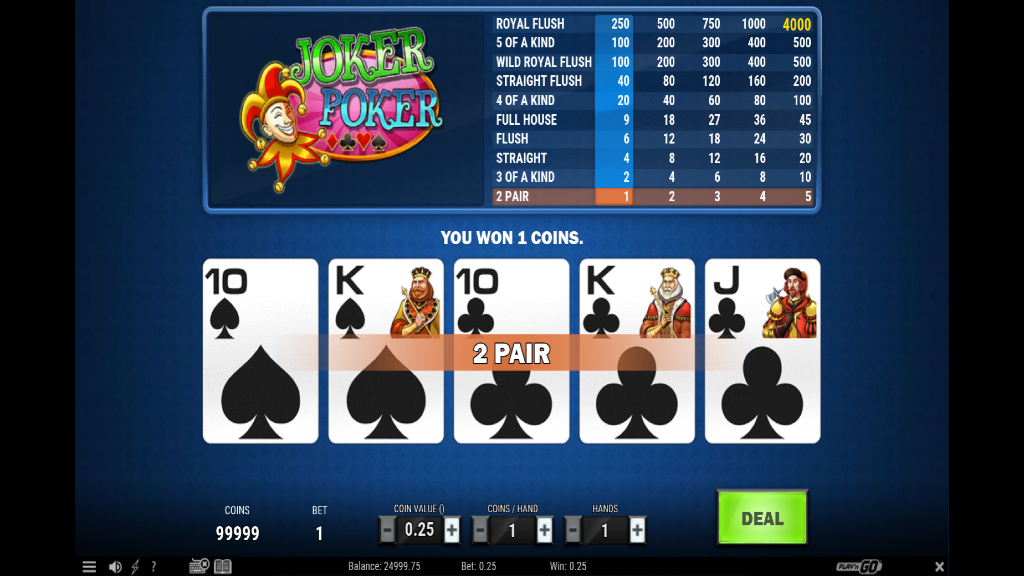 Qualifying Hands and Paytable
Hand Ranking and Payouts in Jacks or Better Double Up
Hand
1 Coin
2 Coins
3 Coins
4 Coins
5 Coins
Royal Flush
x250
x500
x750
x1000
x4000
5 of a Kind
x100
x200
x300
x400
x500
Wild Royal Flush
x100
x200
x300
x400
x500
Straight Flush
x40
x80
x120
x160
x200
4 of a Kind
x20
x40
x60
x80
x100
Full House
x9
x18
x27
x36
x45
Flush
x6
x12
x18
x24
x30
Straight
x4
x8
x12
x16
x20
3 of a Kind
x2
x4
x6
x8
x10
Two Pair
x1
x2
x3
x4
x5
What makes Joker Poker different from other variations is that it uses a 53-card deck due to the addition of the wild joker. The payouts for the qualifying hands correlate with your bet level. The natural royal flush is the strongest hand in the game awarding the top payout of 4,000 coins with maximum bets.
The joker can replace all regular cards, making it possible to form five of a kind. This is the second highest-paying combination here, returning 500 coins at the maximum bet level. It shares a payout with the wild royal flush which can reward players with 100, 200, 300, 400, or 500 coins at the different bet levels. Two Pair is the weakest qualifying hand in Joker Poker, delivering between 1 and 5 coins.
In-Game Features of Joker Poker
| | |
| --- | --- |
| Gamble Feature | Yes |
| Quick Play | Yes |
| Auto Hold | Yes |
Players who decide to try the game on their desktop computers can take advantage of the keyboard shortcuts function. It enables them to select or deselect the cards they want to hold by using the arrow buttons on their keyboards or numbers 1 through 5 on the numpad. The hamburger menu leads to the settings where you can tailor the gameplay to your personal preferences. It allows you to enable or disable the sounds, the keyboard shortcuts, and the fast-play and auto-hold features.
The gamble feature becomes active after you form a winning combination, giving you the opportunity to double or quadruple your payout. You are dealt one facedown card and must guess the color of its suit to double your winnings. More daring players can have a go at quadrupling their profits by guessing the exact suit of the hidden card.
Theoretical Return of Joker Poker
Joker Poker may have an extra wild card in play but still delivers a considerably lower theoretical return than most other video poker variations available for online play. The inclusion of the wild joker, as helpful as it is, comes at the expense of paytable reductions.
Also, pairs are altogether excluded from the paytable. These factors combined cause the expected return to drop to 95.01%. In other words, you will experience greater long-term losses in Joker Poker compared to other common variants like Deuces Wild or Jacks or Better.
Joker Poker Video Poker FAQs
Is Play'n Go's Joker Poker the full-pay version of the game?
Unfortunately, no. The full-pay version of Joker Poker is a positive-expectation game and comes with a return percentage of 100.64% based on the assumption you are betting the maximum of five coins per hand. We regret to say we have never come across a full-pay online variant of this classic video poker game.
Is there a strategy for Joker Poker?
Yes, there is and you better master it because the already low return percentage will drop even further if you play haphazardly. Keep in mind the strategy moves differ depending on whether or not your hand contains a joker after the initial deal.
What is the maximum amount I can win in Joker Poker?
As we mentioned earlier, Joker Poker delivers its highest prize of 4,000 coins for a natural royal flush that does not contain any jokers. The amount you can rake in ultimately depends on your coin size and bet level. Assuming you play in single-hand mode with five coins of the highest denomination (5.00), you will pocket 20,000 units in your respective currency if you are lucky enough to form a royal flush.
Related Games