Leading software company Playtech is well-known for delivering distinctive table games and Free Chip Blackjack serves as a perfect example. This 2019 release is a unique take on the classic card game as it gives players the ability to split and double down on specific hands without risking any of their own money.
But this is hardly the only exciting aspect of playing Free Chip Blackjack. The game offers a plethora of additional wagering options like the Bust Bonanza, Perfect Pairs, and Free Fortune side bets. Some of these optional wagers give daring players the chance to rake in enhanced payouts of up to a thousand times their stake.
| | |
| --- | --- |
| Game Provider: Playtech | Release Date: 2019 |
| Bet Range: 0.10 - 5000 | Chip Values: 0.10, 0.50, 1, 5, 10, 25, 100, 500, 1000 |
| Multi-Hand Play: Up to 3 hands | Deck Number: 6 decks |
| Blackjack Pays: 3 to 2 | Dealer Drawing Rules: Draws to 16 and hits on soft 17 |
| Dealer Peek Rule: No peek | Doubling on: Any two cards (free doubles on 9, 10, and 11) |
| Resplitting: Yes | Surrender: No |
| Insurance Deactivation: Yes | Side Bets: Yes |
| Progressive Jackpot: No | House Edge: 0.77% |
Interface and Design
The graphics and animations in Free Chip Blackjack are nothing short of spectacular but we must admit the interface is rather cluttered. We attribute this to the cornucopia of side wagers the developers have packed the game with. Three categories of side bets are featured here and all their possible outcomes are outlined in the upper section of the layout, along with their corresponding payouts.
Many of the rules are concisely listed in the center of the table, further cluttering up the layout. The main betting boxes are positioned below, allowing you to play up to three spots concurrently. All in all, players can have up to three main bets and nine side wagers in action on each round. The control buttons and the chip tray are at the very bottom of the screen.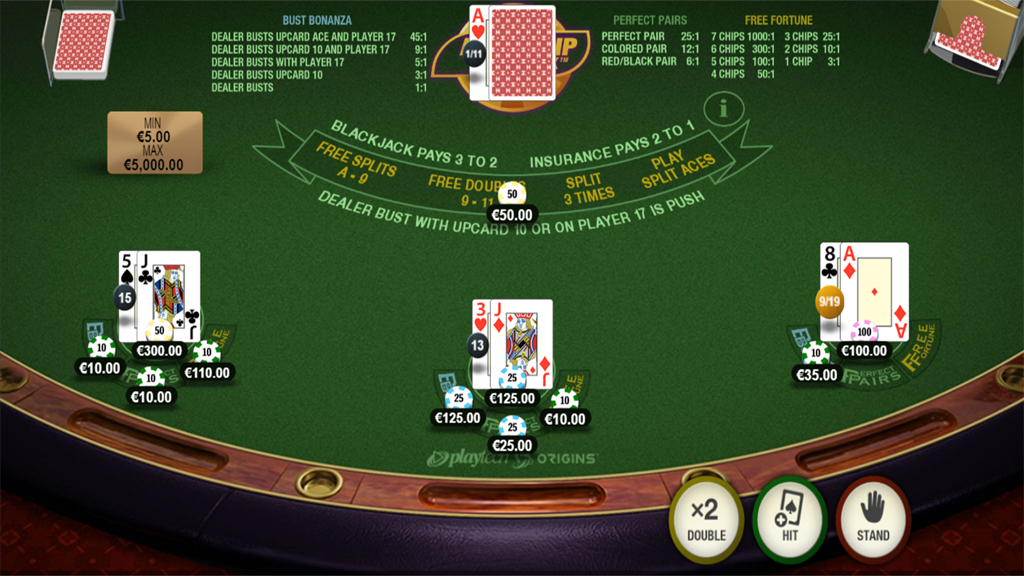 Rules of Play and Payouts
At first glance, Free Chip Blackjack plays like any standard shoe-dealt variation of the classic game. Six randomly shuffled decks are in play and the virtual dealer must hit soft totals of 17. Players can split any two cards of equal value to form up to three times and double down on any starting total. They can also double after splitting a pair. The developers have incorporated the following unconventional rules to spice up the gameplay:
Players can double down for free on hard totals of 9, 10, and 11
Players can split for free all pairs except those consisting of ten-value cards
Players can split and play paired aces
The player and dealer push on totals 17 through 21
The round results in a push if the dealer busts and the player stands with any 17
The player wins with a natural two-card 17 against the dealer's 17
The game supports several optional wagers, starting with the Free Fortune bet that pays when you split or double down at no cost with free chips. The more free chips you gain, the higher your payout. The maximum payout of 1,000 to 1 is awarded for three free splits on a single hand, with a free double down on each split, plus the main split hand.
The side wagers from the Perfect Pairs category pay whenever the player obtains red/black, colored, or suited pairs. Finally, the Bust Bonanza side bets award enhanced payouts whenever the dealer busts by going over 21. The payouts range from even money to 45 to 1.
Winning Hands in the Main Game
Blackjack
3 to 1
Insurance
2 to 1
Other Winning Hands
1 to 1
Perfect Pairs Side Bets
Perfect Pair
25 to 1
Colored Pair
12 to 1
Red/Black Pair
6 to 1
Bust Bonanza Side Bets
Dealer Busts when Showing Ace vs Player 17
45 to 1
Dealer Busts when Showing 10 vs Player 17
9 to 1
Dealer Busts vs Player 17
5 to 1
Dealer Busts when Showing 10
3 to 1
Dealer Busts with Any Card vs Any Player Total
1 to 1
Free Fortune Side Bets
7 Free Chips
1000 to 1
6 Free Chips
300 to 1
5 Free Chips
100 to 1
4 Free Chips
50 to 1
3 Free Chips
25 to 1
2 Free Chips
10 to 1
1 Free Chips
3 to 1
In-Game Features
The developers have built several in-game features into Free Chip Blackjack to allow players to customize their gaming experience. If you are familiar with basic strategy, you probably know that players should never accept insurance when the first card of the virtual dealer is an ace. Rather than declining insurance each time when the dealer starts with an ace, you can altogether deactivate the insurance bet from the settings menu.
Players who insist on taking insurance, nonetheless, can insure their hands with a single click by selecting 'accept all'. There is also the option to disable the ambient sounds and skip the introductory video you see after the game loads.
Free Chip Blackjack Return to Player
Provided that you play optimally with perfect basic strategy, you can anticipate a theoretical return of 99.23% in the base game. While still decent, this return percentage is lower compared to what standard blackjack variations offer.
We advise you to be careful with the side bets as they yield significantly higher house edges that rival those in most slots available online. Wagers from the Free Fortune category are your best bet since they carry the lowest house advantage of 3.50%.
Free Fortune side bets – 96.50% RTP
Perfect Pairs side bets – 93.89% RTP
Bust Bonanza side bets – 96.37%
Free Chip Blackjack FAQs
Is Free Chip Blackjack available in live-dealer format?
Not to our knowledge, but you can try beating the live dealers in All Bets Blackjack. This live variation is similar in that it also supports a cornucopia of optional side wagers, including 21 + 3, Top 3, Lucky Lucky, Buster, and Perfect Pairs. The highest payout you can win here reaches a whopping 2000 times your bet.
What happens if I split or double down at no cost but lose the round?
The great thing about the free splits and doubles is that you lose only your original bet if the dealer wins the round. In other words, you save money even when splitting or doubling down unsuccessfully.
What are the table limits in Free Chip Blackjack?
As with other table games designed by Playtech, Free Chip Blackjack provides a choice from several bet ranges when you first load the game. The most common options include $0.10-$100, $0.50-$500, and $5.00-$5,000, but where you play the game also matters. Respectively, the available chip denominations will also differ depending on the specific table limits you select.
Related Games