Felt Gaming pays homage to one of the most popular side bets in blackjack history with Lucky Ladies Blackjack, a stellar variation of 21 with a unique design, great animations, and an intuitive interface. The optional side bet the game borrows its name from can reward players with extra-large payouts of up to one hundred times the bet.
Developed in HTML5, the variation runs seamlessly on all hand-held and desktop devices. Lucky Ladies Blackjack accommodates players from different markets with eight languages, including English, Norwegian, Swedish, French, Dutch, and German. The theoretical return reaches a solid 99.67% in the main game.
| | |
| --- | --- |
| Game Provider: Felt | Release Date: 2014 |
| Bet Range: 0.10 - 500 | Chip Values: 0.10, 0.50, 1, 5, 10, 50, 100 |
| Multi-Hand Play: Up to 3 hands | Deck Number: 6 decks |
| Blackjack Pays: 3 to 2 | Dealer Drawing Rules: Stands on soft 17 |
| Dealer Peek Rule: Peeks on 10, J, Q, K, and A | Doubling on: Any two cards (free doubles on 9, 10, and 11) |
| Resplitting: No | Surrender: No |
| Insurance Deactivation: Yes | Side Bets: Yes |
| Progressive Jackpot: No | House Edge: 0.37% |
Interface and Design
It is undeniable Felt Gaming did a spectacular job with the design of Lucky Ladies Blackjack. The release combines crisp graphics, exciting animations, and realistic sound effects for a thrilling gaming experience that all blackjack fans will surely appreciate. The cards are dealt fluidly across a purple baize layout that covers the entire screen.
You can play up to three hands against the female dealer on desktop and tablet, with the option to place three side wagers from the Lucky Ladies category. However, smartphone players can bet on only one hand at a time. The layout prominently features the game's logo which contains three four-leaf clovers and the 'lucky ladies' from the title in the form of two Queens of hearts.
The supported chip denominations and gaming controls are at the very bottom. The round oversized buttons make it easier to place bets on portable devices without making accidental taps on your touch screen.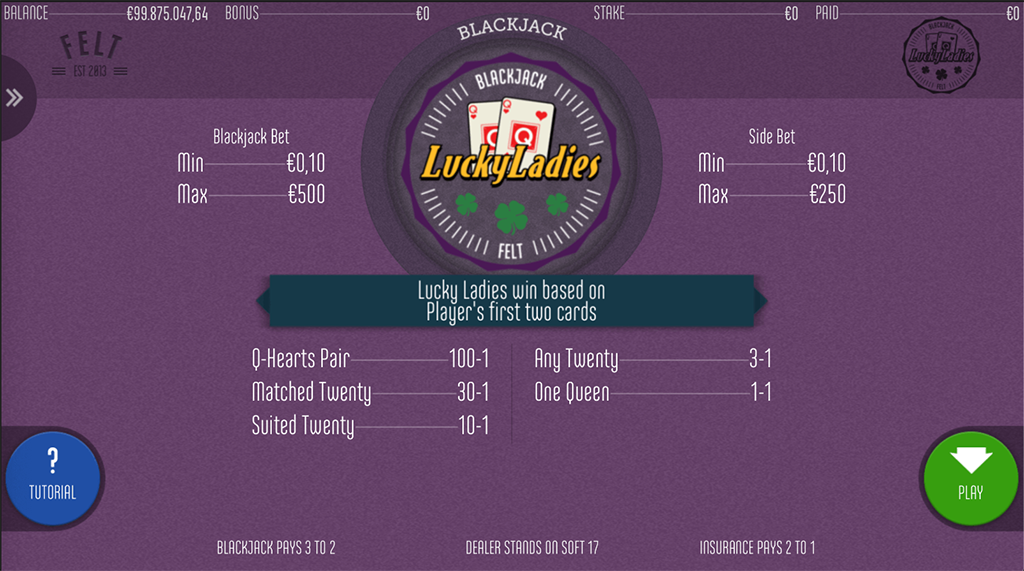 Rules of Play and Payouts
Lucky Ladies Blackjack uses a combination of advantageous and unfavorable rules from the players' perspective. The game is dealt out of a virtual shoe that contains six full decks. The random number generator reshuffles the cards after every single round. The dealer stands on soft 17 and peeks for blackjack on aces and tens, which generally takes away from the house advantage.
And this is where the player-friendly rules end. Doubling down is allowed after splits but the move is restricted only to starting hands that total 9, 10, or 11. Late surrender and resplitting are both unavailable in Lucky Ladies Blackjack. One positive about this game is that players can hit split aces, a move that most other variations disallow.
Players who crave larger payouts can experiment with the Lucky Ladies wager. This optional bet awards bonus payouts whenever the first two cards in the player's hand have a total of twenty. Higher payouts are awarded for suited cards and cards of the same denomination. Paired Queens of Hearts offer the juiciest prize of 100 times the side bet. It is worth noting the limits on side bets are lower than those for the base game, often ranging from $0.10 to $250.
Winning Hands in the Main Game
Blackjack
3 to 2
Insurance
2 to 1
Other Winning Hands
1 to 1
Lucky Ladies Side Bets
Paired Queens of Hearts
100 to 1
Matched Twenty (eg. 10 of clubs and Jack of spades)
30 to 1
Suited Twenty (eg. 10 of clubs and Jack of clubs)
10 to 1
Any Twenty
3 to 1
Any Queen
1 to 1
In-Game Features
Since Lucky Ladies mainly targets side bettors, the software will prompt you to place the optional wagers at the start of each round. Players interested in the main bets only can deactivate these prompts from the settings if they find them annoying. Disabling the insurance prompts and the sound effect is also possible from the settings menu.
We found the Speed Pay function particularly useful, even more so if you are eager to play at a faster pace. Instead of waiting for the virtual dealer to settle your side bets, your wins, if any, are instantly credited to your balance when the feature is activated. The main menu also contains a comprehensive tutorial with step-by-step illustrations that teach you how to play the game.
Lucky Ladies Blackjack Return to Player
Those of you who play the main bets only can anticipate a theoretical return of 99.63% in the base game. The Lucky Ladies side bets have a considerably lower return to player that is fixed at 93.78%. The house advantage on these optional wagers is high enough to be noticed by most recreational players over a relatively brief period of time. You will often find yourself placing the side wager for several successive rounds without landing a single win.
Lucky Ladies Blackjack FAQs
What is the house edge for the Lucky Ladies bet?
The Lucky Ladies side bet carries a significantly higher house edge of 6.22%, which means the casino will collect a little over six cents per every dollar players wager in the long run. Its hit rate is twice as low as that of most other optional bets in blackjack. The bet is successful approximately once per every nine or ten hands.
How can I improve my winning chances with the Lucky Ladies side bet?
There is nothing you can do to boost your long-term chances of winning with this side bet. Most traditional systems for card counting have a point at which this optional wager becomes profitable but beating it is only possible in the landbased casino environment. Felt Gaming's variation is randomly generated and this renders any attempts at beating this bet futile.
Is Lucky Ladies Blackjack a fair game?
Absolutely. The variation is courtesy of Felt Gaming, a renowned supplier that enjoys an excellent reputation in the industry. All releases in the provider's portfolio, Lucky Ladies Blackjack included, undergo rigorous audits by independent testing companies to ensure all results are random and unbiased. Felt Gaming also carries a license from the UK Gambling Commission and is subject to its strict regulations.
Related Games