Atlantic City Blackjack is the revamped version of Microgaming's eponymous blackjack release from 2006. Created in 2020 via a strategic partnership with Switch Studios, the game impresses with improved visuals, better animations, a simplified user interface, and a solid theoretical return. The refreshed version ensures a seamless and enjoyable gaming experience across all desktop and mobile devices, in portrait and landscape mode.
It is suitable for both small-scale and deep-pocketed players, with table limits ranging from $1 to $200 per hand. Ruleswise, the variation takes its cue from the blackjack tables in Atlantic City. Players will benefit from flexible doubling rules, resplitting, and late surrender on all starting two-card totals.
| | |
| --- | --- |
| Game Provider: Microgaming | Release Date: 2020 |
| Bet Range: 1 - 200 | Chip Values: 1, 2, 5, 10, 25, 50, 100, 500 |
| Multi-Hand Play: Up to 5 hands | Deck Number: 8 decks |
| Blackjack Pays: 3 to 2 | Dealer Drawing Rules: Stands on all 17s and above |
| Dealer Peek Rule: Peeks on 10, J, Q, K, and A | Doubling on: Any two cards |
| Resplitting: Yes | Surrender: Late Surrender |
| Insurance Deactivation: No | Side Bets: No |
| Progressive Jackpot: No | House Edge: 0.35% |
Interface and Design
The clean and simple design of Atlantic City Blackjack facilitates smooth and easy-to-follow gameplay. The betting action in the upgraded version unfolds on a jade green table that stretches to cover most of the screen. The payouts and the drawing rules for the dealer are printed in the center.
Players can post chips in up to five betting circles per round but a single-hand version of the game is also available. The chip selection area in the lower left corner of the screen provides a choice from nine chip denominations that range from $1 to $200. Players can select their desired chip size by clicking the arrows to the left and right.
One thing that struck us as a little bit odd was the absence of any background music. Most blackjack games adapted for online play typically feature jazzy music and ambient sound effects that imitate the buzz of the busy landbased casino floor. Atlantic City Blackjack is strangely silent in this regard. The only sounds you can hear are the dealer's voice, the clinking of chips, and the cards swishing across the felt.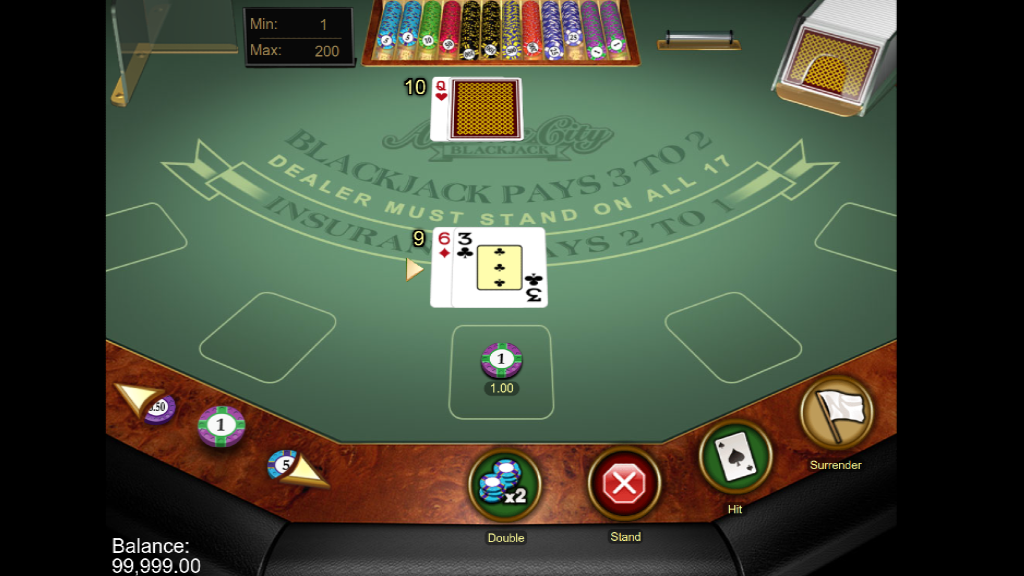 Rules of Play and Payouts
Atlantic City Blackjack is an eight-deck variant where the dealer takes a hole card, stands on all 17s, and checks for naturals when showing aces or ten-value cards. Players can double down on any two cards regardless of their hand total, including after a split. They can split any pair of cards of the same value or denomination.
Splitting is possible up to three times to form no more than four hands. Paired aces are the only exception to this rule as they can be split only once. Each ace is then dealt one more card and the hand automatically stands. Players can insure their hands against dealer blackjacks at the cost of half their regular bets.
Winning insurance bets pay at standard odds of 2 to 1 in case the dealer indeed has a blackjack. If not, players lose their insurance and the round continues as usual. The highest payouts in the game are awarded for blackjacks. Players who obtain this valuable hand are paid at odds of 3 to 2, which means they receive one and a half the initial wager. All other winning hands yield even-money payouts.
One thing that makes Atlantic City Blackjack stand out from the crowd is the availability of the late surrender rule. It enables players to fold weak starting hands after the dealer has peeked under her hole card to check for a blackjack. This move is an option only when the dealer does not have a natural. When surrendering, you give up half of your original wager and get back the other half.
In-Game Features
The revamped version of Atlantic City Blackjack has been stripped of in-game features almost entirely, allowing for very little customization. There is the option to increase the speed at which the cards are dealt and removed from the layout. Just click or tap on the small lightning-shaped button in the upper right corner of the screen to activate the Turbo Mode and the game will display your results quicker.
In the gaming controls, you have a Bet x2 button that enables you to automatically double your current wager. This function may prove particularly useful for blackjack players who follow progressive betting systems like the Martingale or the Paroli. The burger menu in the upper left corner gives you access to the complete rules and the game settings where you can disable the sound effects or control their volume.
Atlantic City Blackjack Return to Player
Due to its favorable set of rules, Atlantic City Blackjack yields a very high theoretical return of 99.65%. The game carries one of the lowest house edges you can possibly hope to find as online casinos collect only 0.35% of all wagers made in the long term. It is worthwhile mentioning both percentages are accurate only on condition you play optimally with basic blackjack strategy. You can print out a strategy chart to consult with until you master the correct moves for each hand.
Atlantic City Blackjack FAQs
Is Atlantic City Blackjack suitable for novice players?
The simplistic and clean interface of Atlantic City Blackjack renders the game suitable for players of all experience levels. The burger menu in the upper left corner gives you access to the complete set of rules so make sure you read them if you are a complete novice. Many Microgaming-powered casinos allow you to hone your skills by practicing for free in demo mode.
Are there any side bets in Atlantic City Blackjack?
Atlantic City Blackjack does not support any side bets but we don't consider their omission a serious drawback. By rule of thumb, side bets have significantly higher house edges and should generally be avoided. If you still insist on placing them, you can find a plethora of extra wagers in Playtech's Free Chip Blackjack and NetEnt's Classic Blackjack.
When should I take advantage of the late surrender option?
Players should surrender only weak starting hands that are sure losers against solid dealer upcards. In Atlantic City Blackjack, surrendering is recommended with hard 15 against the dealer's 10 as well as with hard 16 versus the dealer's 9, 10, and ace. Keep in mind surrendering is only an option at the very beginning of a round before you have made any other playing decisions.
Related Games