Launched in 2022, 15 Tridents is a slot that celebrates Greek mythology in its focus on the legendary god of sea, Poseidon. PearFiction Studios has taken the unconventional approach of spreading out the gameplay between not just one, but two 5×4 slot layouts. This brings the total number of the game's win ways to 2,048, or 1,024 ways per reel set. We were also impressed by 15 Tridents' maximum potential win of 10,000x, which can be won by fortunate gambling devotees via the Trident SWIFTHITS™ mechanic. Beyond this mechanic, 15 Tridents also comes with free spins, Multiplier Wilds, and other rewarding bonuses.

15 Trident Slot Summary
Game Provider: Pear Fiction
Release Date: 2022
Game Type: Video Slot
Theme(s): Fantasy, Mythology, Underwater
Reels: 5
Wild Symbols: Yes
Rows: 4
Scatters: Yes
Paylines: 1024 ways to win
Free Spins: Yes
Payout/RTP: 96.10%
Bonus Game: No
Volatility Level: Super High
Progressive Jackpot: No
Min Bet: 0.2
Autoplay: Yes
Max Bet: 20
Max Win: 10000x
15 Tridents Theme
Online slots that are centered around ancient Greek mythology have been all the rage among gaming aficionados, and 15 Tridents is PearFiction Studios' own spin on this popular slot theme. Poseidon and Amphitrite are the Greek deities featured in this slot, which is why the game's setting is a beautiful coral landscape. The rest of the slot's high-value symbols are beautiful sirens, as well as card values that appear to have an octopus aesthetic.
We cannot help but praise the transition to and from the Free Spins as well: the shadow of a giant octopus ominously falls on the reels, and the enormous creature then appears on the screen, showcasing the number of complimentary spins won. Then, once all free games have been spun, the creature returns and reveals just how much the player has raked in as a result of the Free Spins feature.
PearFiction Studios has gone all out with the sound design of 15 Tridents. During gameplay, players will note that the reels sound like they are truly spinning while submerged in water, and the game's music is awe-inspiring.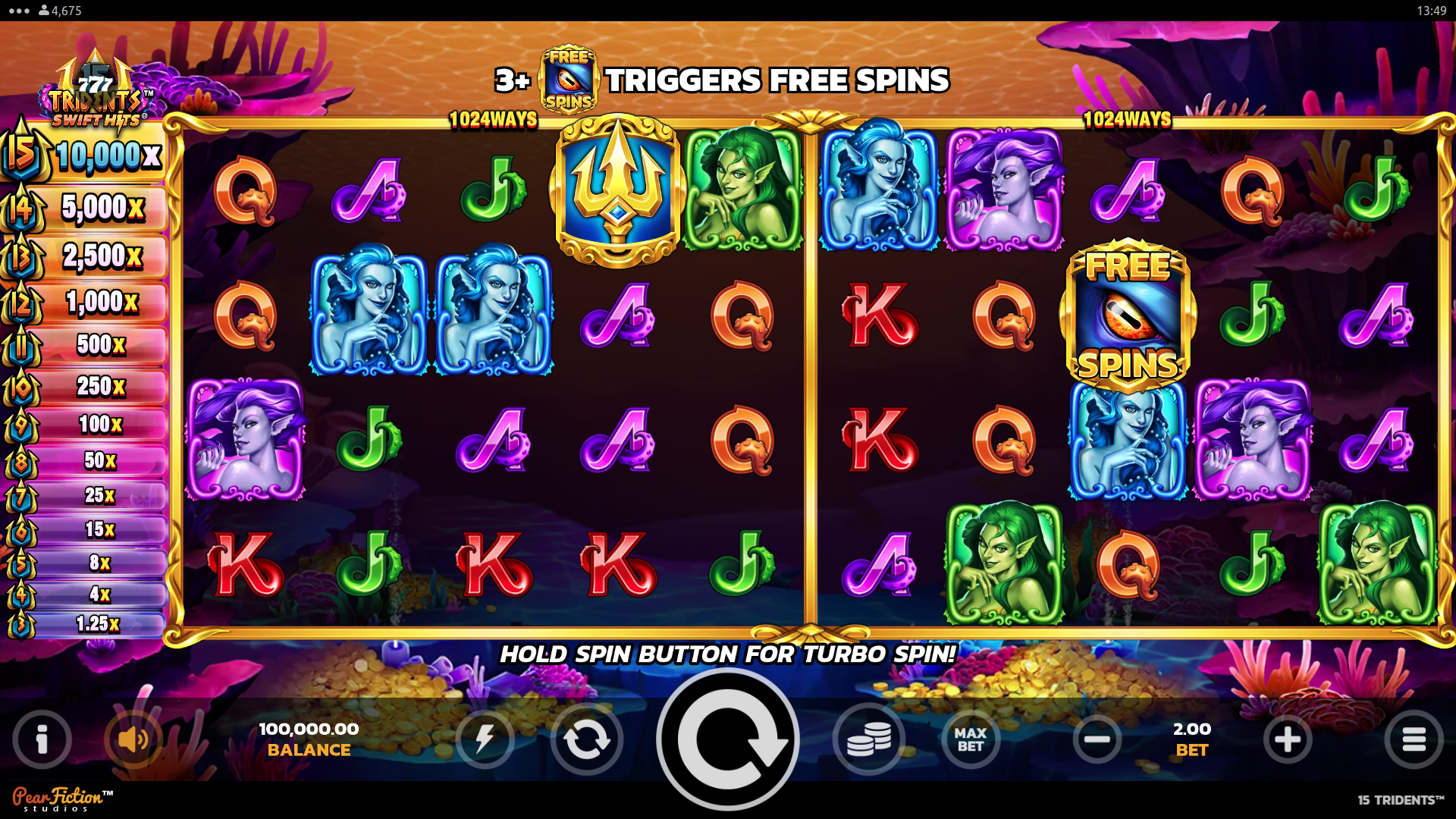 How 15 Tridents Compares to Other Slot Games
It is not every day that we come across a slot that has not just one, but two sets of 5 reels. Right off the bat, it seems that the developers behind 15 Tridents aim to impress gambling aficionados with a unique iGaming experience. We also appreciate the game's 96.10% RTP, which is slightly above the industry average the majority of modern slots stick to.
As for its bonus mechanics, the game has the Trident SWIFTHITS™ symbols, which will reward the player with cash prizes. These icons can land on the reels or be granted by Poseidon himself as part of the Poseidon's Favor mechanic. A bonus that features free spins is also available, so all in all, it is safe to say that 15 Tridents is up to snuff when it comes to the bonuses players look forward to when they seek out new online slots.
More similar slots:
Age of the Gods by Playtech
Poseidon's Rising by Spoinomenal
Hoard of Poseidon by Red Tiger Gaming
Gates of Olympus by Pragmatic Play
15 Tridents Symbols and Payouts
Scoring wins in 15 Tridents is achieved by landing 5 identical symbols in one of the slot's reel sets. The said icons do not need to land on a specific payline. Instead, the only requirements are that they appear on reels that are adjacent to one another, starting from the leftmost reel of the corresponding grid.
The high-paying symbols comprise illustrations of Poseidon, Amphitrite, and the game's Siren characters, with Poseidon having payouts between 2x and 37.5x. The symbols that grant low payouts are Jack through Ace, and all of them grant wins less than 1x one's bet. Apart from the paying symbols, the game also features Wilds, the Free Spins Scatter, and the Trident SWIFTHITS™ icons.
*Payouts represent multipliers applied to bet per line amount.
15 Tridents Winning Combinations and Payouts
Symbols
3 matches
4 matches
5 matches
Poseidon
2x
7.5x
37.5x
Amphitrite
1.5x
5x
15x
Green Siren
1x
2.5x
5x
Blue Siren
1x
2.25x
4.5x
Purple Siren
1x
2x
4x
Ace
0.35x
0.5x
0.75x
King
0.3x
0.45x
0.6x
Queen
0.25x
0.35x
0.5x
Jack
0.25x
0.35x
0.5x
Bonus Features Overview
Complimentary spins, generous sirens, and Trident SWIFTHITS™ prizes that can grant rewards of up to 10,000x are what await slot buffs when they start spinning the reels in 15 Tridents. All of this, along with the game's additional set of 4-row high reels, will contribute towards plenty of exciting moments during gameplay.
Wilds and Scatters
A variety of interesting icons are tied to 15 Tridents' bonus mechanics, starting with the Wilds. These symbols substitute for the rest of the slot's paying icons, they may also land with or attain multipliers. Up next is the Scatter, and this is the icon that unlocks the Free Spins mechanic. Finally, the Trident SWIFTHITS™ icons are 15 Tridents' last special symbol, and they reward players with cash prizes.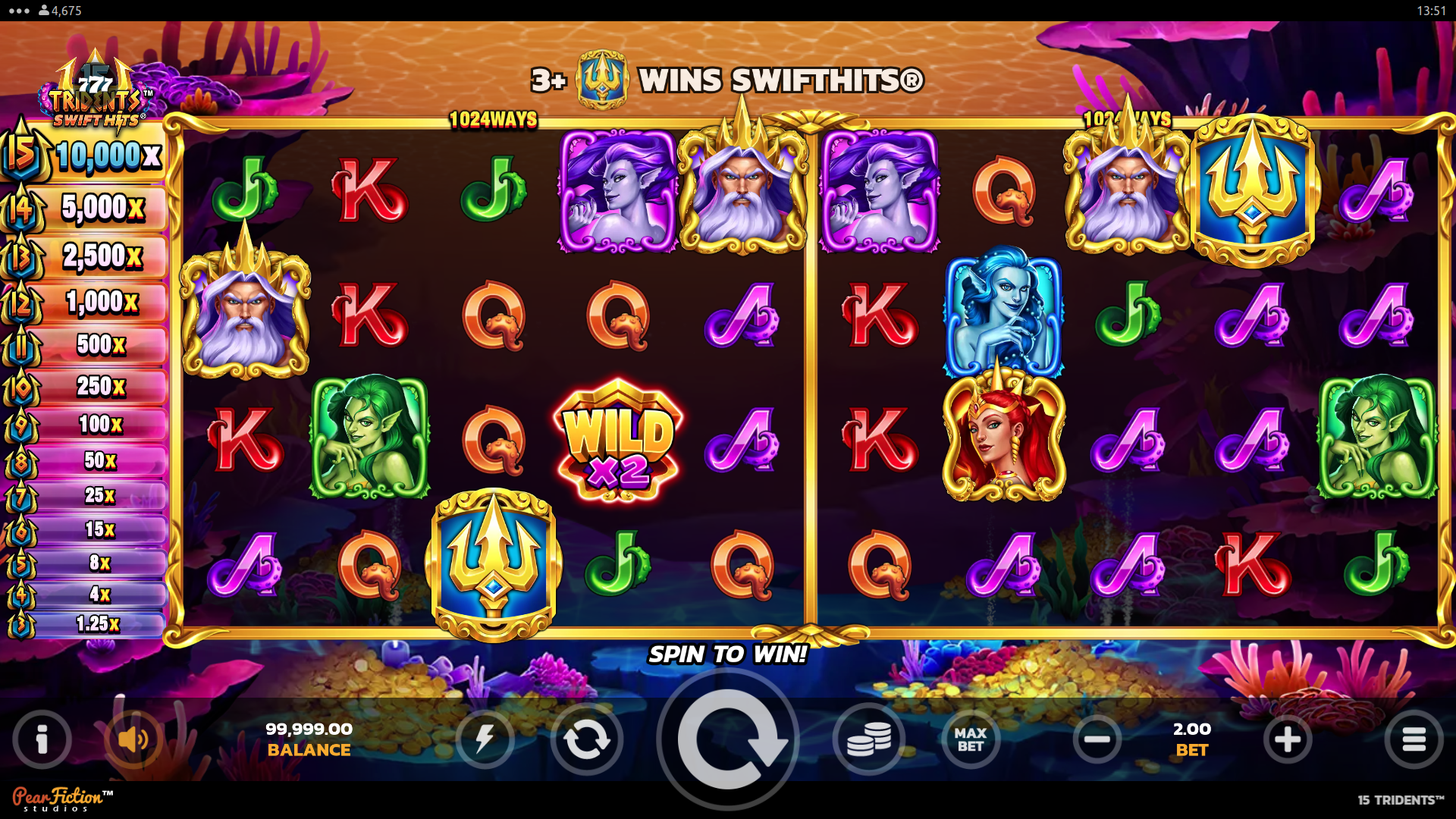 Free Spins
The 15 Tridents slot's Free Spins feature can reward the player with up to 25 complimentary games that are played with the same bet value as the wager that activated this feature. The exact number of FS won is dependent on how many Scatters land on the reels while the base game is underway:
6 Scatters – 25 Free Spins
5 Scatters – 20 Free Spins
4 Scatters – 15 Free Spins
3 Scatters – 10 Free Spins
What is more, the Scatters are not base game exclusive. They can appear during the Free Spins feature, and when a Scatter lands, it rewards the player with 1 additional complimentary game. Another unique aspect of this slot is how the Trident SWIFTHITS™ symbols are sticky during the Free Spins mode.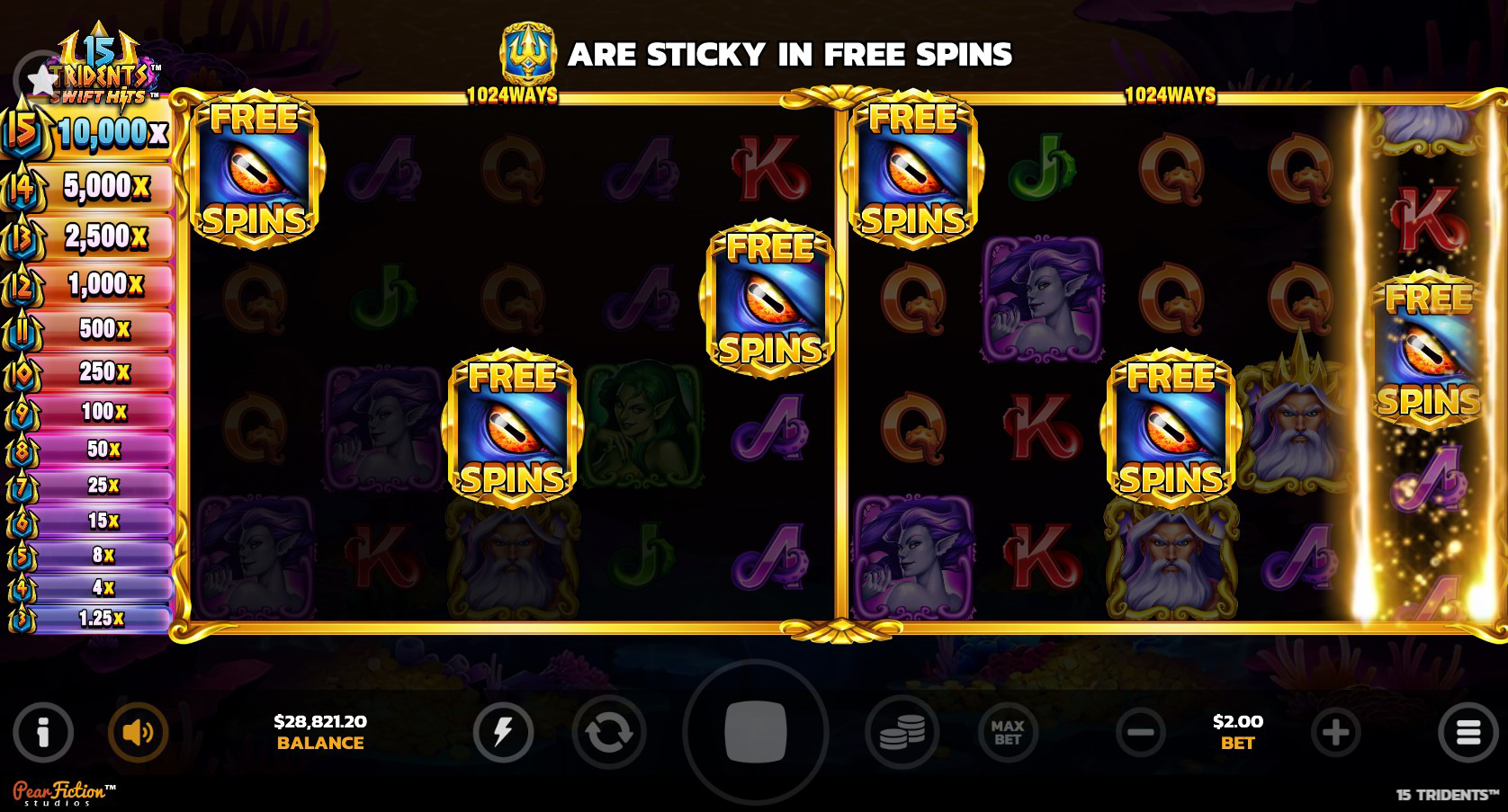 Trident SWIFTHITS™
This is a mechanic that grants players instant prizes depending on the number of Trident SWIFTHITS™ icons that may land on either in a single reel set or both slot layouts. These icons can land on any slot position, and they can reward the player with the following cash prizes:
15 Trident SWIFTHITS™ – 10,000x
14 Trident SWIFTHITS™ – 5,000x
13 Trident SWIFTHITS™ – 2,500x
12 Trident SWIFTHITS™ – 1,000x
11 Trident SWIFTHITS™ – 500x
10 Trident SWIFTHITS™ – 250x
9 Trident SWIFTHITS™ – 100x
8 Trident SWIFTHITS™ – 50x
7 Trident SWIFTHITS™ – 25x
6 Trident SWIFTHITS™ – 15x
5 Trident SWIFTHITS™ – 8x
4 Trident SWIFTHITS™ – 4x
3 Trident SWIFTHITS™ – 1.25x
Any Trident SWIFTHITS™ icons that appear during the Free Spins feature are sticky. In other words, they remain on the reels until that round of Free Spins is done. In addition, they do not pay out immediately. Instead, the player is granted a Trident SWIFTHITS™ win based on the total number of Trident SWIFTHITS™ symbols present on the reels once the Free Spins feature ends.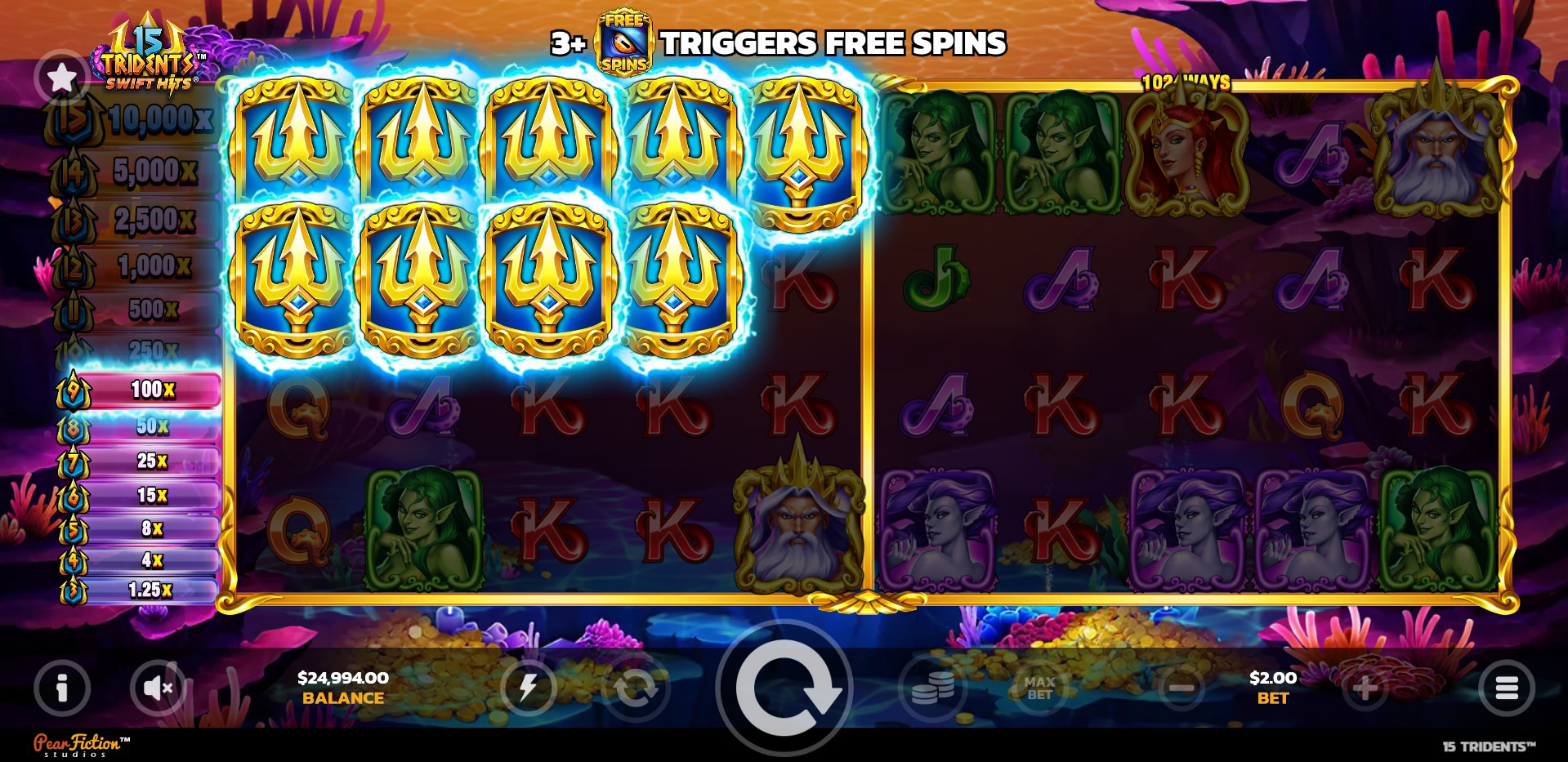 Poseidon's Favor
As many gaming devotees who also happen to be passionate about Greek mythology will know, the legendary trident is Poseidon's iconic weapon of choice. In line with the game's theme, PearFiction studios has implemented a mechanic where the game's Poseidon character will place additional Trident SWIFTHITS™ symbols on the game's reels, increasing the rewards of the given player.
Amphitrite's Blessing
This feature resembles the Poseidon's Favor mechanic, except instead of Trident SWIFTHITS™ icons, this bonus revolves around the game's Wilds. Essentially, whenever Amphitrite appears on the screen, she adds at least 1 Wild symbol to the grid. She may also upgrade an existing Wild's multiplier, which will make winnings all the more generous.
Siren's Call
As established, 15 Trident has 3 Siren characters. In addition to serving as most of the game's high-paying symbols, the Siren characters may also appear at random and grant the player an additional high-paying symbol. The said icon will be placed in a position where it will form a paying combination with identical icons of the same type.
Multipliers
When it comes to multipliers, 15 Tridents has Wilds that will, at random, land with multipliers that can be up to 5x in size and affect all winning symbol combinations on the corresponding set of reels. Wilds may also receive multiplier values via the Amphitrite's Blessing mechanic. The game also features the Trident SWIFTHITS™ symbols, which can grant up to 10,000x the player's bet.
Pros & Cons of 15 Tridents
✅ What We Like about 15 Tridents
House edge is 3.9% as opposed to the usual 4%
The game has 2 slot grids
A mechanic that rewards free spins is available
❌ What We Dislike about 15 Tridents
Non-original theme
15 Tridents does not offer progressive jackpots are prizes
The high volatility can quickly deplete the bankroll of players on a budget
15 Tridents FAQs
Can icons from the different grids form one paying combination?
No, each slot layout grants separate payouts when it comes to the paying symbols. For instance, if you land 3 copies of the Purple Siren on the left reel set and 3 identical Purple Siren symbols on the right grid, you will receive two 1x payouts. Moreover, icons from the first slot grid cannot assist symbols in the second slot layout to form winning combinations. Once again, we will showcase this with an example: if you land a 5-reel combination with the Purple Siren in the right grid, and 2 copies of this symbol appear on the first two reels of the right slot layout, you will only receive a reward of 4x your bet for the win that involves 5 identical symbols.
Is there an auto spin function?
Yes, the Turbo Spin button can be found right next to the Spin button. The Turbo Spin menu allows you to choose how many automatic spins you wish to queue, with 100 spins being the largest option. Do note that you can pause autoplay at any time after it begins by tapping or clicking on the Turbon Spin button.
Will I be able to play 15 Tridents on my smartphone?
Yes, as mobile gaming is many players' preferred way of enjoying games of chance, PearFiction Studios has made sure that this slot is compatible with Android and iOS smartphones. You will be able to open and play 15 Tridents on your mobile browser of choice.
Related Games