CherryPop Deluxe™ is the sequel to the hit AvatarUX slot CherryPop™. It comes with a plethora of features and visuals that celebrate both classic slot machines and the iconic imagery of 90s fashion and aesthetics.
While it is true that CherryPop Deluxe™ is thematically centered around the times when remote gambling was in its infancy, the game is a modern slot through and through when it comes to its graphics quality and the inclusion of bonus mechanics like free spins, the AvatarUX classic PopWins™, multipliers, and the like. Even better, CherryPop Deluxe™ is mobile-friendly and will run without a hitch on smartphone browser applications thanks to the fact that it is powered by HTML5.

CherryPop Deluxe™ Slot Summary
Game Provider: AvatarUX
Release Date: 2022
Game Type: Video Slot
Theme(s): Fruit theme
Reels: 5
Wild Symbols: No
Rows: 3
Scatters: No
Paylines: 118,098 ways to win
Free Spins: Yes
Payout/RTP: 96.05%
Bonus Game: No
Volatility Level: High
Progressive Jackpot: No
Min Bet: 0.2
Autoplay: Yes
Max Bet: 40
Max Win: 20000x
CherryPop Deluxe™ Theme
If you grew up in the 90s or were already an adult at the time, launching CherryPop Deluxe™ will hit you with a wave of nostalgia. From its colorful design to the textures of various shapes and sizes, the developers of CherryPop Deluxe™ have taken notes from the 90s' most iconic design elements to make an exceptionally vibrant and charming slot.
The illustrations of the icons have also been drawn and colored to fit the overall 90s aesthetic, but seeing as CherryPop Deluxe™ also features a classic slot theme, the items depicted in its symbols are what you would typically see in the slot machines of retro casino establishments. The nostalgia factor is ramped up as a result, with fruits, playing card values, diamonds, and other iconic items all serving as the slot's icons.
AvatarUX's developers have also outdone themselves when it comes to the game's sound design. The music tracks are pleasant, groovy, and, all in all, just what you would expect to hear in 90s-inspired media. The bubble pop and piano sound effects of the PopWins™ mechanic are a wonderful touch as well.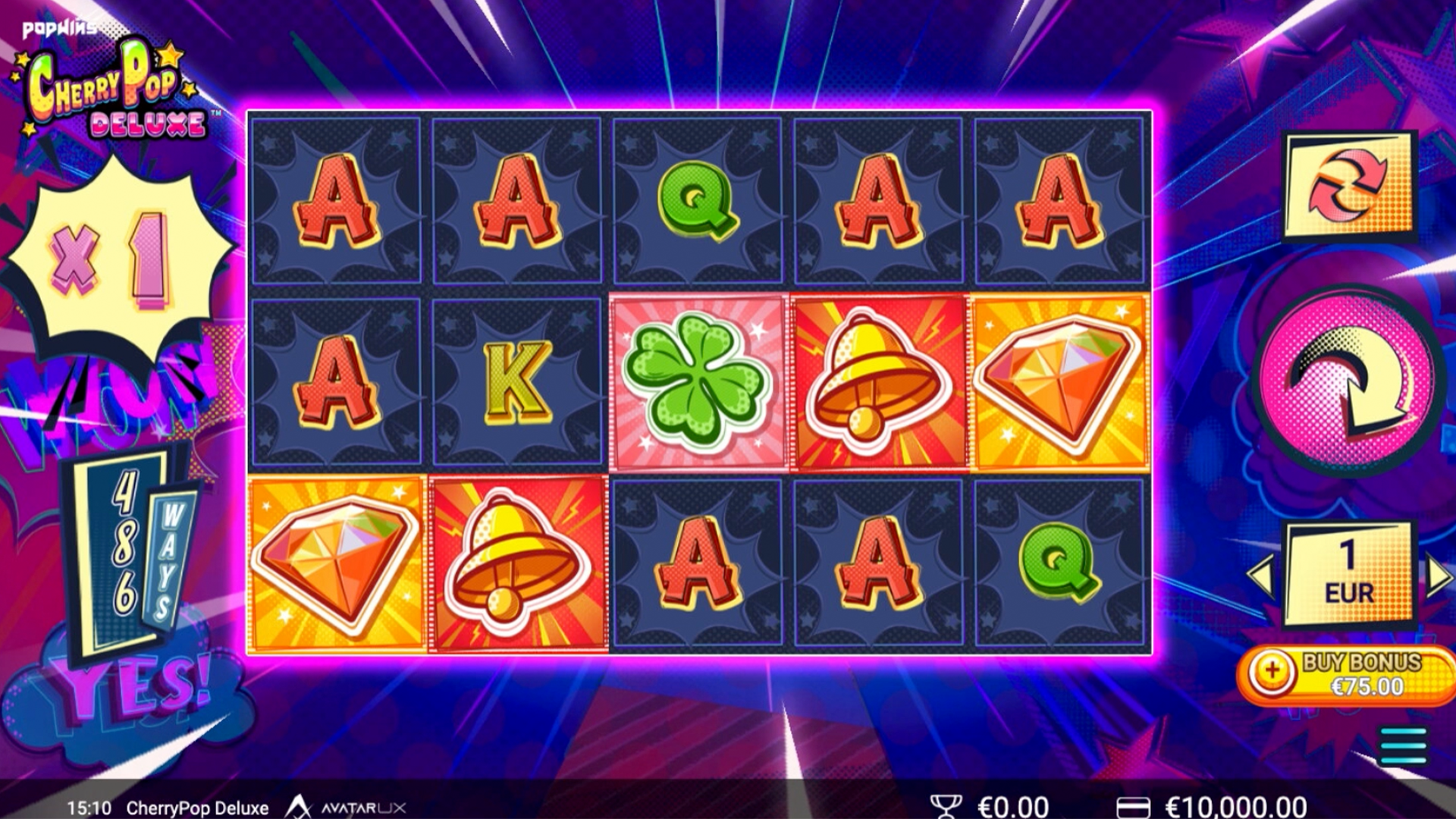 How CherryPop Deluxe™ Compares to Other Slot Games
Slots themed around the 90s are not all that common in the iGaming sphere, so right off the bat, CherryPop Deluxe™ manages to stand out for picking a theme that deserves more love. In addition, combining the 90s with the fruits, card values, diamonds, and other items iconic for their prominence in classic slots is something that will certainly catch the eye of many classic-slot lovers.
Although CherryPop Deluxe's graphics and theming are fantastic, they are not the game's only upsides. CherryPop Deluxe™ has a mechanic that will impress newcomers to the iGaming scene and veteran slot buffs alike: PopWins™. This is an absolute gem of a feature that gives players a chance to win even bigger rewards when a winning combination is formed. In addition to PopWins™, free games, multipliers, a gamble wheel, and a buy bonus function will also entertain gambling aficionados.
More similar slots:
Disco Diamonds by Play'n GO
CherryPop™ by AvatarUX
Penny Fruits Xtreme by Spinomenal
Hit The Diamond by Fugaso
CherryPop Deluxe™ Symbols and Payouts
CherryPop Deluxe™ has symbols that were clearly inspired by the icons of retro slot machines. The Cherries are CherryPop Deluxe's very best symbol, seeing as a five-reel win nets a given player their wager times 15. The Diamond is the runner-up with a payout of 8x for a win that involves landing five Diamond copies on the grid, and the rest of the game's high-paying symbols are not too far behind. The low-paying icons, however, have fairly modest payouts in comparison, as is to be expected.
Do keep in mind that you will need to be lucky enough to match three identical icons< on subsequent reels for a win to occur. Furthermore, such a combination will not pay out if it lands on the middle reels, but if one symbol copy is, instead, located on either the first or the last reel, then the group of icons is eligible to count as a win. During the beginning of the base game, the starting ways to win are 486, but they can be increased through PopWins™ or the Free Spins feature. The game's maximum number of win ways is 118,098.
CherryPop Deluxe™ Winning Combinations and Payouts
Symbols
3 Matches
4 Matches
5 Matches
Cherries
4x
7.5x
15x
Diamond
2x
4x
8x
Bell
1.5x
3x
6x
Four-leaf clover
1.2x
2.5x
5x
Horseshoe
1x
2x
4x
Lemon
1x
2x
4x
Watermelon
0.8x
1.2x
2.5x
Grapes
0.8x
1.2x
2.5x
Ace
0.4x
0.8x
1.6x
King
0.4x
0.8x
1.6x
Queen
0.4x
0.8x
1.6x
Jack
0.3x
0.6x
1.2x
Ten
0.3x
0.6x
1.2x
Nine
0.3x
0.6x
1.2x
Bonus Features Overview
CherryPop Deluxe™ gameplay can be quite rewarding, given the slot's various bonus mechanics. Lovers of complimentary spins will be especially happy with what CherryPop Deluxe™ has to offer, and multipliers and the popular PopWins™ mechanic are also available. Slot buffs who enjoy an extra element of risk when they play games of chance can also spin the CherryPop Deluxe™ Gamble Wheel.
The Buy Bonus is yet another bonus function that adds to the CherryPop Deluxe™ wagering experience. The first option simply grants access to the Free Spins feature for 75x the base bet. Purchasing the Gamble Wheel will also cost a player their bet times 75. Finally, for 300 bets, an individual can purchase the Buy Bonus max and enjoy a Free Spins round with improved potential rewards.
Wilds and Scatters
CherryPop Deluxe™ resembles classic slots in more than just its theme due to the fact that, just like it is with retro slots, there are no Wilds or Scatters in sight. The latter of which might sound worrisome at first, but rest assured that the game's bonus features are simply triggered in a way that does not involve Scatters.
PopWins™
While the developers behind CherryPop Deluxe™ have certainly committed to giving CherryPop Deluxe™ a classic slot-inspired aesthetic, the game is quite modern when it comes to its bonus mechanics, and PopWins™ in particular is a unique and novel bonus feature.
PopWins™ is quite simple in the way it functions, and it affects the reels each time identical symbols land and grant a win. Then, the participating symbols "pop" and their respective cells become unoccupied. Each empty cell is then split into two, increasing the height of the reel, and new icons land on the free cells. This is the gist of PopWins™.
PopWins™ are triggered with every win, which means that if a pop-round results in yet another combination, PopWins™ is activated once again. PopWins™ is re-triggered until no more consecutive wins are achieved.
Players should keep in mind that when a pop-round does, indeed, end, the slot grid will return to its default height. This is only the case in the base game, however. During free spins, only a partial reset occurs, and the layout shrinks to the height of the shortest reel. Speaking of which, the maximum grid size during the free spins is 9×5, while the base game reels can only reach a height of six rows.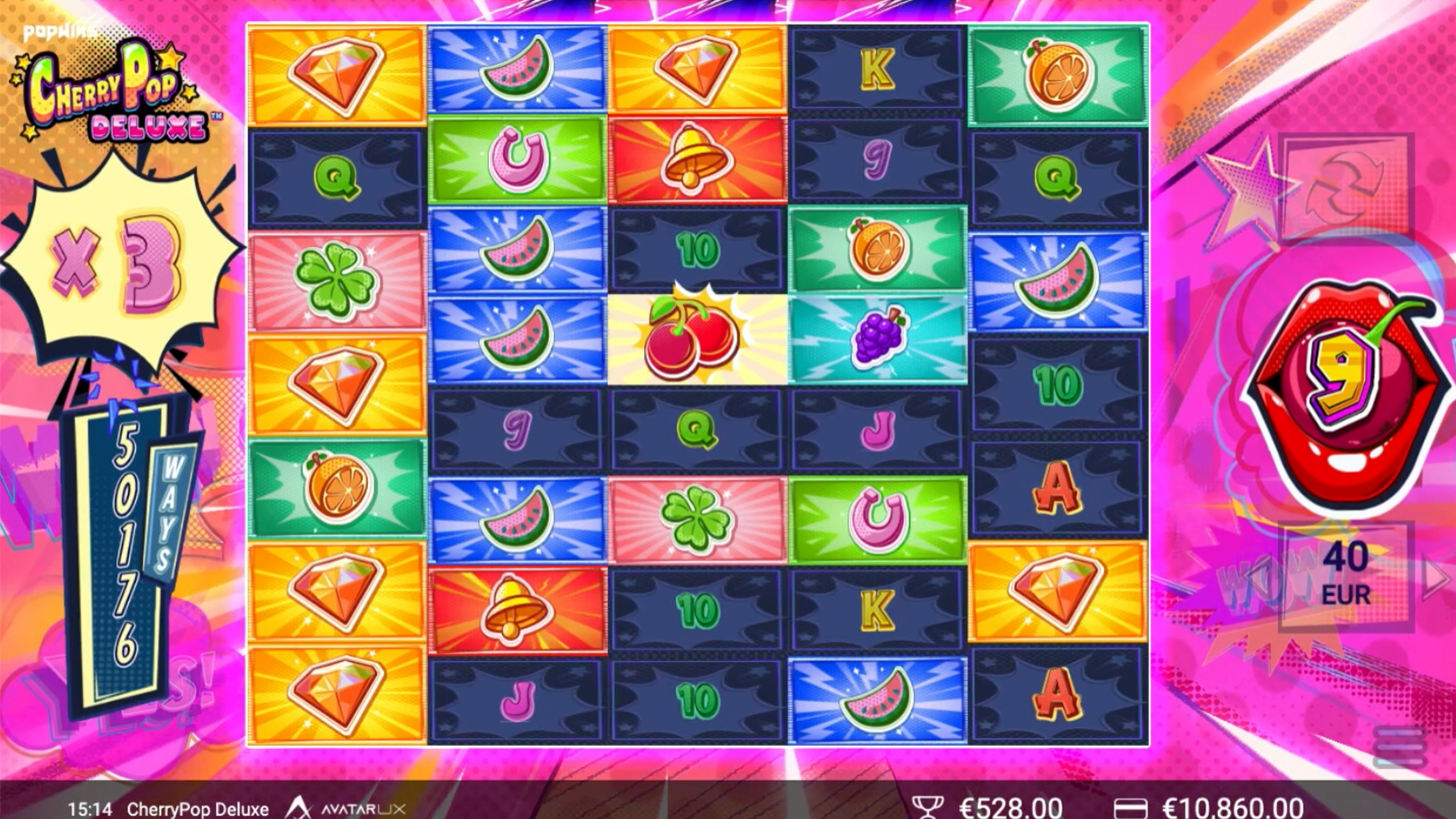 Free Spins
Complimentary spins are a staple of modern slots, and CherryPop Deluxe™ certainly treats users with a number of free games during the Free Spins feature. Reaching the Free Spins is a matter of PopWins™ successfully increasing the game's layout size to 6×5. Before the player reaches the Free Spins feature, they are presented with the option to gamble the spins they have won and, potentially, win even more games that are free of charge.
Of course, a player can also choose to keep their free games as opposed to risk losing them. Regardless of the number of free spins a players starts out with, the Free Spins feature starts with an x2 multiplier.
As already covered, PopWins™ can be triggered during Free Spins, and the reel height progress is not erased completely between different sequences of pop-rounds. In addition, the Free Spins grid is six icons high as a default, and it can reach the height of nine rows thanks to PopWins™. If a player manages to max out the grid, they are treated to two free spins and a larger multiplier.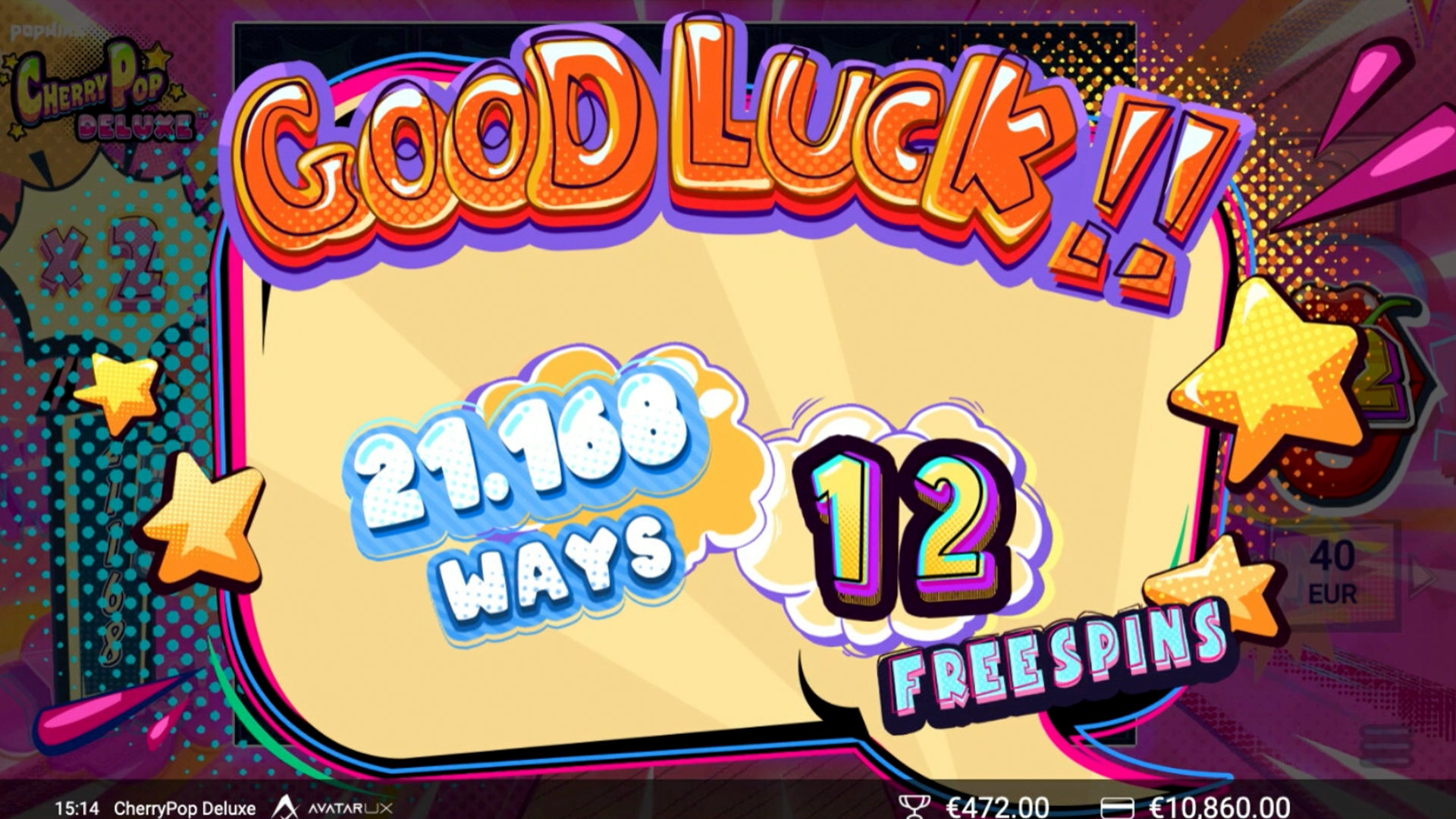 Gamble Wheel
The Gamble Wheel serves as a way for gaming devotees to increase the number of complimentary games they receive. Since gambling is involved, it is possible for a player to lose their free games if they spin the wheel but do not win, so this is definitely an option most suited for thrill-seeking gambling mavens.
When spinning the wheel results in a win, the given player can gamble again up to two more times. There are three ordinary Free Spins Modes that can be won from the Gamble Wheel, depending on how many times one chooses to gamble:
Level 1 (first spin) – the player is granted between 5 and 8 free spins
Level 2 (second spin) – the player is granted between 8 and 10 free spins
Level 3 (third spin) – the player is granted between 10 and 12 free spins
In addition to the above levels, the Gamble Wheel has a unique Golden Field. Lucky players who manage to land this field can receive up to 12 complimentary spins from their first spin. If they choose to gamble once more, they may be granted up to 16 free games.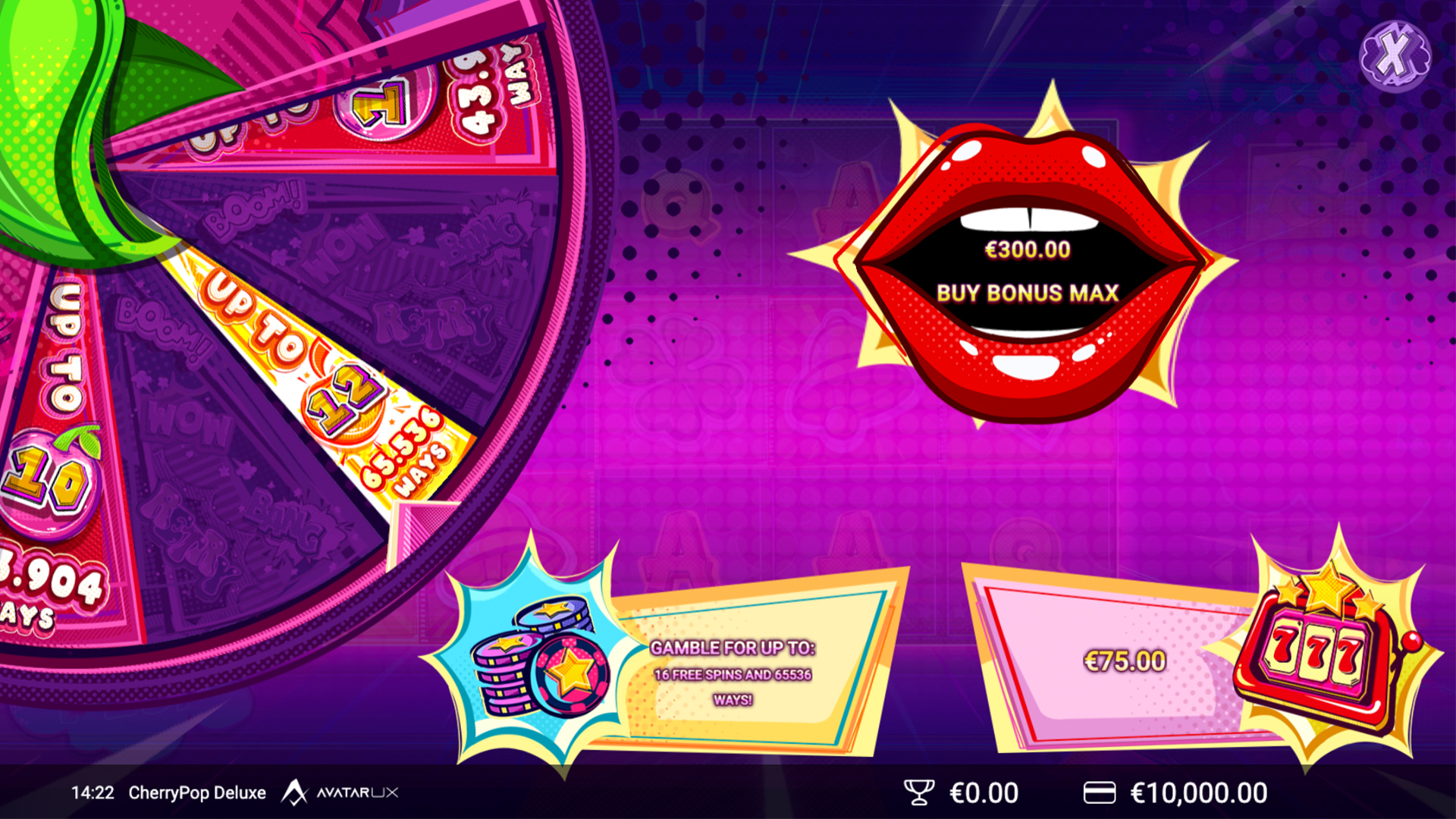 Multipliers
Once the Free Spins screen is reached, a starting multiplier of x2 is visible. This multiplier is applied to all wins, and it is increased by +1 with each pop-round win. An x4 multiplier is granted upon unlocking all of the reels' max height, and each time a pop-round win is achieved, an additional x4 multiplier is awarded. The multiplier mechanic is unique to the Free Spins feature.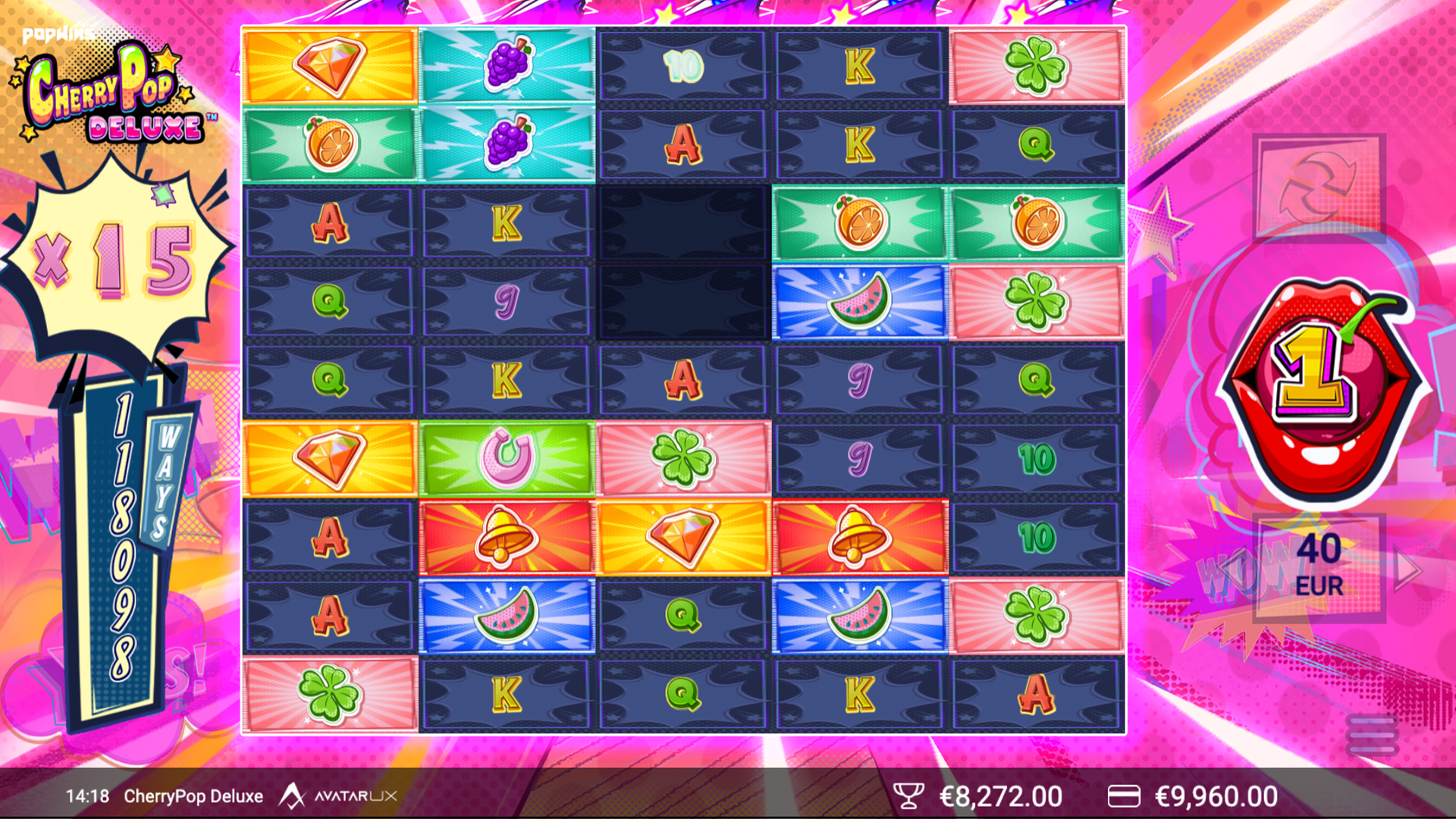 Pros & Cons of CherryPop Deluxe™
✅ What We Like about CherryPop Deluxe™
CherryPop Deluxe™ has up to 118,098 win ways
The luckiest of players can win up to 20,000x their bet
PopWins™ is an entertaining mechanic
❌ What We Dislike about CherryPop Deluxe™
CherryPop Deluxe™ lacks Wilds
Triggering the Free Spins feature can take many spins
The x2 multiplier, along with higher multiplier values, is exclusive to the free games
CherryPop Deluxe™ FAQs
Am I guaranteed to win Free Spins if I purchase the Gamble Wheel feature via Buy Bonus?
No, the Gamble Wheel option within the Buy Bonus menu simply grants access to the Gamble Wheel. It does not come with guaranteed rewards, and empty fields still exist within the Gamble Wheel.
How can I trigger the Free Spins feature when the game has no Scatters?
In CherryPop Deluxe™, the Free Spins are tied to the game's PopWins™ mechanic. Basically, you will win the Free Spins feature when all of the reels reach a height of six icons, thanks to PopWIns™. Of course, simply buying the Free Spins mechanic is also an option, as Buy Bonus is available in CherryPop Deluxe™.
Can I enable a function that spins the reels automatically?
Yes, this feature is dubbed as Autospin in the game's menu, and you can choose to spin sets of between two spins and one hundred spins. An infinite spins option is also available.
Related Games