Hot Hot Honey is Armadillo Studios' sweetest new slot that was introduced to slot enthusiasts in 2023. The high-volatility slot is created using the tried-and-true 5×3 reel engine and instead of paylines, awards scatter payouts.
While creating this slot, the game-development studio wanted to use fan-favorite features and introduce them in new and refreshing ways, and obviously, they have achieved their goal. The Trail Bonus mode, which is among the signature special features of the software development studio appears again to heat things up for players.
The Annas sisters have banded together to bring avid slot fans some juicy rewards through several other special features. The real thrill of Hot Hot Honey is showcased when the Free Spins feature and Rollover Respins are activated. To dive into the spinning action this bee-themed slot offers, players need to adjust their bets between 0,20 and 100 credits. Although spinning the reels of this video slot might feel quite rewarding, players should be aware that the maximum win they can collect is 8.051x their stake.
Hot Hot Honey Slot Summary
Game Provider: Armadillo Studios
Release Date: 2023
Game Type: Video Slot
Theme(s): Apiary, Bees
Reels: 5
Wild Symbols: Yes
Rows: 3
Scatters: Yes
Paylines: All scatter pays
Free Spins: Yes
Payout/RTP: 96.02%
Bonus Game: Yes
Volatility Level: High
Progressive Jackpot: No
Min Bet: 0.20
Autoplay: Yes
Max Bet: 100
Max Win: 8051x
Hot Hot Honey Theme
While spinning the reels of this slot, players should get ready to meet the bee trio, the Anna sisters who have taken it upon themselves to provide as much honey as possible to meet the demands of all players. The surroundings players will be presented with as they explore the symbols that will emerge on the reels are beautiful and exceptionally easy on the eye. On both sides of the reel engine, players will spot images of various plants and various beautiful flowers.
Thanks to the vivid and colorful graphics, players will get the feel that they are in the flower-filled garden where bees buzz around. The symbols appear against a wooden board, and even the game controls are designed to go with the reel engine as they are also made out of wood. The pleasant ambient noises of nature are combined with background audio which might not be exactly what players expect from a slot with such a theme.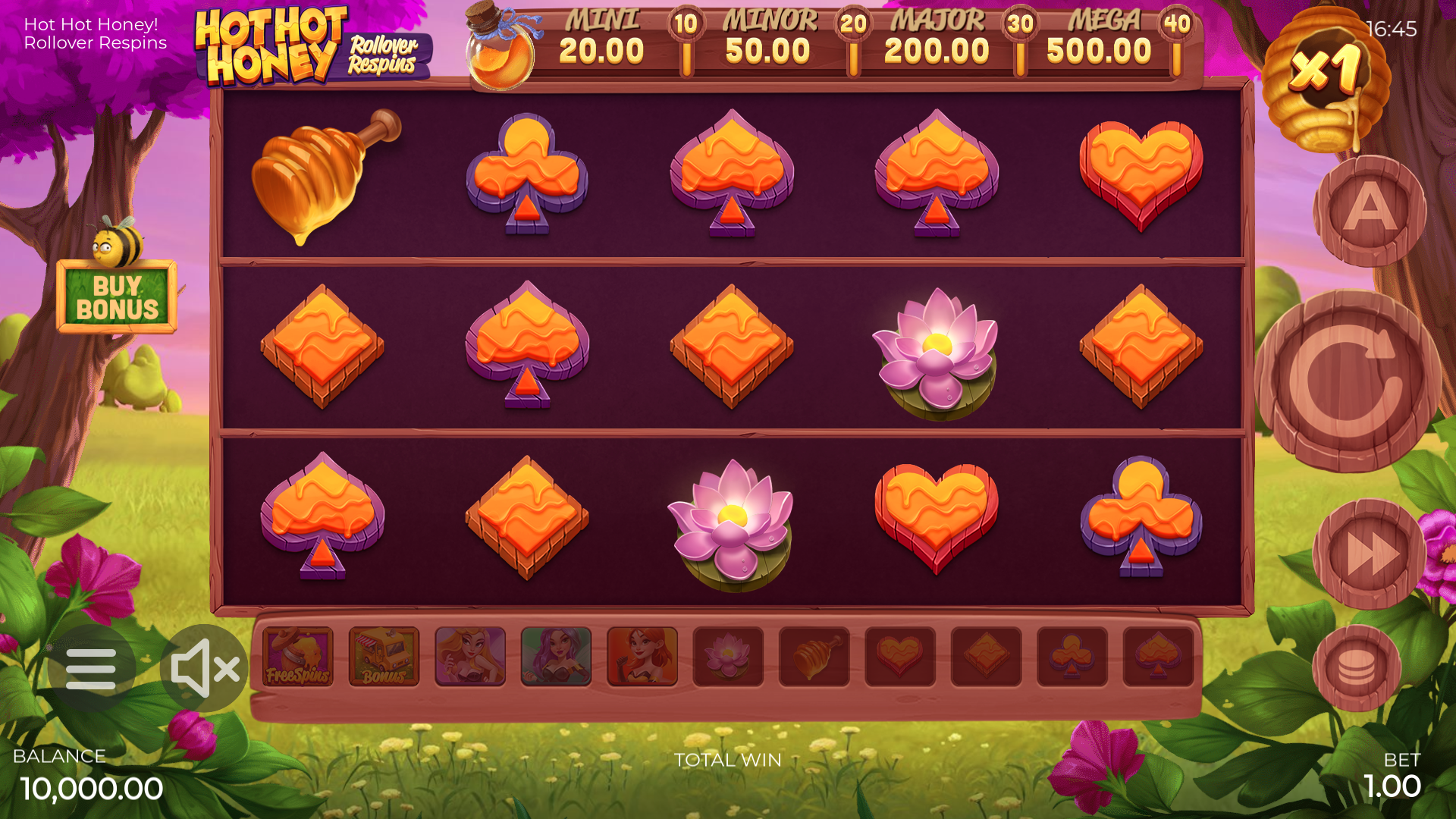 How Hot Hot Honey Compares to Other Slot Games
If players like the idea of following the adventures of the three-bee Anna combo, they might want to check other slots with similar themes. It turns out that the slots in which bees play key roles are not so many, but one of the providers that have brought such games to slot enthusiasts is Pragmatic Play. Their Sticky Bees is undoubtedly a slot reel spinners might be thrilled about because of its massive playing field made of seven reels and seven rows.
Once players thrust deep into a dense area, they will be presented with rounds of free spins, bonus-buy feature, Cascading Reels, market reel positions, and super wilds, among others. Much Like Hot Hot Honey, Sticky Bees is also played for up to 100 credits. The volatility of both games is high, but Sticky Bees' RTP stands at up to 96.06%.
Playtech's Bee Frenzy is also a slot with a similar theme, but it comes with just 10 win lines and considerably lower bet limits. Yet, the special features the budding beekeepers offer are worth taking a look at.
More similar slots:
Bee Frenzy by Playtech
Wild Swarm by Push Gaming
Sticky Bees by Pragmatic Play
Hot Hot Honey Symbols and Payouts
Hot Hot Honey is built using a 5×3 -sized gaming panel and what might come as a surprise for players is that its paytable does not contain bee symbols. Instead, slot enthusiasts will be presented with card suits as low-value icons and water lily and honey sticks as symbols that grant moderate payouts. The symbols that generate the juiciest prizes are the three Annas sisters. With all regular-pay symbols, slot mavens will get rewards when five or more matching symbols appear.
Players will be entitled to payouts of 4x the bet amount when a winning combination is formed with 30 or more matching card suits. The honey stick and the water lily stand at the middle of the game paytable, and these symbols produce maximum payouts of 5x and 6x the bet amount, respectively.
The Ann sisters award the most handsome payouts of 9x, 10x, and 15x. The yellow truck bonus symbol also produces payouts, and the maximum payouts this icon can award is 2x the bet amount that is introduced for a combination of ten or more symbols of this kind.
*The represented payouts are awarded for a bet of one credit
Hot Hot Honey Winning Combinations and Payouts
Symbols
5+
7+
9+
12+
15+
20+
30+
Blonde-haired bee lady
2x
2.40x
3.20x
4x
5.80x
8x
16x
Purple-haired bee lady
1.80x
2.20x
2.80x
3.60x
4.80x
7x
10x
Red-haired bee lady
1.60x
2x
2.60x
3.20x
4x
6x
9x
Water Lily
1x
1.40x
2x
2.40x
3.20x
4.20x
6x
Honey stick
0.80x
1.20x
1.60x
2x
2.80x
3.80x
5x
Hearts
0.70x
0.80x
0.90x
1.10x
1.70x
2.90x
4x
Diamonds
0.60x
0.70x
0.80x
1x
1.60x
2.80x
4x
Clubs
0.50x
0.60x
0.70x
0.90x
1.50x
2.70x
4x
Spades
0.40x
0.50x
0.60x
0.80x
1.40x
2.60x
4x
Bonus Features Overview
Hot Hot Honey is a video slot that looks beautiful and is sure to engage the attention of reel spinners with its lengthy bonus schedule. Equipped with respins, rollovers, multiplier hive, and double sticky symbol activation, this video slot is abundant with special features that have the potential to bring players bountiful rewards.
Wilds and Scatters
Although Hot Hot Honey has several bonus symbols, slot enthusiasts should not expect to see a wild icon as such is not added to the game paytable. The yellow truck bonus symbol is an icon to watch out for as it awards wins of x0.20, x0.40, x0.60, x1, x1.60, and x2 the bet amount.
The prize pot scatter symbol is the other special symbol that will appear on the reels, and whenever such icons pop up, they will be accumulated and their number will be displayed on the special counter. When 10, 20, 30, or 40 prize pot scatter icons are collected, players will be eligible for the Mini, Minor, Major, or Mega prizes that are displayed above the reels.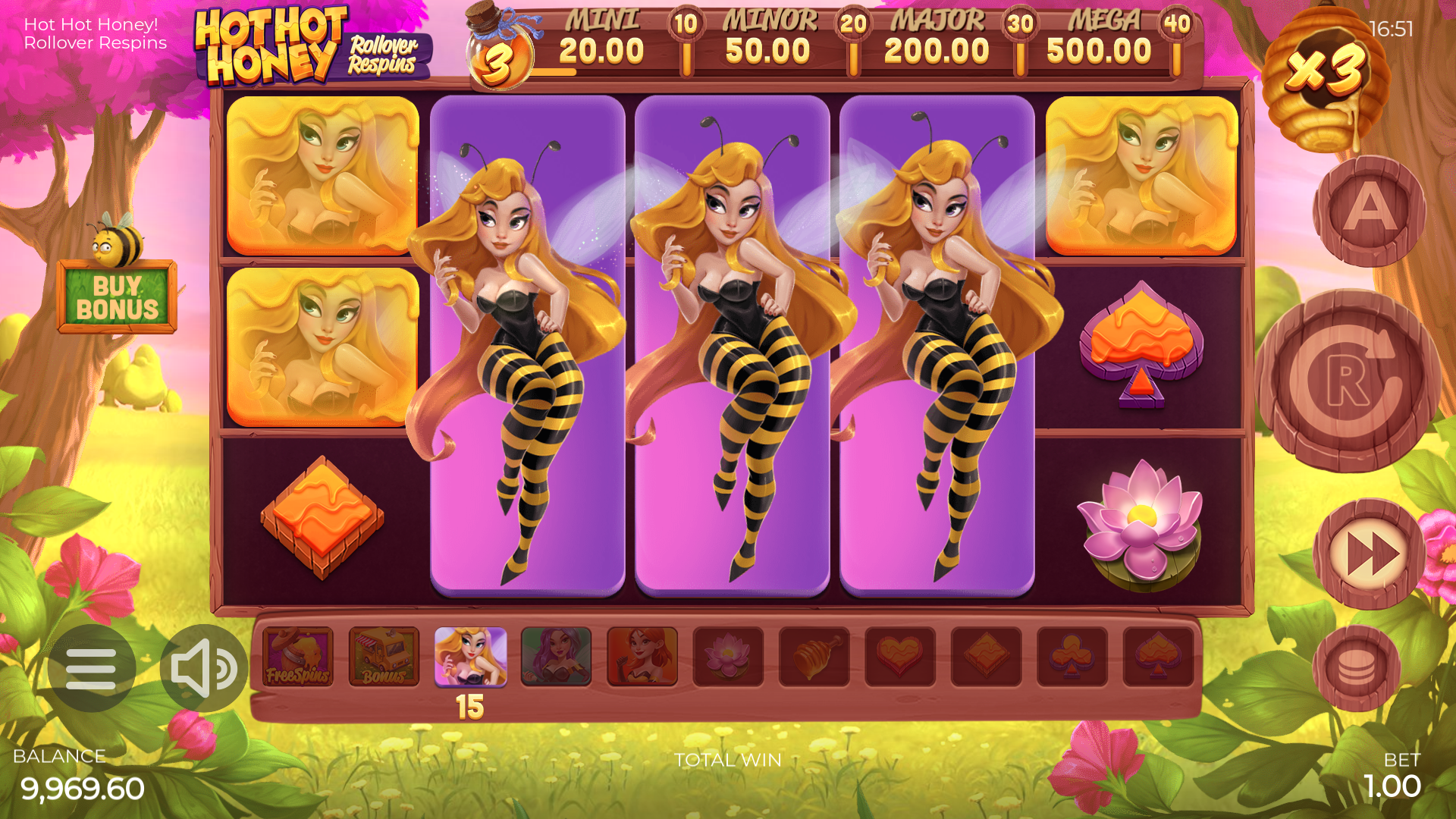 Double Sticky Symbol Activation
When at least five matching symbols appear on the reels, they will stick and the respective counter will be activated. The counter that stands below the reel engine is used to indicate how many symbols were converted into sticky honey.
The counters of multiple symbols can be activated at a time. When five or more identical symbols appear on the reels during an initial spin or after a respin, another respin with two activated sticky symbols will be awarded, which increases players' chances to get juicy wins even further.
If players see full sticky reels, the respective column will disappear and the value of the multiplier will be increased. If the column is made of low-value sticky icons, the win multiplier will increase by one. If the column is made of three identical female bees, its value will increase by two. The multiplier can reach a maximum of 100x but players should keep in mind that it does not apply to the Free Spins, prize pots, or Trail Bonus.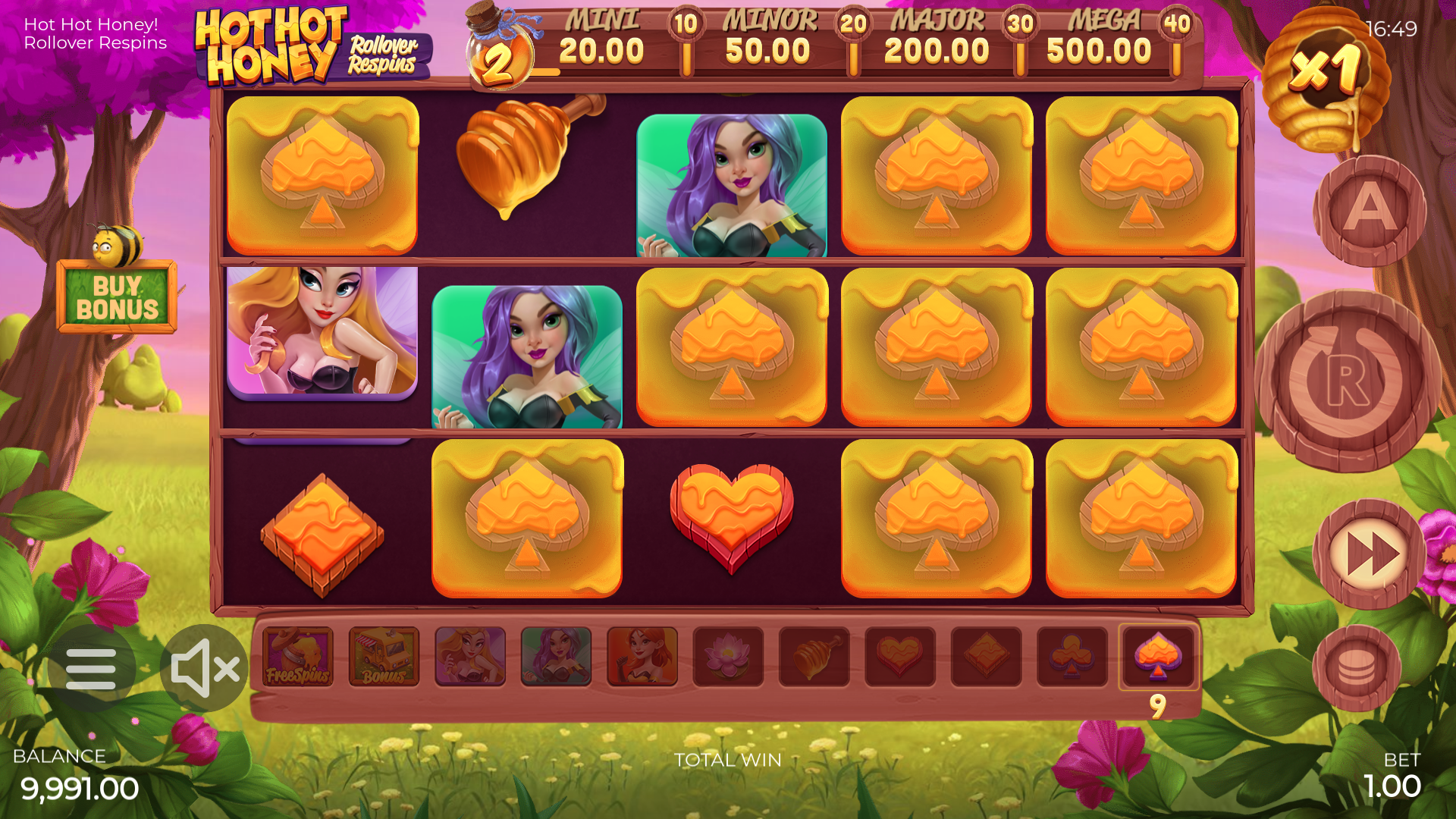 Trail Bonus Game
Even though reel spinners will be able to make use of the Trail Bonus feature, this time, the provider has chosen to bring its delicious twist to the mode by implementing money-awarding prizes. The yellow truck bonus symbol gives players an entry in the Trail Bonus game, provided that at least three such special symbols appear on the reels.
When the feature is unlocked, players will spin the reels to get up to six petals that will indicate how many spaces their character will move, much like with game boards. There are several features players can win depending on the space they will land:
If a Go Back Bee appears, players will need to move backwards
The flower awards prizes of up to 20x
The bottle with magic potion gives a mystery prize. The awarded prize can be between 50x and 500x the bet amount. Mystery prizes can only be offered during the bonus-buy game
If a heart appears, it will give players an extra life to survive the attacks of the Ninja Spiders
The prize wings allow players to move twice as far. Thus, they will move 2 to 12 spaces and collect all the prizes on their way
The Grand Prize Pot stands at the end of the board and if reel spinners reach that space without getting killed by the spiders, they will qualify for an extra payout of 1,000x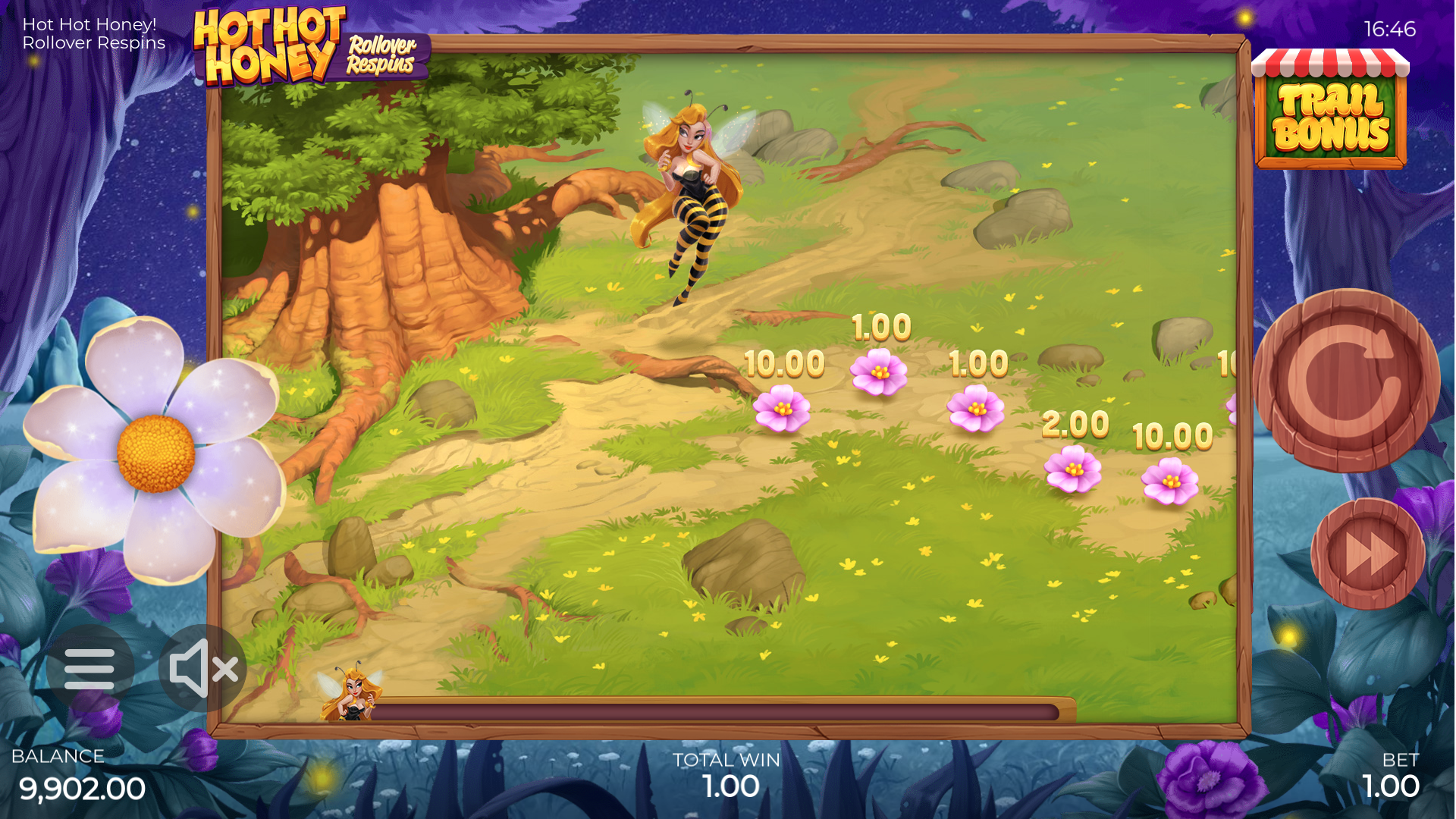 Free Spins
When three or more honey barrel bonus symbols land on the reels, players will enter the Free Spins feature. The number of bonus rounds players will be awarded will be determined by the number of bonus icons that have appeared on the reels when triggering the feature. Before the feature starts playing out, reel spinners will be asked to pick one of the 15 boxes that will appear on their screens in order to see what symbol will be revealed.
The revealed symbol will be much more likely to appear on the reels in comparison with the other icons, meaning that players can get lots of respins during the Sticky Feature. Additionally, the multiplier accumulation and prize pot progress meter will not be reset during the rounds of free spins. Players should bear in mind that they can only get one prize pot at the end of the feature.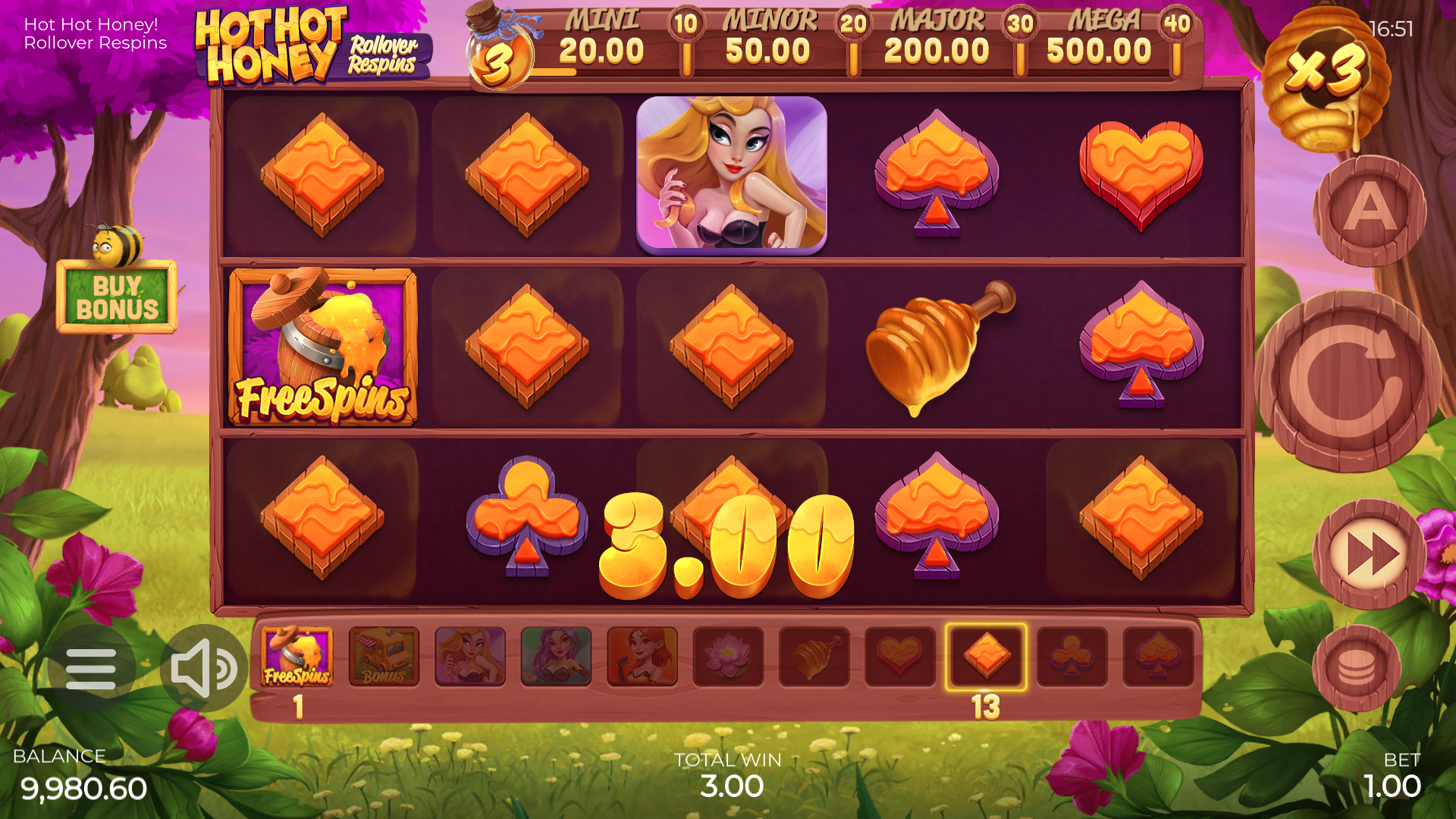 Bonus Buy Feature
On top of all the above-mentioned features, Hot Hot Honey also comes with a bonus-buy feature, thanks to which reel spinners can get a different number of bonus boosters.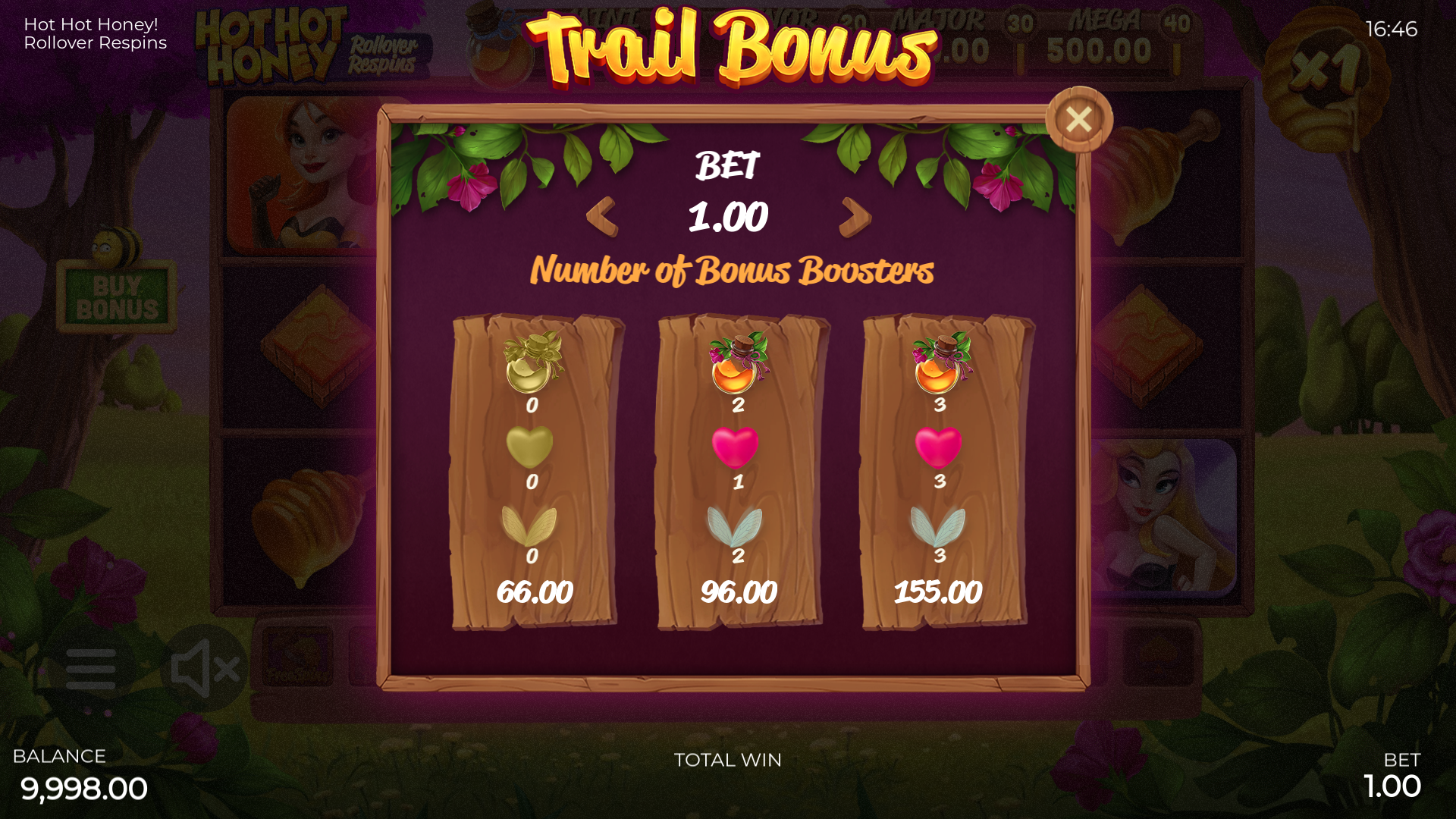 Pros & Cons of Hot Hot Honey
✅ What We Like about Hot Hot Honey
Offers plenty of bonus action
The Trail Feature is quite engaging
Has a bonus-buy feature
❌ What We Dislike about Hot Hot Honey
Players might find it challenging to understand the bonus features
Below average RTP
Low maximum win
Hot Hot Honey FAQs
Is there a Free Spins feature in Hot Hot Honey?
Yes. Players can unlock it by landing three or more yellow truck bonus icons. The number of yellow trucks that will appear on the reels at the same time will determine the number of bonus spins slot buffs will be in for.
How many win lines are there in Hot Hot Honey?
Winning combinations are not formed using paylines but through the cluster pay mechanics instead. This means that to get a payout, players need at least five matching symbols.
Is there a progressive jackpot in Hot Hot Honey?
No. Unfortunately, slot buffs are not given a chance to play for progressive jackpot prizes but there are four fixed jackpot prize pots.
Related Games