Giga Jar is the third addition to Push Gaming's delectable collection of fruit-themed slots. This slot launched in 2023 with an RTP of 96.48%, and it is a cocktail of engaging mechanics, wonderful graphics, and an immersive sound design. Gambling devotees who are looking to try Giga Jar out can look forward to a possible win cap of 10,000x if they are exceptionally lucky.
Giga Jar is a grid slot, which means that winnings are achieved when symbols form clusters on the slot's grid. The said clusters will then disappear, leaving other symbols to collapse into the place of the previous icons, and it is this mechanic that the slot's various bonus features are centered around. You can enjoy the slot regardless of whether you are in the comfort of your home or on the go, seeing as the game is fully compatible with smartphones.
Giga Jar Slot Summary
Game Provider: Push Gaming
Release Date: 2023
Game Type: Video Slot
Theme(s): Disco, DJ, Fruit theme
Reels: 7
Wild Symbols: Yes
Rows: 7
Scatters: No
Paylines: Cluster Pays
Free Spins: No
Payout/RTP: 96.48%
Bonus Game: Yes
Volatility Level: Medium
Progressive Jackpot: No
Min Bet: 0.10
Autoplay: Yes
Max Bet: 100
Max Win: 10000x
Giga Jar Theme
Giga Jar is a funky take on the iconic genre of fruit slots. The gorgeous artwork is tied to cocktails one would find at a disco venue, with each fruit symbol being represented in the cube shape of an ice cube.
Giga Jar, the star of the show, is the slot's DJ, and it plays a key role in one of the game's bonus features. Of the slot's bonuses, the Ice Breaker feature is of particular note as it fits the slot's theme perfectly. After all, ice cubes are an indispensable aspect of the drinks one would get at a disco venue. On that note, gaming mavens who were part of the disco scene in the late 20th century will be hit with a wave of nostalgia once they hear Giga Jar's catchy 90s dance-inspired background music.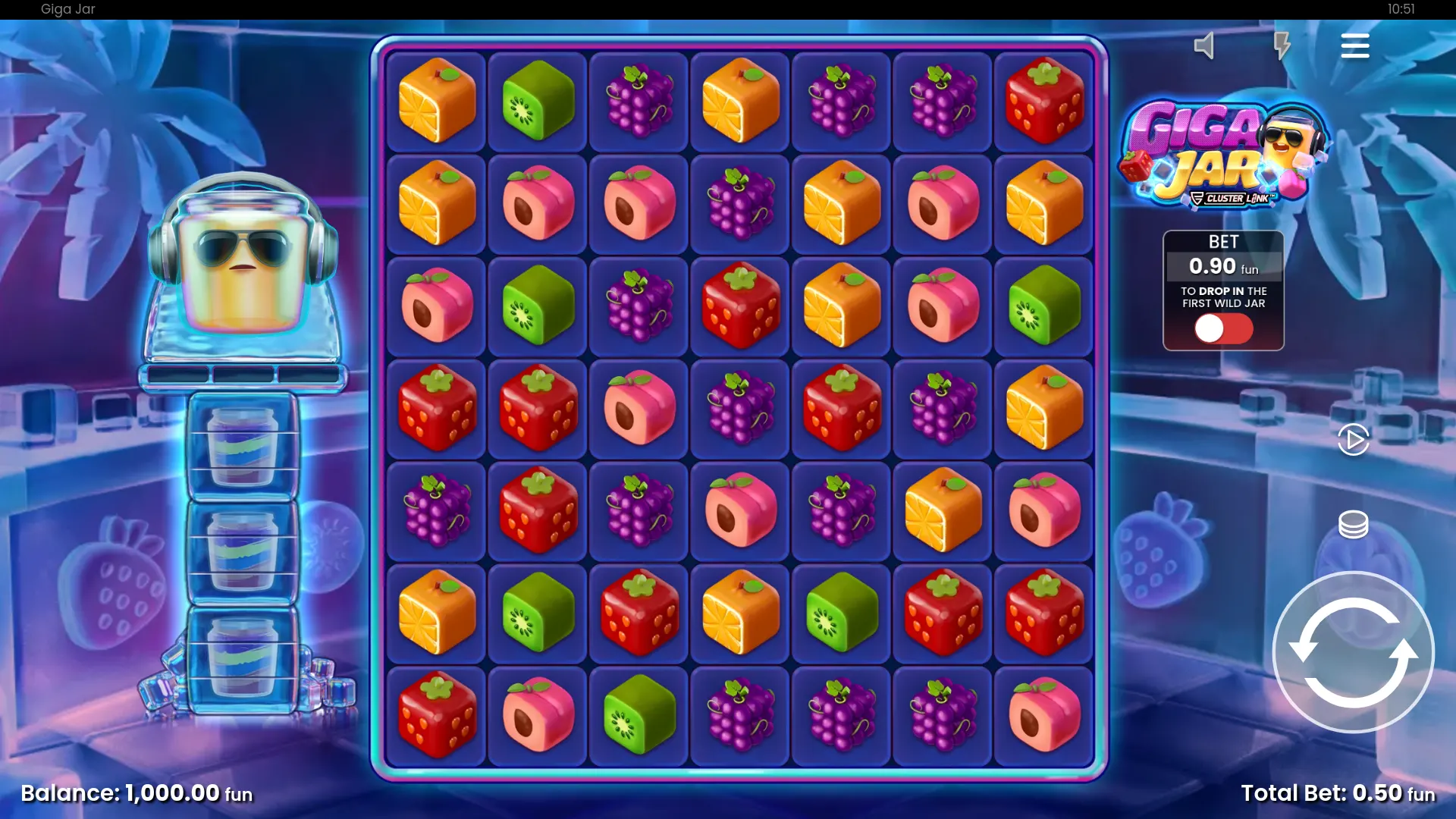 How Giga Jar Compares to Other Slot Games
Cluster structure differs from the classic reels of ordinary slots. For starters, the grid layout is 7×7, which makes it positively large in comparison to the typical 3×5 layout we are used to seeing on video slots nowadays. It also comes with the cascading symbols mechanic, which, as established, makes icons that have formed a winning cluster disappear. Then, new icons fall in their place, which means you can essentially chain multiple wins within one single spin.
Giga Jar's entire concept is also somewhat unique. Sure, you cannot go with a theme more classic than fruit icons, but Giga Jar has spiced things up with the disco-inspired setting of the game. The Giga Jar DJ mascot, along with the adorable Wild Jar character, also serve to make the experience feel fresh, and they certainly help the game stand out.
More similar slots:
Fruit Case by NetEnt
Sweet Bonanza by Pragmatic Play
Jammin' Jars by Push Gaming
Fruit Disco: Megastacks by Mascot Gaming
Giga Jar Symbols and Payouts
Giga Jar features six tasty fruits as its main symbols, all of which will reward players depending on the size of the clusters they form on the slot's grid. Clusters can be formed with a minimum of five symbols, while winning combinations featuring 16 icons or more offer the largest payouts. Blueberries and Grapes are Giga Jar's lowest-paying icons, each of which rewards between 0.1x and 10x one's base bet.
In addition to the above symbols, there are also instant prize icons. Of course, Giga Jar is not without its unique symbols. The slot's main wild icon is the colorful Wild Jar, which substitutes for all of the slot's paying icons, and it will also multiply the win. In an interesting twist, the Giga Jar itself can turn into a large sticky wild icon as part of the Giga Jar Feature. The maximum possible win one can achieve while playing the Giga Jar slot is 10,000x.
Giga Jar Winning Combinations and Payouts
Matches
Strawberry
Orange
Peach
Kiwi
Grapes
Blueberry
5-6 Matches
1x
0.5x
0.4x
0.2x
0.1x
0.1x
7 Matches
1.5x
0.7x
0.6x
0.3x
0.2x
0.2x
8 Matches
2x
1x
0.8x
0.4x
0.2x
0.2x
9 Matches
3.5x
1.7x
1.5x
0.6x
0.4x
0.4x
10 Matches
5x
2.5x
2x
0.8x
0.4x
0.4x
11 Matches
7.5x
3.5x
3x
1.2x
0.8x
0.8x
12 Matches
10x
5x
4x
1.5x
0.8x
0.8x
13 Matches
50x
25x
20x
2.5x
1.5x
1.5x
14 Matches
100x
50x
30x
5x
2.5x
2.5x
15 Matches
250x
125x
125x
10x
5x
5x
16+ Matches
500x
250x
200x
20x
10x
10x
Bonus Features Overview
Giga Jar comes with a plethora of entertaining bonus mechanics, including the Ice Breaker Feature, the Giga Jar feature, and more. Although there is a lack of a free spins mode, the game does feature clusters and a cascade mechanic as opposed to traditional paylines. This means that whenever you score a win, the symbols that were part of the winning combo disappear, allowing for new icons to take their place and, potentially, form new winning clusters.
Another interesting feature is the Ante Bet mechanic, which can be used in order to instantly drop a Wild Jar on the reels. An Ante Bet's value is your base bet's multiplier times 1.8. It is important to remember that the Ante Bet itself will not increase your base wager, and it will, therefore, not affect the multipliers of winnings combinations. In addition, the RTP of the slot is lowered to 96.47% (from 96.48%) when wagering with the Ante Bet active.
Wilds and Scatters
Although Giga Jar does not have a scatter, the slot does feature two icons that function as the wild. The first one is the Wild Jar. A maximum of three Wild Jar symbols can drop on the reels, and each wild is locked behind a three-stage meter when you start playing. To unlock one wild symbol, you must score three consecutive cascade wins during a single spin. As the meter progress resets each time you spin the reels, getting all three Wild Jar icons to drop requires you to luck out on nine consecutive spins in a single game.
As for what Wild Jars actually do, they act as substitutes for both the fruit icons and the instant prize icons. They also come with multipliers, which are applied to the winnings of any winning clusters the Wild Jars are part of. The default multiplier value is one, and it increases by one with each consecutive cluster win. As detailed above, it is possible to start out a spin with a Wild Jar symbol if you select the Ante Bet mechanic.
The Giga Jar icon is the other symbol that plays the wild role, and it is only available in the Giga Jar feature. What is unique about this symbol is that it covers four spots on the grid, and it is sticky, meaning it will remain in its position until the end of the Giga Jar feature.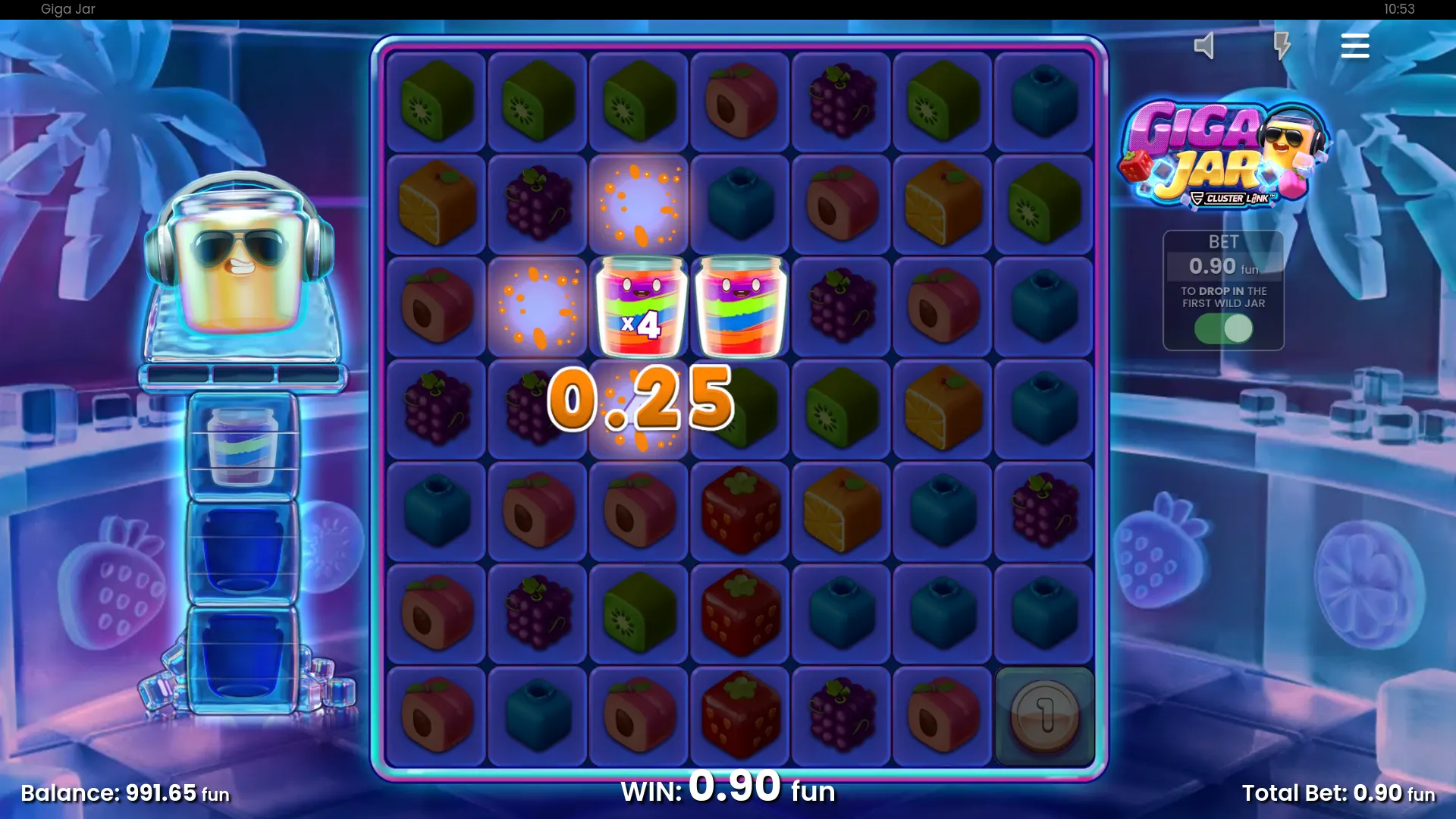 Bonus Games
When it comes to bonus mechanics, gambling mavens who pick up Giga Jar are in for an absolute treat. The first extra bonus is the Ice Breaker Feature, which can be triggered after two cascade wins occur. Once this happens, one to three paying symbol types are removed from the grid at random, which provides ample opportunity for new winning clusters to occur.
Giga Jar's next bonus mechanic is the Snowball Feature. Players may be treated to the Snowball Feature after two winning cascades are achieved, and either one or two Giant Paying Symbols will be placed on the slot layout, replacing the symbols they cover with the same paying fruit icon or the same instant prize icon. The only irreplaceable symbols are wilds. Giant Paying Symbols can come in sizes 2×2, 3×3, and 4×4.
Next, we have the slot's crown jewel, the Giga Jar feature. Triggering it is by no means easy, as you need to fill up the Giga Jar meter, but it can be quite a rewarding experience. Essentially, you will need to unlock all three Wild Jars for the Giga Jar meter to appear and then luck out on another three cascades to fill up the said meter.
With the feature successfully accessed, the Giga Jar turns into a 2×2 symbol that is dropped on a random spot on the grid. It functions as four individual 1×1 wilds, and it has a starting value of 1x. Then, the full progression meter appears, and the symbol will remain active for 3 cascades, after which it will no longer be active. If you manage to score three more consecutive winning clusters, the Giga Jar will be reactivated, and its multiplier will be increased. The multiplier values range from 5x to 50x. Once cluster wins stop occurring, the Giga Jar feature ends.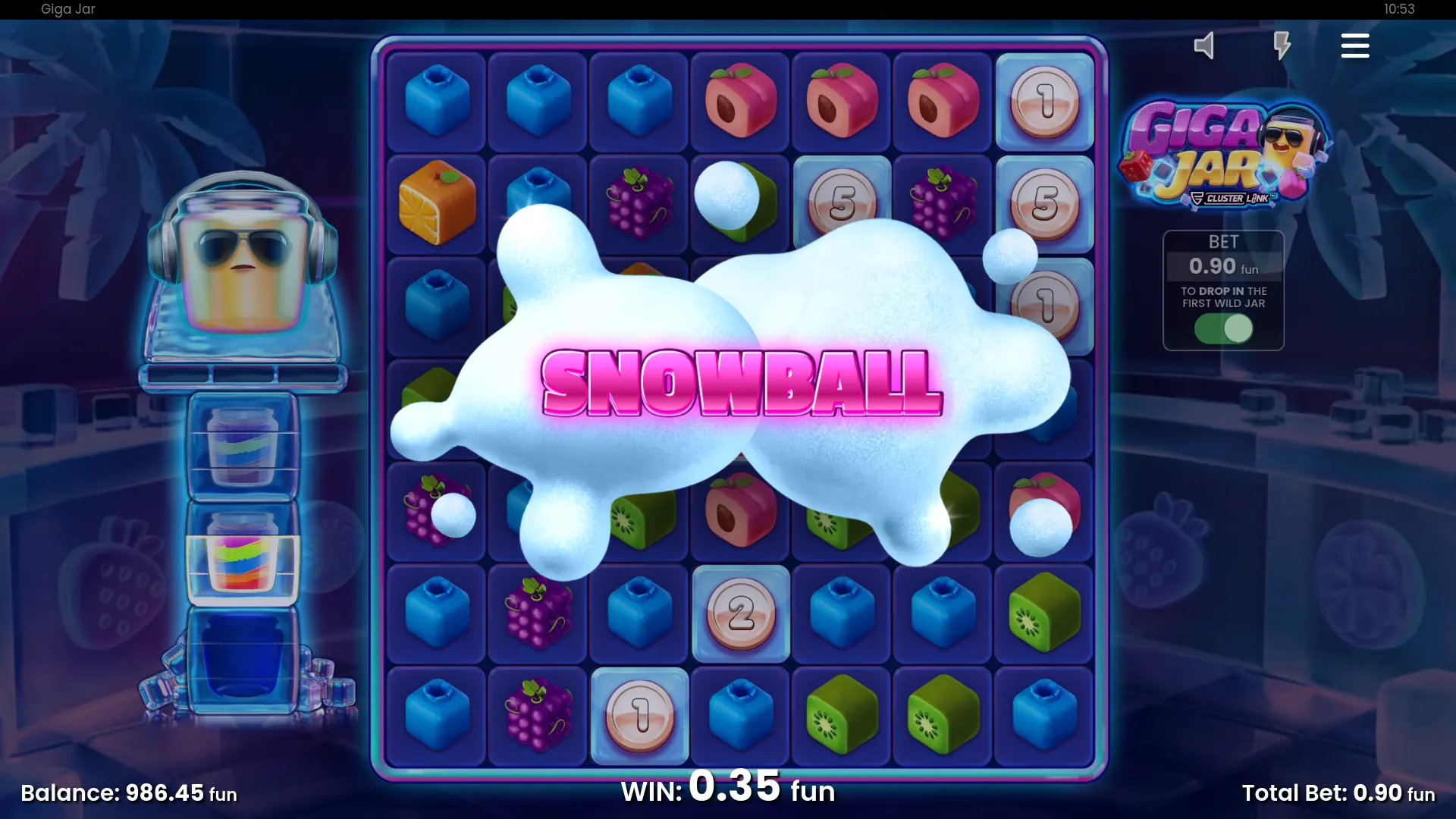 Multipliers
As touched upon above, Giga Jar has a set of symbols dubbed Instant Prize symbols. Each such icon can have a different multiplier value, starting from 1x, and it can go all the way to 1,000x. Payouts are rewarded if a cluster containing no less than five instant prize symbols forms. When this happens, the player is rewarded the sum of the said icons' values.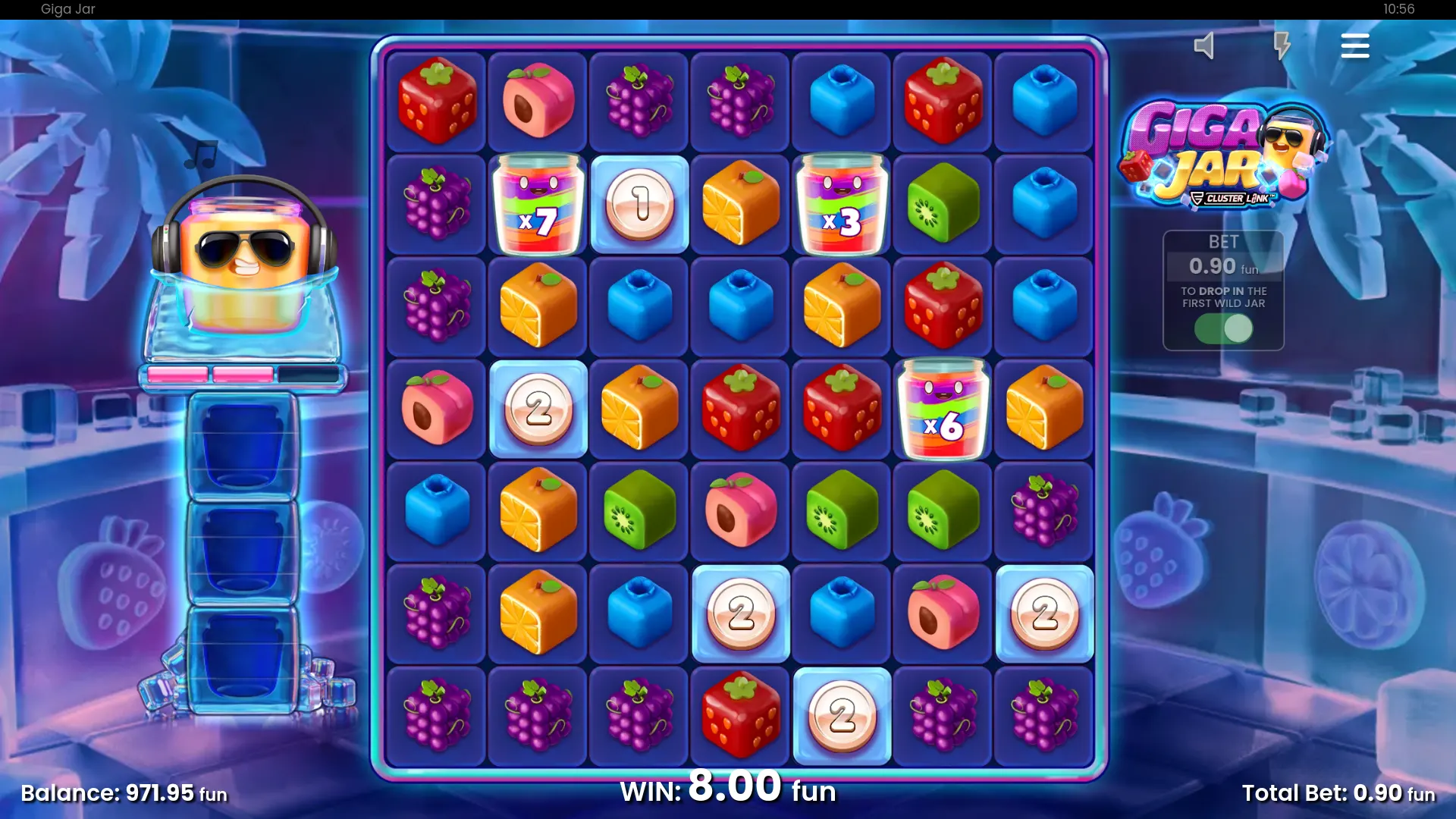 Pros & Cons of Giga Jar
✅ What We Like about Giga Jar
The slot features a grid layout and collapsing symbols
Giga Jar has various exciting bonus mechanics
The game is powered by HTML5
❌ What We Dislike about Giga Jar
The slot does not come with a proper free spins mode
Triggering the Giga Jar feature can be difficult
Giga Jar does not feature a progressive jackpot
Giga Jar FAQs
I do not have a lot of free time to play games of chance. Does Giga Jar have a turbo mode?
Yes, players can enable the turbo feature by clicking or tapping on the lightning symbol. On the desktop version of Giga Jar, this icon is located near the upper right corner. On smartphones, it is at the lower right corner of the screen.
What is Giga Jar's RTP?
Giga Jar's RTP is 96.48%, but do keep in mind that this is only the case if you have not toggled on the Ante Bet option. If you do choose to play with the Ante Bet enabled, the game's RTP will become 96.47%.
Is autoplay an option?
Yes, Giga Jar has an autoplay feature. Although it does not offer an infinite option, you can choose to start a series of autoplay spins that range between 10 and 100 in quantity.
Related Games