Fortress Charge was developed in partnership between Crazy Tooth Studio (CTS) and Microgaming to enhance and diversify players` gaming experiences. This game offers a wholly unique method to have fun and get prizes and is unlike regular slot game varieties.
This CTS slot has six reels and three paylines, with payouts being achieved from the far left reel to the right along each payline. However, with this game, payouts will be achieved in a different way. Fortress Charge will see heroes traveling on quests across the slot's paylines rather than landing winning combinations of identical symbols. Every quest has the potential to reward players differently or result in failure. By offering a different gaming experience, we believe Fortress Charge is a very entertaining slot that demands your attention.
Fortress Charge™ Slot Summary
Game Provider: Crazy Tooth Studio
Release Date: 2020
Game Type: Video Slot
Theme(s): Fantasy, Medieval, Middle Ages
Reels: 6
Wild Symbols: No
Rows: 3
Scatters: No
Paylines: 3 fixed paylines
Free Spins: No
Payout/RTP: 96.45%
Bonus Game: No
Volatility Level: High
Progressive Jackpot: No
Min Bet: 0.10
Autoplay: Yes
Max Bet: 15
Max Win: 16000x
Fortress Charge™ Theme
For the theme of Fortress Charge™, CTS has chosen medieval times, with brave knights, elves, and other heroes embarking on various journeys toward big prizes. The different hero characters of this game will combat various villains, many of which resemble different creatures from medieval tales. At the end of each journey, there will be lavish fortresses awaiting your heroes, bringing you bountiful rewards for every heroic act.
With great animations and unusual slot design, Fortress Charge™ allows players to embark on a different yet very fun gaming experience. To fully immerse yourself in the brave quest of knights, you can also activate the sound effects of Fortress Charge™ and enjoy a very thrilling experience.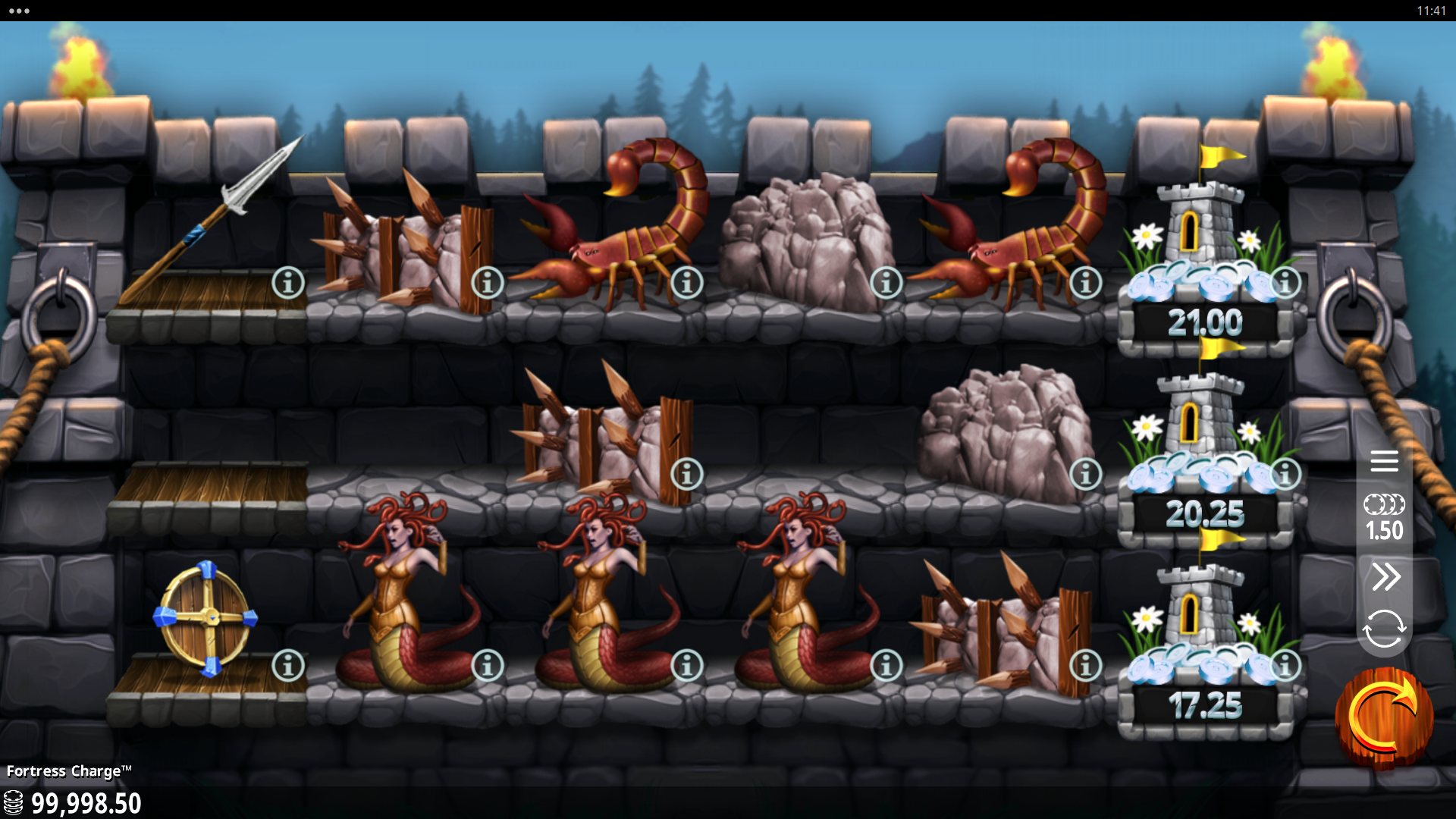 How Fortress Charge™ Compares to Other Slot Games
As soon as you spin the reels of Fortress Charge™, you get why this game is so different and cannot be compared to other slots. Even though the battle between heroes and villains is something you may find across numerous titles, the way this slot awards its payouts is very unique.
Instead of paying for matching identical symbols across paylines, Fortress Charge™ includes the unique Reel Quest feature. That means whenever a hero lands on the very first reel on the left, he will try to advance to the next adjacent reels and reach the fortress on the final sixth reel. Along his way, the hero may defeat different villains and win credits for his successes. Multiple villain defeats may bring multiple payouts, with the biggest reward being granted once the hero reaches the fortress. We definitely cannot think of another video slot that offers a similar gaming experience.
More similar slots:
Fire Siege Fortress by NetEnt
The Dragon Castle by Habanero
Medieval Knights by KA Gaming
The Green Knight by Play'n GO
Fortress Charge™ Symbols and Payouts
Looking at the Fortress Charge paytable, we can see that there are a ton of symbols that can potentially bring you wins in slightly different ways. On the far left reel, you can find heroes trying to advance to the last reel and collect prizes along the way. Set a Beast Hero to defeat the Ogre Villain, a Dragon Hero to defeat both the Ogre Villain and the Spikes Villain, or an Elf Hero to beat the Scorpion Villain. The Dwarf Hero can overpower the Boulder Villain, and the Knight Hero has the ability to bring down the Scorpion Villain and the Snake Villain. Defeating different villains will grant various payouts.
Heroes can encounter special weapon symbols along the reels and beat opponents that would otherwise prevail in the battle. Along the journey on each row, it is possible to collect payouts by smashing Chests. These can grant between 3x and 10x your bet. Empty spots across the path will not pay but will help heroes to advance towards the last reel. Each fortress grants a different payout once a hero gets to it.
*Paytable shows multiplier applied to total bet per spin amount
Fortress Charge™ Winning Combinations and Payouts
Symbols
Credit Prize
Defeated Ogre Villain
0.50x
Defeated Scorpion Villain
0.60x
Defeated Spikes Villain
0.70x
Defeated Boulder Villain
0.80x
Defeated Snake Villain
0.90x
Chest Prize
3.00 – 10.00x
Yellow Flag Fortress
10.00 – 14.50x
Blue Flag Fortress
15.00 – 75.00x
Red Flag Fortress
100.00 – 1,000.00x
Bonus Features Overview
As you may have noticed, Fortress Charge offers a different slot experience thanks to the Reel Quest feature of CTS. Instead of triggering bonus games with special symbols, you have the opportunity to win different payouts on each row of this unusual video slot. The outcome of each spin depends on whether you can get a hero on the first reel and whether he will successfully reach the final goal at the end of the row.
Bonus Games
The Fortress symbol that can land at the end of each row is randomly selected. That said, it is possible that the highest-paying Fortress can land on every row. Even if you lose a spin, you can quickly hover over a Villain to see which heroes and weapons can beat that particular icon.
Random Fireballs can appear when a hero advances to the next reel. This special feature will defeat the villains encountered during the quest, allowing the hero to approach the Fortress. The best thing about this randomly triggered feature is that you see multiple Fireballs on the same line. If none of the heroes land on the first reel, the game ends and you can spin again. That being said, it is possible for two heroes to progress to two Fortresses in the same spinning round.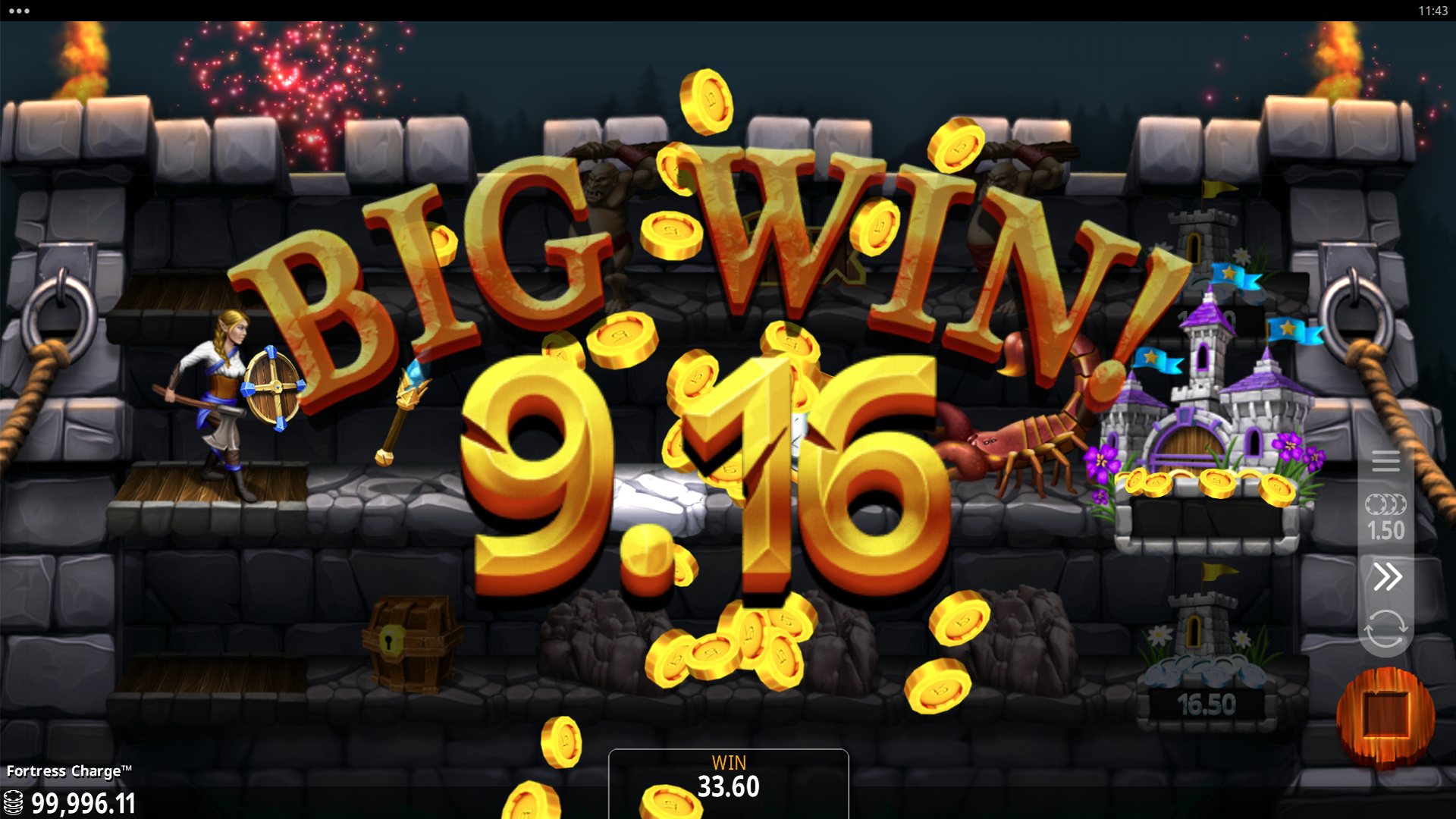 Multipliers
Despite its unusual gameplay, Fortress Charge has incorporated some typical slot features such as multipliers. As mentioned earlier, you can encounter 2x symbols on any line during your quests. While a hero makes progress, players may encounter up to four multiplier symbols. In such a case, they might enjoy a payout of up to 16x their winnings in total.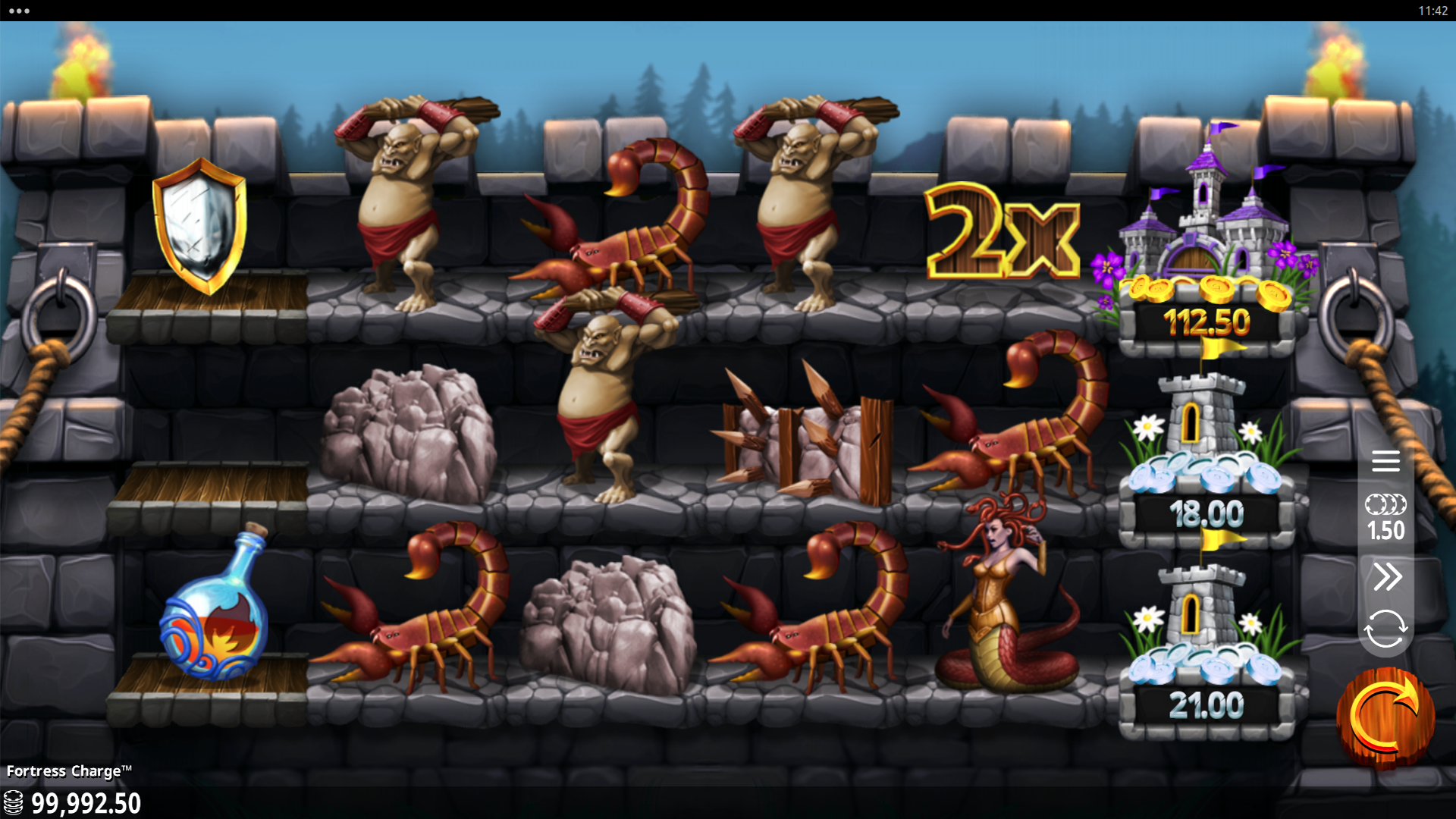 Pros & Cons of Fortress Charge™
✅ What We Like about Fortress Charge™
Offers unique gameplay with an unusual paying system
Fireballs can help heroes defeat stronger villains
Multipliers can increase wins along the journey
❌ What We Dislike about Fortress Charge™
Even landing a weapon symbol may not help heroes defeat certain villains
Heroes may not appear on every spin
Successful journeys may contain empty non-paying symbols
Fortress Charge™ FAQs
Do Players Win Only if They Get to the Fortress Reel?
No. Even if a hero does not manage to get to the sixth fortress reel, if he beats a few villains or lands a chest symbol along the way, players will still enjoy a payout. Lucky players who also land a 2x multiplier can further boost their wins even if they are defeated before the fortress reel.
Can the Same Hero Defeat Different Villains?
Yes. Some hero symbols are more powerful than others and can defeat two different types of villains. What is more, thanks to the random Fireball feature, even if the hero is not capable of beating the villain, the fiery feature will help him bring down any beast on the adjacent reel.
What is the RTP of Fortress Charge™?
Fortress Charge™ is a distinct video slot, which despite its oddities offers a rather decent RTP of 96.45%, surpassing the average return of 96% that most slots provide. Giving players a good RTP makes Fortress Charge™ a slot that deserves one's attention, with the game having the potential to be quite rewarding in the long run.
Related Games