Crazy Tooth Studio (CTS) is known for creating slots with rather unusual features, gameplay, and paying systems and Aureus™ is no exception to this trend. Instead of having typical paylines, this game introduces a brand new way to land a win, which offers every slot player a breath of fresh air.
Even though you will see only a few coins spinning on the reels of the game, with brackets determining whether you enjoy a win or not, this slot is still offering enough chances for fruitful outcomes. With a 96% RTP, this slot stands right at the average return value that most slots offer. Meanwhile, the game's medium volatility means that players can enjoy decent payouts every now and then.
Aureus™ Slot Summary
Game Provider: Crazy Tooth Studio
Release Date: 2020
Game Type: Video Slot
Theme(s): Ancient civilizations, Mythology, Olympus
Reels: 3
Wild Symbols: No
Rows: 5
Scatters: Yes
Paylines: Cluster Pays
Free Spins: Yes
Payout/RTP: 96%
Bonus Game: Yes
Volatility Level: Medium
Progressive Jackpot: No
Min Bet: 0.20
Autoplay: Yes
Max Bet: 80
Max Win: 2431.20x
Aureus™ Theme
Aureus was a gold coin used in ancient Rome, and since it is the main symbol of this slot by CTS, it is only appropriate to give the game the name Aureus™. Jupiter, who was considered the king of all gods in ancient Roman mythology is the keeper of the bonus features of this slot, carefully awarding special prizes like multipliers, random wins, prize upgrades, and more.
Behind Jupiter, players can see the iconic Pantheon, which is one of the most iconic buildings in ancient Rome's history. This further contributes to the theme of the game, giving players a fun gaming experience.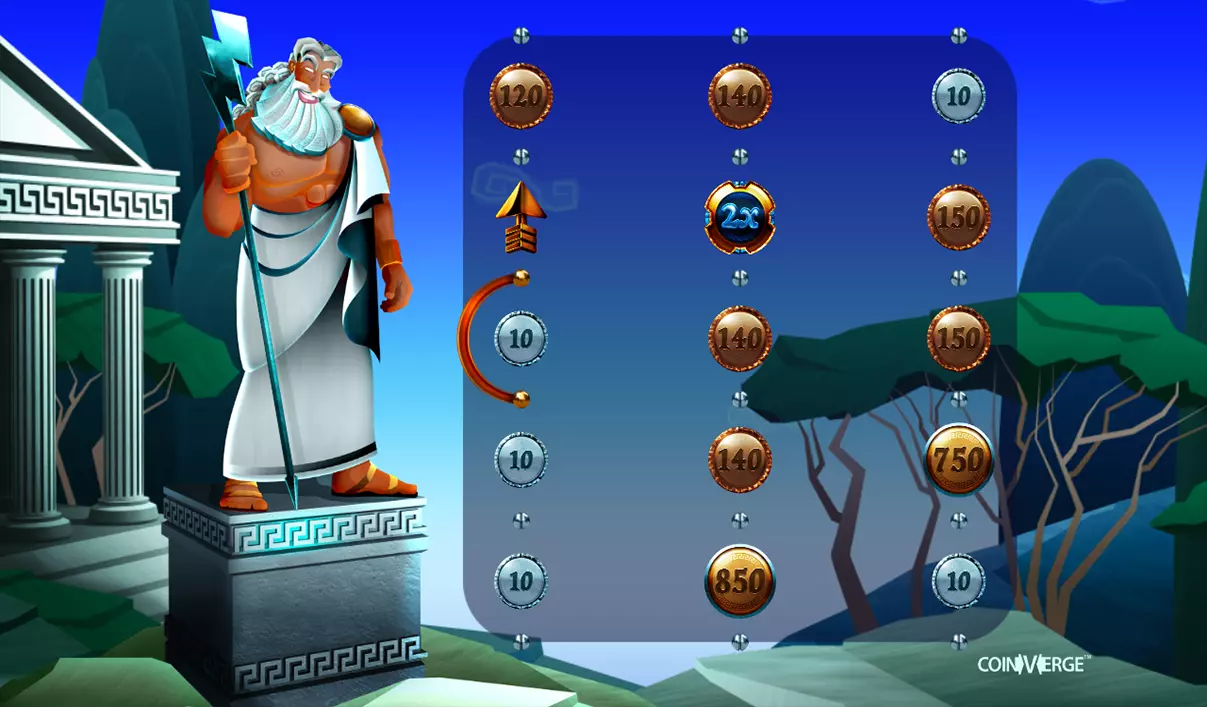 How Aureus™ Compares to Other Slot Games
While other software providers have created slots that incorporate unconventional paying systems, we have not seen another slot similar to Aureus™. The way to land a win in this slot is by matching opening and closing brackets, which will then grant the collective value of all coins within the area of the brackets. Coins can be of different kinds and values and still form a winning combination as long as they fit within opening and closing brackets of the same size.
As for the features of the slot, there is a chance to hit random wins, enjoy multipliers, and respins. These are bonus functions that may be seen in other slots but we can guarantee you that the bonus games of Aureus™ are rather unique.
More similar slots:
Neptune's Kingdom by Playtech
Apollo Pays by BTG
Power of Gods The Pantheon ny Wazdan
Super Size Atlas by Kalamba
Aureus™ Symbols and Payouts
Since Aureus™ does not award wins in a typical manner, there are no symbols that will grant a payout if they land in a certain configuration on the slot's grid. Instead, you will have three types of paying symbols, which include high-credit gold coins, bronze coins carrying medium prizes, and silver coins, which hold the lowest values.
The formation in which coins fall on the slot's grid does not matter as a payout is determined with the help of brackets. As long as coins fall within the area of the same type of opening and closing bracket, they will award their respective values.
The 1 High opening and closing brackets cover only one row and may contain a different number of columns. The 2 High brackets are bigger and can cover two rows at the same time and bring bigger wins. The biggest brackets are the 3 High opening and closing ones, covering three rows with symbols when they are matched.
In addition to the coins and brackets, Aureus™ also features several special symbols that can trigger the bonus features of the game. Multipliers between 2x and 5x may appear on the slot's grid, applying the corresponding multiplier to the prize if they are within the collection area of brackets. The next special symbol is the Collect symbol, which can be a Column Collect or All Collect icon. Respins between 2 and 5, and Upgrade icons are also among the special symbols you may land between brackets of the same type and unlock major wins.
While there are no Wilds in Aureus™, we believe the other special icons of the slot may trigger amazing features and make the whole coin collection experience extremely rewarding.
*Paytable displays credit ranges for a base bet of $1
Aureus™ Winning Combinations and Payouts
Symbols
Prize Range
High Credit Coin
3.00 – 50.00
Medium Credit Coin
0.60 – 0.75
Low Credit Coin
0.05
Bonus Features Overview
With a variety of special symbols, which can land in collection areas, Aureus™ can reveal various special features that can be extremely generous and fun. While there are no Wilds, this unusual slot incorporates different bonus symbols that may unlock respins, extra wins, and even boosts of collected prizes. Make sure to pay attention to Jupiter as he can randomly trigger the Coinverge feature of the game and create collection areas on any losing round.
Wilds and Scatters
Since this slot does not pay for matching identical symbols, there is no point in Wilds being included in Aureus™. Instead, the game incorporates a vast variety of special symbols that can unlock different features and boost the wins lucky players can land. While multiplier, respin, upgrade, and collect symbols may appear anywhere on the three reels of the slot, they should be included in collection areas to be activated.
One of the special icons is the upgrade icon, which is triggered when it lands within the collection area between matching brackets. When this feature is unlocked all low-credit and medium-credit coins within the collection area will be transformed into high-credit coins. Another way to boost your winnings is to land the Collect Column or Collect All icons within the matching bracket area. The first type of Collect icon will award the credits of all coins in the same column as the collection area. As you can guess, the Collect All icon will award the credits of all coins on the screen.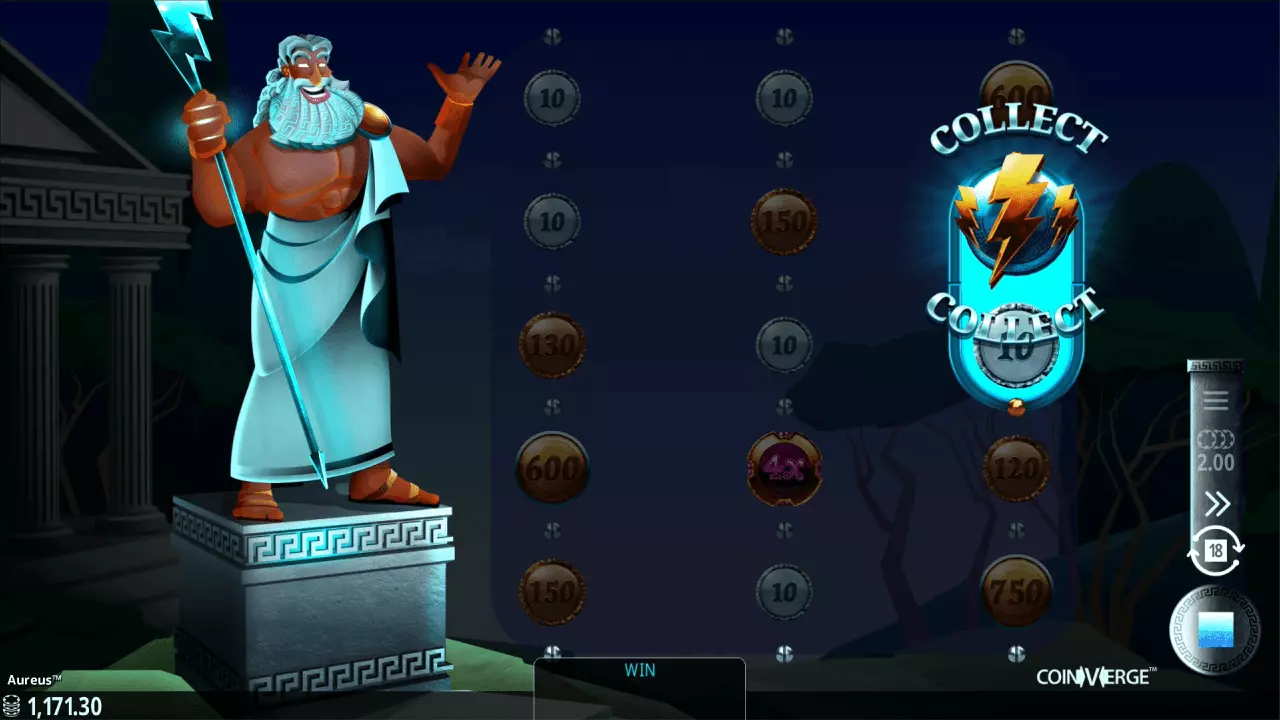 Free Spins
One of the special symbols that you may land between matching brackets is the Respin icon. Depending on the number within the symbol that triggers the feature, you may enjoy two, three, or five rounds of respins. This feature applies only to the area within the brackets, respinning only the coins within the matching brackets. That being said, thanks to the special functions of bonus symbols, it is possible to enjoy prizes even from coins outside the respun area.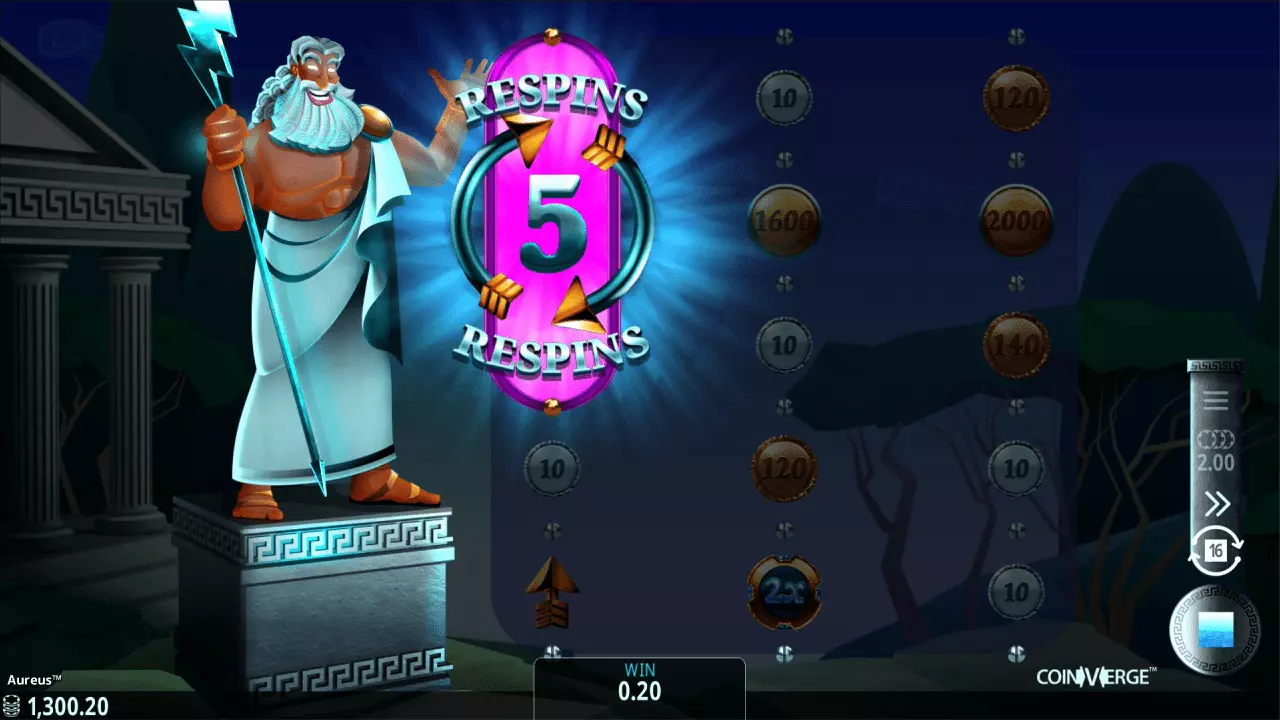 Multipliers
Multipliers are also among the special symbols players can land in the collection areas of Aureus™. The random multipliers include 2x, 3x, 4x, and 5x, with all of them being activated when they drop within the section between two matching brackets. When a multiplier hits the collection area, its value will be applied to all of the coin credits that are collected.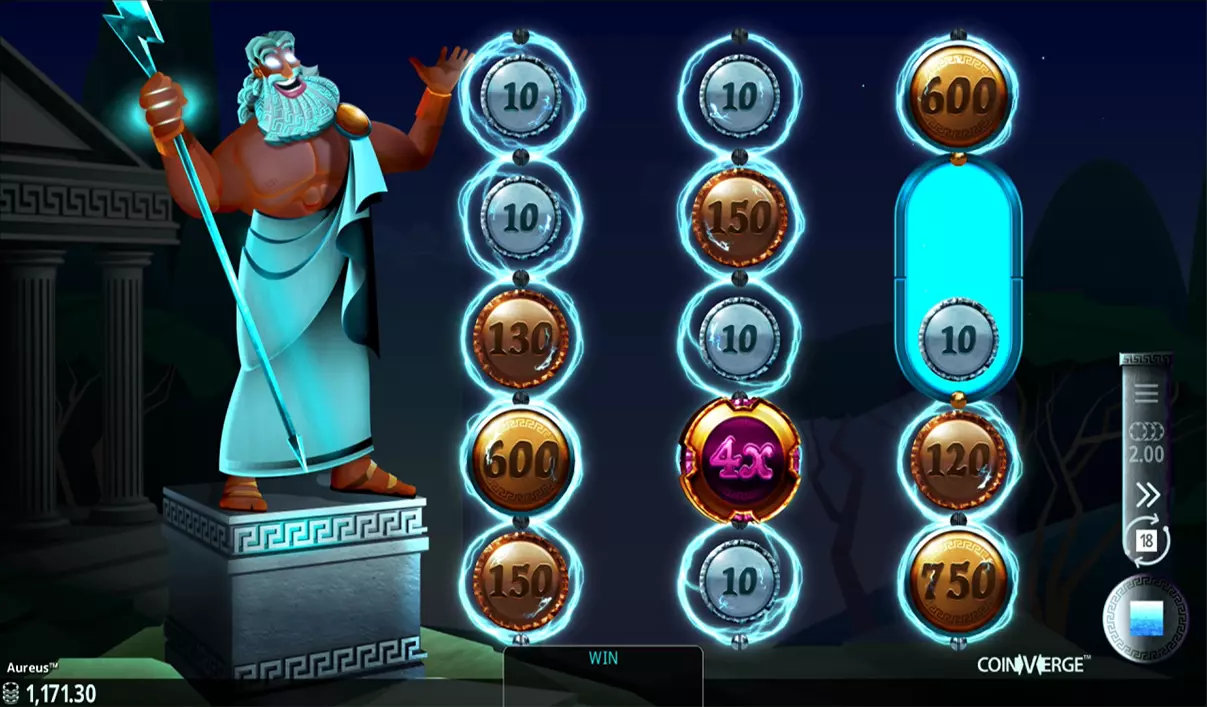 Bonus Games
In addition to the special features that can be triggered thanks to the multiplier, respin, upgrade, and collect symbols, there is another bonus function that can turn any losing round into a winning spin. At any random spin when there is a closing bracket on a column, the Lightning Feature may be triggered. When this happens, Jupiter will throw a lightning bolt which will create a matching opening column on the same row as the closing bracket. If there are any special symbols within the brackets, their features will also be triggered.
Another fun feature of the game will allow you to keep track of various achievements. As you collect various special coins and trigger the bonus features of Aureus™, your achievement will be saved on the Achievement board of the slot.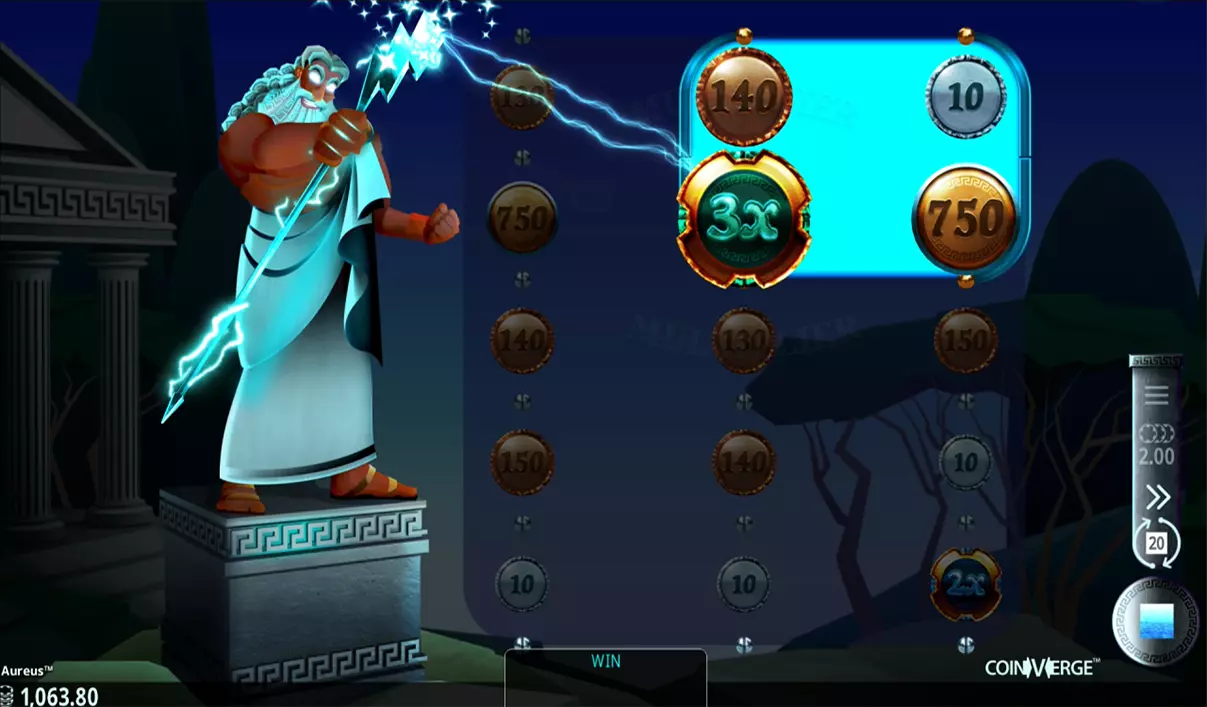 Pros & Cons of Aureus™
✅ What We Like about Aureus™
The medium volatility of the game can lead to decent somewhat regular payouts
The slot includes various bonus features that can unlock bigger prizes
Lightning Feature can turn random losing rounds into winning spins
❌ What We Dislike about Aureus™
It takes time to get used to the different way of landing a win
Completing achievements does not affect the gameplay in any way
Brackets of different sizes cannot be matched
Aureus™ FAQs
What is the RTP of Aureus™?
Aureus™ is a video slot by CTS, which has an RTP of 96%. While there are titles by the provider that offer a higher potential long-term return, this rate stands exactly at the market average for slots, making it a fun game that you may want to try.
What is the Volatility of Aureus™?
The volatility level of Aureus™ is medium, making it a great option for both recreational players and some high-rollers. Playing with medium volatility would often guarantee rather decent payouts quite often. However, if you are looking for major wins, you might enjoy high–volatility slots more.
Can Players Trigger Several Special Features?
Yes. The great thing about the collection areas between matching brackets is that they can contain several special symbols, combining all of the features together. What is more, a symbol like the Column Collect or All Collect may affect special symbols outside the collection area and unlock their special powers as well.
Related Games