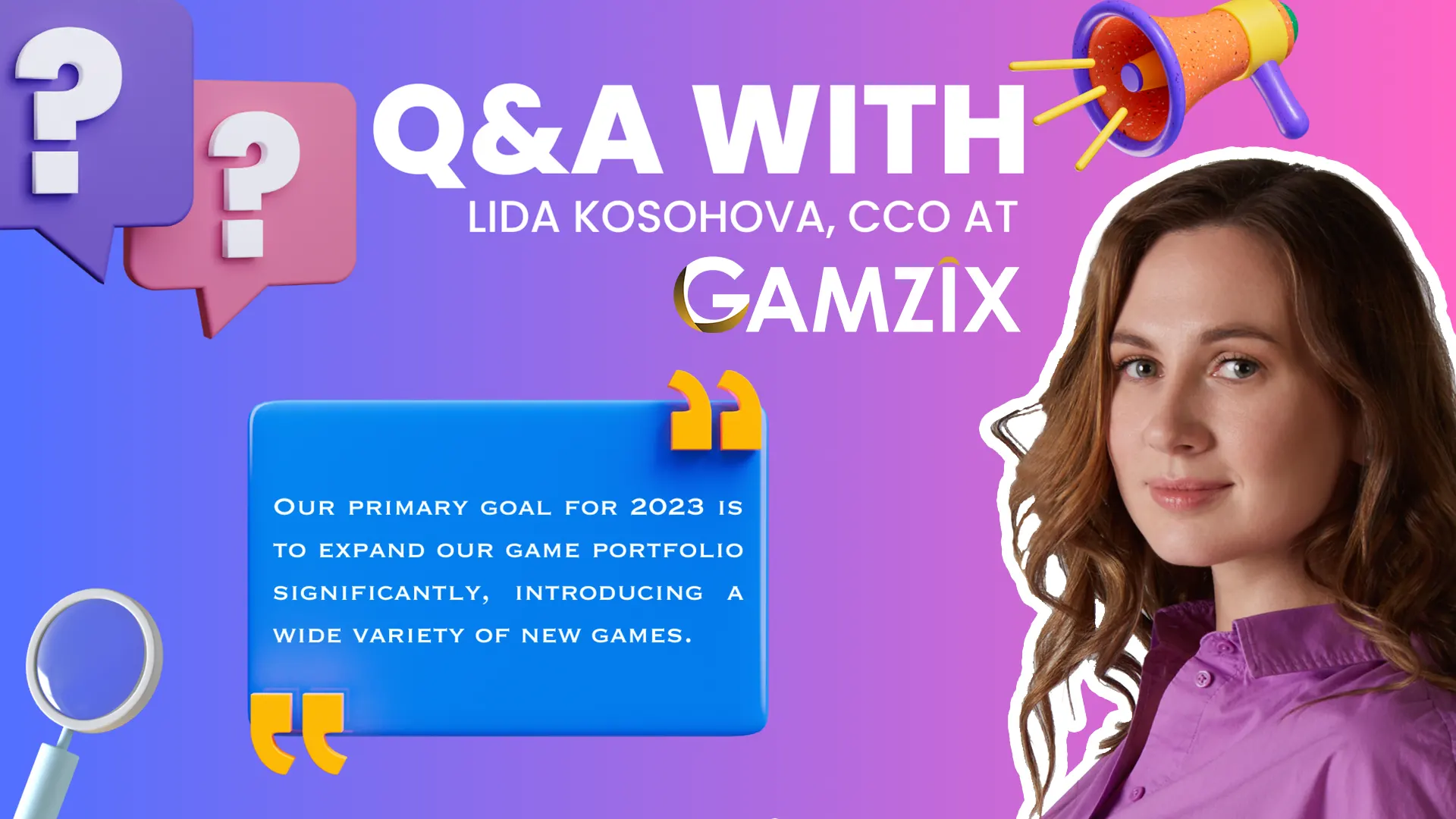 1. Hi Lida, please tell us a bit about yourself. What made you dive into the iGaming world?
Hello! My name is Lida Kosohova, and I am Chief Commercial Officer at Gamzix. I'm responsible for the company's development within the framework of existing contracts, market analytics (competitors, products, emerging markets), and search for new clients. Also, my responsibilities include working with Account Managers and Sales Managers' teams.

I've been involved in sales since the beginning of my professional path, and this was always my favorite part. That is why my career in Gamzix looks very natural to me.
2. Although Gamzix is among the new entrants in the online gaming scene, the gaming studio already has several prestigious awards. In your opinion, what makes Gamzix and the games the company produces stand out from the crowd?
I believe that a company cannot thrive without individuals who not only possess exceptional expertise in their respective fields, but also align with the values and principles of the brand. Consequently, the progress and accomplishments of Gamzix are a direct result of the dedication and contributions of our team.

Moreover, the significance of a company's flexibility cannot be overstated. The world, including the industry, is experiencing swift changes. However, rather than complaining about the circumstances, we are embracing the transformations. Our capacity to embrace and respond promptly to every new challenge sets Gamzix apart.

We are young and amazing, following trends and answering challenges, always staying together behind our values. This makes us a unique, strong and professional team which, step by step, conquers the industry.
3. Is it challenging for you to understand what games should become crowd-pleasers, do you find it difficult to gain insight for new themes, bonus features, or game set-ups?
A lot of things look challenging at the beginning, but become tasks, when we start to work on them. To understand the needs and desires of our players, firstly, we are doing marketing research. Also, looking back on the current portfolio to see what topics and set of features they like the most. Then, based on all this work, we meet with a team to discuss all the details. The stage "from the research to the idea" is the most important for us, as it sets the rules for the next steps.

I can confidently say that our players love 3×3 fruit slots with Gamzix's special Hold the Spin mechanic. That is why you can see a lot of those in the portfolio: thematic, different designs, with a mix of features. Every slots fan will find something that matches his/her desires at the moment. But, of course, we are standing for diversity, that is why trying to fulfill the portfolio with different games: from old-school fruit-slots to thematic reskins.
4. Up to this date, Gamzix has only rolled out slots and instant-win crash games, what are your plans for the future? Has the game-making studio set its sight on other players' favorite game genres?
Gamzix has a diverse portfolio of 55 games that boast a variety of in-game features, such as Bonus Game, Hot Bet and Super Hot Bet, Buy Bonus, Gamble Game, Expanded and Sticky Wilds, and more. It contains not only slot games! For example, GOGO Spinner with non-typical slot mechanics. GoGo Spinner is a multiplayer game in which you need to place bets on sectors.

In 2022, we started to enlarge our portfolio with Crash games, and Pilot became the first of them. Then we added 2 relevant reskins.

This year we want to, and we will make more crash games and games both with already known 'Hold the Spin' and new mechanics. This is one of our biggest goals — to become more diverse to provide a more exciting gaming experience for players. And this is where our focus is.
5. Are there any special features players are mainly interested in and want to see in the games Gamzix presents? Can you tell us more about the jackpot prizes that are awarded in some of the games?
One of Gamzix's most popular features is 'Hold the Spin' — a unique mechanic that serves as the main attraction in most of our games. It is a bonus feature that offers respins and payouts for bonus symbols, with multipliers that can reach up to x1000. In each game 'Hold the Spin' could perform in different ways.

We like to mix mechanics and make our slots more interesting and exciting for players. For instance, the Bonus Game can usually be triggered by a combination of special symbols, resulting in opportunities for Big Wins and Jackpots. Meanwhile, the Buy Bonus feature offers players the chance to achieve results immediately. Free Spins and Buy Free-Spins features add opportunities into the game and give players more chances to win.

Also, most of the Gamzix games have Jackpots. Depending on the bet level, there are 4 types of Gamzix Jackpots: Mega, Major, Minor and Mini. Moreover, Gamzix offers jackpots separately for one casino, one platform or a network jackpot for all platforms and casinos.
6. Do you have a game that is your current favorite, can you recommend a few titles to players interested in your games?
I'd like to start with "Sunny Coin 2: Hold the Spin" which is the second part of Gamzix's most popular slot. It is dedicated to the history of Ancient Egypt, but this time it is filled with new characteristics, design and music accompaniment. Special symbols like Scatters, Mystery Coins add more possibilities to create their own unforgettable plot, like open access to Bonus Game. Here is a chance to Win 1 of 3 Jackpots: Bronze, Silver and Gold. While a Platinum one becomes the most desired result of the game.

"Ruby Win: Hold the Spin" is a 3×3 type of slot with 5 fixed paylines. The game has marvelous design: shiny, precious stones dazzle with their deep shades and brilliance. Ruby Win slot includes regular and extra symbols, Bonus Game, Gamble Game and 4 Jackpots: Mini, Minor, Major and Grand.

And, last but not least — Pilot. Our first Crash game with enjoyable sounds with imitation of plane take off fulfill every round of the game. There are adjustable RTP and Max Win, configurable max bet and RTP – 96.5%. Also, ability to change skins for individual casinos, fair play and support for 22 localizations.
7. Since Gamzix is offering its gaming products in multiple markets, do you find it challenging to access some particular markets? Does the company introduce some changes to its products so they can fit requirements in particular countries?
Of course, every market has its own specific regulations. But this is pretty understandable, so we are not perceiving it as a difficulty. Just another question that has to be solved. For example, the market of Africa needs light games which can be played with an unstable internet connection.

But also, plot, design, set of features: every region has these unspoken rules, which we can only investigate. And this is the way to create a game which becomes popular or gets enough interest from players. Only research gives the right ideas and set direction.
8. Gamzix's gaming portfolio boasts titles with different themes. Where does your creative team draw inspiration from when a new game project is set to be launched?
People are the main power of Gamzix. We know what we are working for and really enjoy not only the result, but the whole process. I think this is the "secret" of successful releases. A lot of inspiration we are catching at exhibitions and networking events, where concentration of new experience lets us think bigger.

And I have to mention that every team-member is a part of creating an idea for a new release. We want to hear from everyone, who is involved, even in non-creative tasks. This helps us to see things from very different perspectives. Super refreshing!
9. You have a few provably fair instant-win games in your portfolio such as Pilot, Pilot Coin, and Pilot Cup. Do you believe such titles are the future of the iGaming industry and do you consider releasing more games of this type?
Pilot is the first Crash game in Gamzix's portfolio with its thematic reskins Pilot Coin and Pilot Cup. It is from 30% to almost 350% lighter than competitors have. This is a part where we add diversity in our portfolio, by creating different types of games. Also, I cannot but mention that crash games are becoming very popular in Latin America. We have huge plans for Pilot's advertising campaign. And now we are improving Pilot from all the possible sides to present it on SIGMA America in São Paulo this summer.
10. Can you give us a sneak peek of any exciting projects Gamzix is planning on releasing in the near future. What can players expect in the upcoming months from Gamzix?
Our primary goal for 2023 is to expand our game portfolio significantly, introducing a wide variety of new games. However, our goal is not limited to just generating impressive statistics, but also to enhance the quality of our slots, mechanics, design, and plot lines.

With regard to marketing, our plan is to raise brand awareness among players, partners, and the global community. To accomplish this, we intend to make both online and offline promotion – to participate in major industry exhibitions such as SiGMA, IGB, SBC, G2E and concentrate on work with affiliates. Can't wait to see the result of this journey.