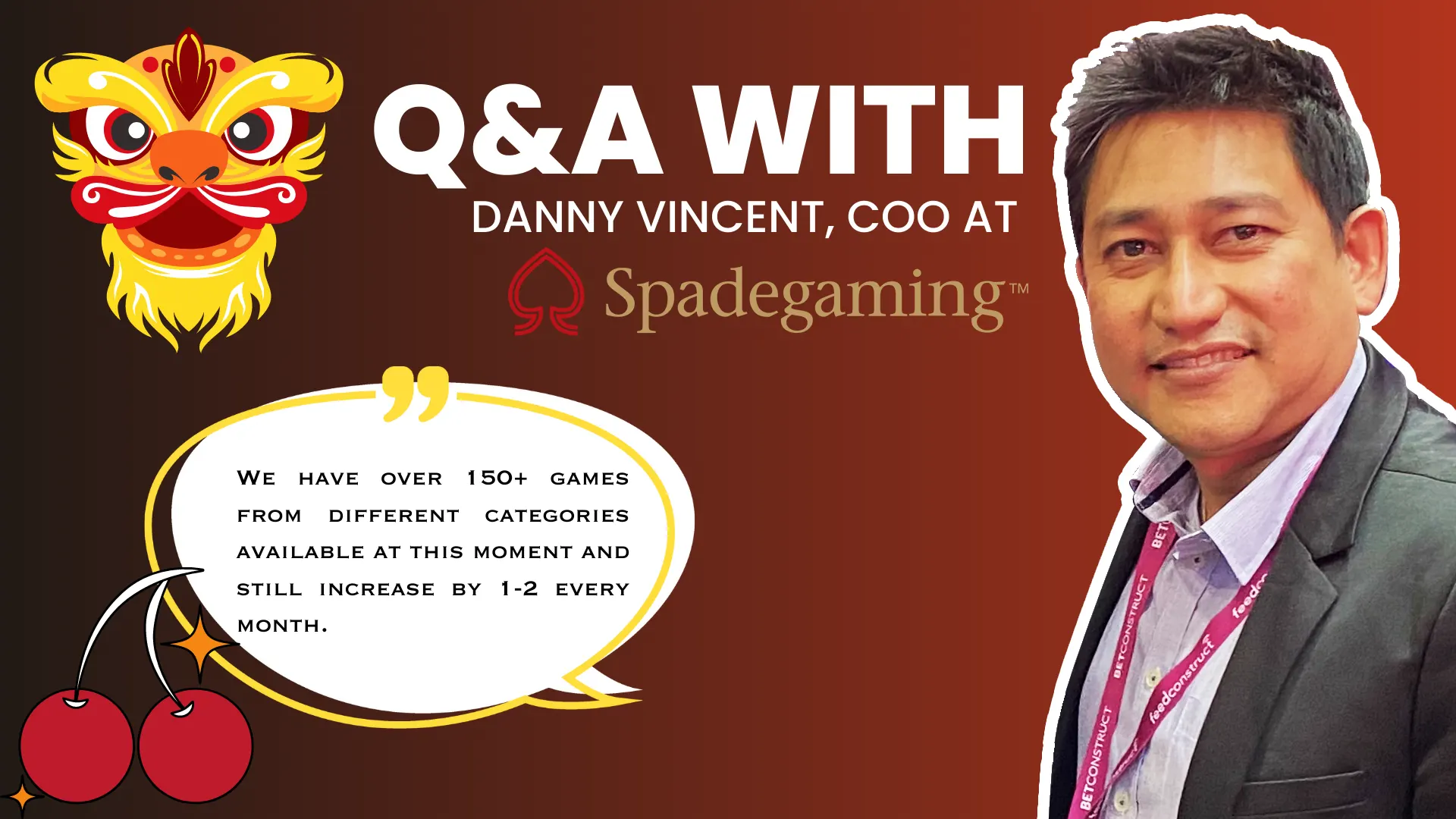 1. Hi Danny, please tell us a bit about yourself. What made you dive into the iGaming world?
I'm Danny Vincent, Chief Operating Officer (COO) at Spadegaming. I have been with the brand for many years and I am still passionate about the iGaming industry growth which has limitless potential.
2. Can you tell us in which countries players can enjoy the games in Spadegaming's portfolio? Do you plan on expanding your reach by entering new markets?
Players across Asia and Europe countries such as China, Thailand, Vietnam, Indonesia, Korea, Japan, Russia, Turkey, Spain, France. We look forward to expanding our reach to newer markets like the LATAM region and more.

3. What do you think makes Spadegaming's casino games unique and worth playing?
Fantastic graphics, unique features and authentic RTP.
4. You have launched a few unusual gaming titles like Alien Hunter, Fishing God, and Fishing War. Do you believe these shooting games are well received, and do you plan to add more similar games to your gaming library?
Yes, these shooting games are fantastically well received as per good response from business partners and players. We are currently in the progress of creating a new shooting game and expected to release in Q4 of 2023.
5. How many games does the provider have to its name to this date? Do you have a set schedule for releasing new and intriguing games?
We have over 150+ games from different categories available at this moment and still increase by 1-2 every month.
6. Which slot features matter most to players? Do they believe that the theme is the most important thing about the games, or do they tend to pay more attention to the special features?
The preferences of players can vary significantly when it comes to slot features. While some players prioritize the theme and aesthetics of the game, others may pay more attention to the special features and gameplay mechanics. Ultimately, a successful slot game often strikes a balance between an appealing theme and captivating special features, catering to a diverse range of player preferences.
7. We noticed that Spadegaming's game suite contains slots with various themes other than Asian. How does your team come up with new ideas?
To come up with new ideas, the company has fostered a culture of continuous improvement and experimentation by encouraging employees to come up with new ideas and demonstrate their skills and creativity.
8. In 2021, Spadegaming inked a license agreement with Big Time Gaming to use their innovative and highly successful Megaways mechanic? Are there slots in which the technology is already integrated?
Spadegaming is applying Megaways by Big Time Gaming into its upcoming product which is expected to release soon.
9. Do you have any favorite games in your portfolio, and can you recommend players a few must-play slots by Spadegaming?
My favourite game is Hammer of Thunder which has been newly released featuring accumulative Bonus Multipliers, Sticky WILD and Respin. Another most-liked game in the market would be Legacy of Kong Maxways, which comes with stunning graphics and features like cascading and Transforming Gold to WILD. For classic-slot lover, Fiery Sevens Exclusive is my recommendation.
10. What were the biggest challenges the company faced during the past few years? Why do you think the provider is still an industry-leader?
The gaming industry has undergone significant changes in recent years, driven by advancements in technology including AI and shifting consumer preferences. Being one of the lead of iGaming industry, several distinctive elements such as quality game content, player-centric approaches and industry collaborations have continuously win fame and success to Spadegaming over the years.
11. Can you share with us any future plans for the development of Spadegaming and what we can expect in the upcoming months?
We are expanding our reach to newer market like the LATAM region. We expect to launch our new slot game "Gemstone Rush" featuring Special Multiplier up to x128 and multiple marvellous projects are coming up next. Stay tuned on that!