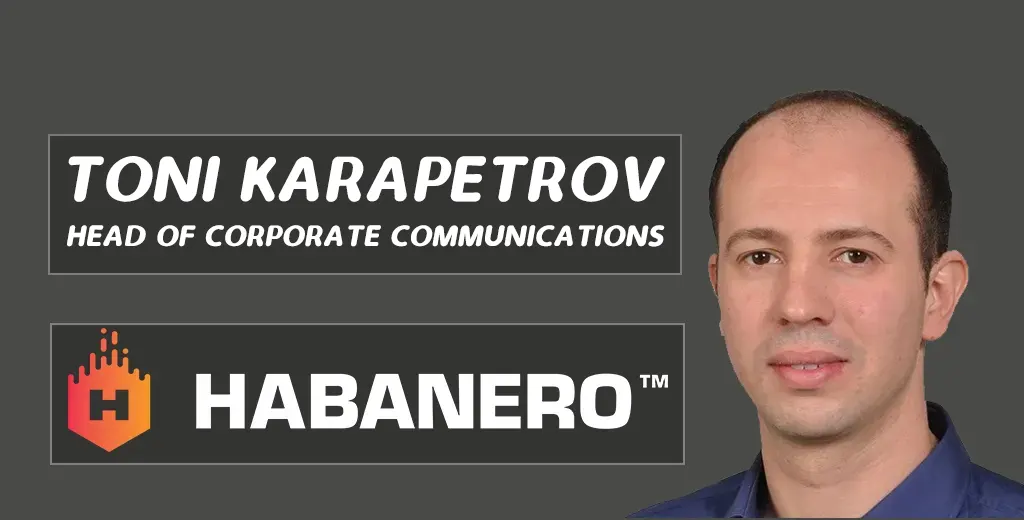 1. Hello, Toni. Would you like to introduce yourself to our audience and share a little information about your position at Habanero?
Hello, my name is Toni Karapetrov, and I'm Head of Corporate Communications at Habanero.
2. What inspired you to enter the iGaming industry and become a member of Habanero?
As an industry expert approaching a decade's worth of experience in iGaming, I feel very much at home with the landscape. When I joined Habanero, I was met with a group of driven individuals that shared Habanero's vision of developing high-quality slots, and this has in turn, shaped how the company manages to develop the fascinating games that make us so well-loved by players across the globe.
3. When you come up with ideas about new games, do you focus primarily on creating titles with new themes and design or do you also consider what new features can appeal to players?
For us at Habanero, it's all about the mathematics behind the slots, which is one of the main things that impressed me when I was looking to make my move to Habanero. I was so inspired to join the team due to its ability to deliver fantastic gameplay with such incredible variety in payouts, and an impressive foundation that the company had developed to deliver highly popular and innovative games.
4. Habanero's portfolio includes diverse genres like slots, table games, and video poker. Do you find the process of creating each type of product extremely different or do all games share some similarities in their creation?
Collecting and analysing data to craft game concepts and story characters is essential at is gives us a true picture of what our player base is looking for. I also believe that it's essential for game developers to take a customer-first approach when thinking about game design, characterisation, features and gameplay. If you consider what the user needs, then you can guarantee a better success rate with your target demographic. After all, it's all about putting players first.
5. Where does your game creative team get their inspiration from when they come up with new themes for Habanero games?
Again, a customer-first approach when thinking about game design, characterisation, features and gameplay.
6. What is your favorite aspect about working at Habanero?
We do our best to offer fantastic products, solutions, and business intelligence in terms of their reliability and scalability, which serves as testament to the standards that we set for ourselves.
We're driven to the point of obsession in terms of offering the best player experience, with our games combining vibrant colours and immersive sounds to create an unparalleled user journey. Our thematic effects are often localized to celebrate some of our favorite regions in the world – and they've proven popular the world over. After all, robust games perform well regardless of where you play them.
7. What do you think sets Habanero apart from rival software companies?
In my view, what truly separates us is our world-class mathematics and fine-tuned mechanics, once you get these right, you're halfway there to delivering a really fantastic game. With every one of our titles, we want to ensure that players are satisfied with a product that optimises their playing experience.
With a Habanero game, you can be confident that you're getting a truly action-packed title that delivers immersive features that are enhanced by amazing audio-visuals. Our slots offer the full-package and we've certainly found a winning recipe when it comes to guaranteeing a successful launch.
8. Does Habanero plan to expand its product range to other verticals like live casino games, for example?
As far as we're concerned, we're clear that our focus needs to be on delivering immersive games with great maths and fantastic gameplay, and at this point in time, nothing will distract us from doing that.
9. What about conquering new regulated markets? Do you guys have any plans for expanding to new countries?
As of now, there isn't a specific market that stands out, however we do have some exciting plans and ideas in mind. As a supplier with global ambitions, expanding in key markets and growing across continents is certainly something we take seriously.
Like everyone else, we've considered the North American markets with the US and Canada showing a lot of promise. But we're also trying not to neglect what South America can offer, with Colombia and Argentina reporting tremendous financial growth, and we've been hugely popular there since launching on the continent a couple of years ago.
10. Thank you for taking the time to talk to us. To wrap things up, what do you think the future holds for Habanero?
Great things take time! I don't think many realise that when they load up a slot, it's the result of many, many months of meticulous planning, designing, and testing that have already gone into a product before it even reaches their screen. For developers, ensuring that both the back end of a slot product as well as its front facing features are of a high standard is what tends to determine the success of any game.
Getting to the Goldilocks zone takes a considerable amount of time and resources, and as no two slot products are the same, neither are their design processes. We focus on quality over quantity at Habanero, and by releasing one well thought-out slot a month, we can guarantee the quality of a given release. A slot can only be truly successful if it has the right amount of attention given to it, as well as the strong mathematics and immersive gameplay to match.