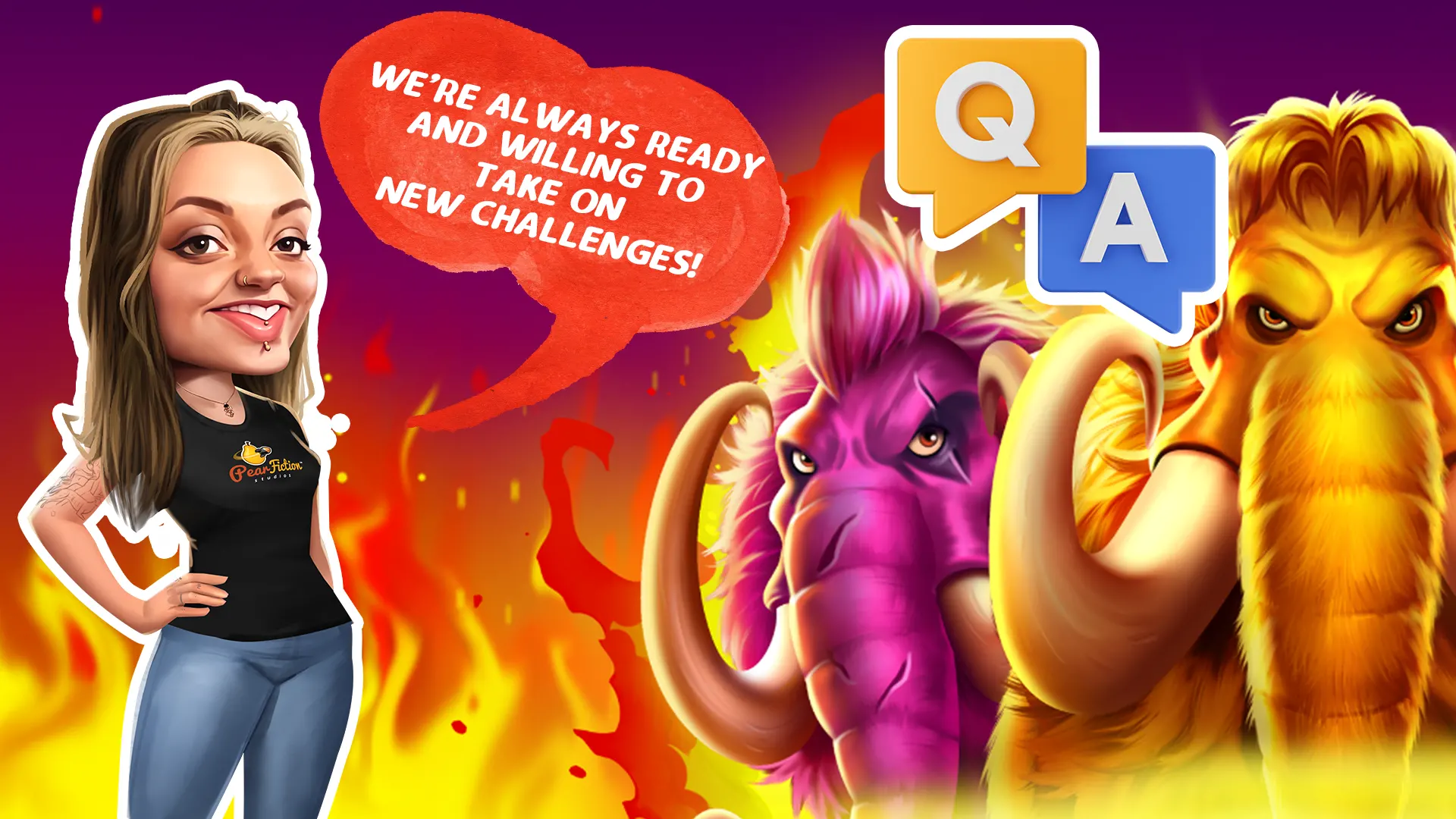 PearFiction is a highly creative iGaming company, which boasts a portfolio of innovative gaming solutions, many of which have been produced in partnership with the iGaming juggernaut Microgaming. The latest addition to PearFiction's gaming library is Blazing Mammoth XL ™ SwiftHits, which incorporates some unique features many slot fans would appreciate.
Today, we would like to speak with Sarah Cottam, Senior Game Owner at PearFiction, and ask her about the new game and the exciting new titles that fans of PearFiction could anticipate playing real soon.
1. Hello, Sarah! First of all, would you like to tell us how you joined PearFiction and your role in the company?
It started when a couple of years ago, I was working for a very well-renowned casino operator, tasked with the role of, selecting games for the online casino. I came across some games from Pearfiction Studios and immediately fell in love with the games within the Pear portfolio. When the time presented itself further along in my life, I took a chance and reached out to Thierry and explained how much I loved the games and how I would most certainly like to be a part of the studio… and viola! Here I am as a Senior Game Owner at the studio and living the dream.
2. What do you think about the joint work between PearFiction and Games Global and the content that has been created for the Games Global network?
The content within the Games Global Network is incredible, each studio offers such a unique experience and you really get to see everyone's own styles shine through. The mechanics are unique and memorable as well as offering some of the best artwork in the business. We really love continuously working with our fellow studios and have made some lifelong friends within the Games Global space.

We at PearFiction have been able to expand our commercial footprint and really push ourselves to be the best we can be with the support of Games Global behind us.
3. We saw that the latest addition to PearFiction's portfolio is Blazing Mammoth XL™ SwiftHits. Can you tell us what makes this slot different from the original Blazing Mammoth game you have previously created?
We wanted to bring some more Mammoths to the family, so we've added two new ones!

The Pink Split Mammoth SwiftHit adds up to 3 extra symbols to the reel it lands on, this offers more ways and bigger wins! Then we have the Red Respin Mammoth SwiftHit, when it lands, any valid payout occurs and then the selected reel will respin, bringing in different symbols and maybe even some more SwiftHits to bring us up that Jackpot ladder!

We've also added in an accumulative multiplier within Free Spins that works hand in hand with our new Wild multiplier mechanic. Land a Wild within a win, the Wild will then spin to reveal a multiplier value, this is then added to the cumulative multiplier and for each spin that includes a win, that multiplier value is added to the total win for that spin.

I really believe we've brought something different that really compliments the original Blazing Mammoth. We wanted players to be able to experience everything they loved from the first game while bringing something new and exciting to the plate. I really hope players enjoy this one.
4. What is the SwiftHits feature and what are other titles by PearFiction that include the same feature?
When three or more SwiftHit symbols land on the reel set, an instant jackpot is won. The Jackpot Ladder goes all the way up to 12 SwiftHit Symbols, giving the chance to win up to 5000x.

I would always try the original Blazing Mammoth, this would help ease players into the SwiftHits mechanic while being able to then appreciate the steps we've made to add exciting new things for Blazing Mammoth XL.

Then travel to the depths of the sea with 15 Tridents, which plays with the SwiftHits mechanic on two separate reel sets! It really brings something different to the table while featuring bright and beautiful colours that I think would please anyone to look at.
5. Can you suggest any other PearFiction slots that have a similar bonus feature or other fun special functions that players might enjoy?
Granny vs Zombies has a free spins feature with an accumulative multiplier that is won by killing zombies! It's fun and definitely a feature that isn't easily forgotten about. Treasures of Kilauea also has a really fun feature of offering potential Wilds every 10 spins, and then every 50 spins brings even more wilds and multipliers to the game!

They're both really fun additions to the portfolio of games we have and each one offers a very unique experience.
6. Do you have any personal favourites among the various games created by PearFiction?
For me, Chicago Gold will forever be a classic. It has beautiful art and is packed full of features that are complimented by incredible animations. This is exactly what I look for in a slot, you can really see the amount of effort gone into that game.

For the storytelling, Blazing Piranhas and Granny vs Zombies both have the ability to take the player on a journey that brings a lot of laughs and enjoyment. From disco Zombies to flesh-eating Piranhas, I think the two games are difficult to forget! As well as having a brand new Lockn'Win that builds on the original from Squealin' Riches.
7. Does the studio plan on exploring the opportunity of launching any other gaming products such as live gaming shows or live-dealer table games?
The studio is always looking for new ways to explore what we can do, we are always pushing ourselves and our ideas to the limit. There's a whole world out there, and the live-dealer space is a big part of it. It's something we have spoken about and maybe PearFiction will find a place there one day, who knows? We're always ready and willing to take on new challenges!
8. Can you share with us any exclusive information about any future plans of PearFiction and the company's development goals?
I can share that we have some different animal friends joining our portfolio and they are bringing their seasoned dancing shoes with them as well as those wonderful SwiftHit mechanics. Chicken Night Fever will be bringing the party everyone has been waiting for and with it being an end-of-year release, we're really hoping we can go out with a festive and celebratory bang!