Hollywood is a big business worth billions of dollars, especially over the past two or three decades, when film budgets have skyrocketed to unfathomable heights. Although the process of creating a movie includes top-paid script writers, directors, and actors, the quality of the picture is not guaranteed, and neither is the financial outcome. Still, some undeniably bad movies have turned out to be box-office successes.
Interestingly enough, there are dozens of award-winning films, as well as actors and actresses, that were regarded as "bad", "dull" or "trashy". A good example of that is the simultaneous nominations for an Oscar and a Razzie – the former awarding the best in cinema, with the latter "honoring" the worst cinematic failures. And while some of the best productions were just previewed and awarded at the prestigious Cannes Film Festival, our team at SlotsMove decided to look at some of the films that were panned by critics yet ended up making millions at the box office.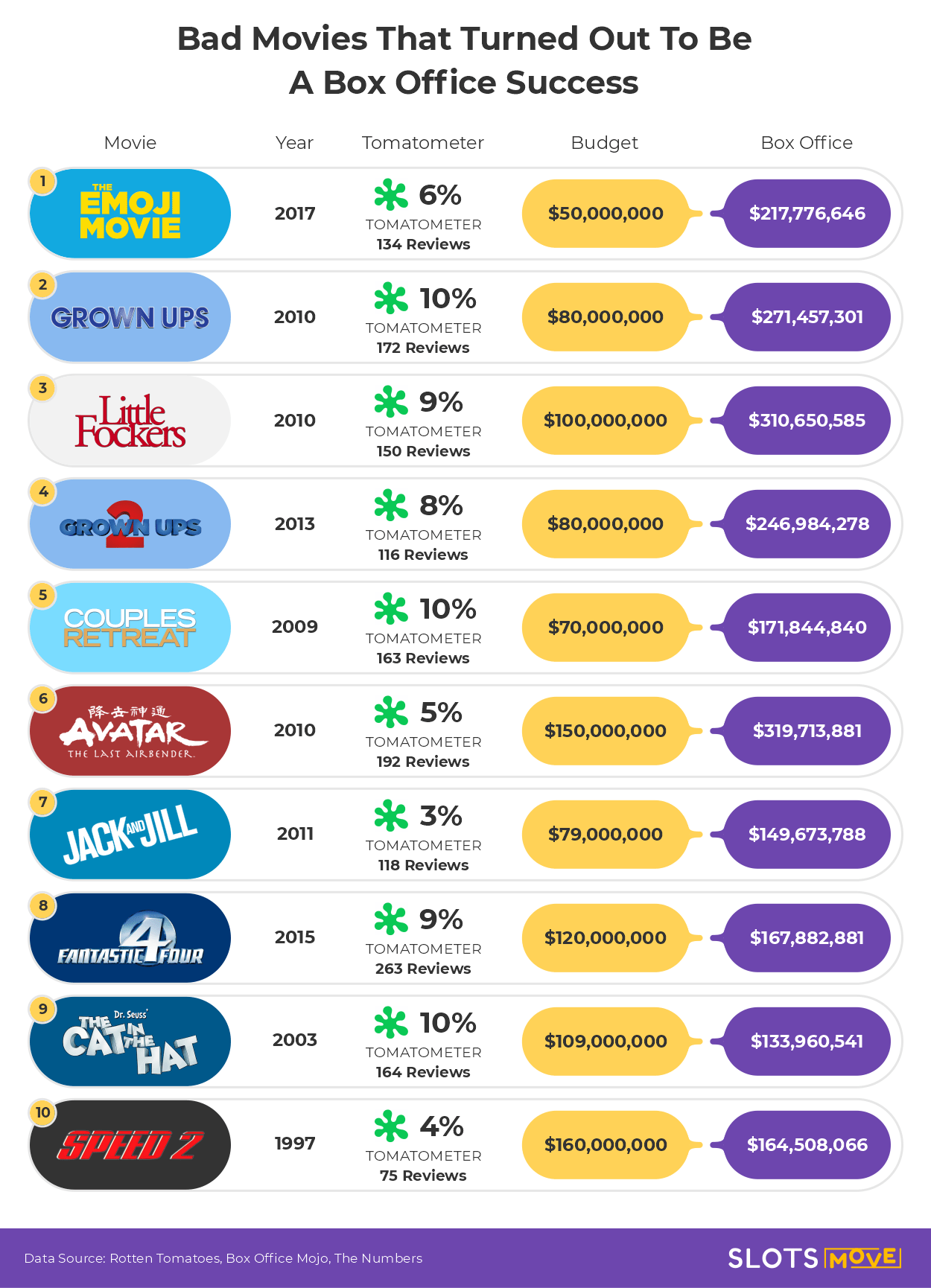 Methodology
Audiences decide whether a film is good or bad, but regular moviegoers often remain blissfully ignorant of the quality of the acting and the dialogue, the consistency of the plot or of the editing. This is where film critics come in, dissecting and judging every aspect of the movie – professionally and, most of the time, impartially. So in order to select truly "bad" films, the team at SlotsMove looked at those productions that received a 10% approval rating or lower from the Rotten Tomatoes critics.

The review-aggregation website has a rating scale known as the Tomatometer, which measures the quality of the film in percentages – or more precisely, its approval rate from professional critics. The percentage simply represents the ratio of reviews that are positive, so films way above a 50% rating are considered good, while those on the lower end of the Tomatometer are universally known as bad. Productions below the 10% mark are typically disliked by both critics and audiences.

This does not mean that they always flop, however. We also examined the worldwide box office revenues tracked and published by Box Office Mojo in order to see how these films performed in theaters. In addition, film budget figures were sourced both from the revenue tracking platform and the film industry data website The Numbers. We did not include movies that were released as "direct-to-video" films or received a limited theatrical release, and we selected only films with at least 20 reviews and were more significant releases with wider impact.
What Does Box Office Success Really Mean?
Box office revenue from ticket sales is only one of the many sources of revenue for film productions. Still, it is extremely important as it shows whether audiences like the movie or not. Of course, many movies were not meant for theaters – TV movies, digitally released films or independent productions, which cannot afford the distribution and advertising costs.
Typically, box office hits are those movies that bring in hundreds of millions of dollars from ticket sales. As of May 2023, there are 52 films that grossed more than $1 billion and 6 movies with a worldwide box office revenue of $2 billion or more. Clearly, those are true blockbusters, but what about the hundreds of others that brought in millions to their creators?
One could argue that the films with the largest profit are the most successful. According to The Numbers, Avatar (2009) had a record-high profit of $1.552 billion, followed by Avengers: Endgame (2019) with $1.03 billion, and Star Wars Ep. VII: The Force Awakens (2015) with an estimated profit of $841.8 million. But the larger the production, the larger the costs – including production cost, cast and crew salaries, marketing and promotion, story rights, and film score.
Big Hollywood Productions Hated by the Critics
There are many blockbusters that received low ratings and bad reviews from critics; some even getting Oscar nominations while also being nominated for the Golden Raspberries. Wall Street is the only film to win both an Oscar and a Razzie, with Michael Douglas receiving an Academy Award for Best Actor in 1987, while Daryl Hannah won a Razzie for Worst Supporting Actress.
John Carter, Tomorrowland, King Arthur: Legend of the Sword, Green Lantern, and Waterworld are just some of the films that flopped spectacularly at the box office. The reviews were bad to moderate, although later, some of these films built a cult following, namely Waterworld and John Carter. Compared to them, there are productions with enduring notoriety and much lower reviews.
The The Emoji Movie is a great example, as is M. Night Shyamalan's The Last Airbender. Sony's widely advertised animated comedy The Emoji Movie had a massive budget of $50 million, but once it was released, it became clear how absurd a film about the life of emojis really is. It was a critical flop, earning only 6% on Rotten Tomatoes, but at the same time, it made $217.8 million at the box office. This is four times its budget, which suggests that this is the biggest earner among the big Hollywood productions with bad reviews.
Fantasy film The Last Airbender was released in 2010 and was widely rejected for its bad directing, poor acting, lack of respect of the source material, and even racism. It remains the worst-rated film by Shyamalan and by Nickelodeon Movies, and it won 5 Razzies out of its 9 nominations. It has a 5% approval rate on Rotten Tomatoes, while its budget was massive – $150 million. It managed to earn only $319.7 million, however.
Some movies such as Adam Sandler's comedy Grown Ups and its sequel Grown Ups 2, were not particularly ambitious and not made for the critics. Although the two films have scores of 10% and 8% respectively, they were received well by audiences, earning $271.5 million and $247 million at the box office. This is 3 times their $80-million budgets.
Another box office success is Couples Retreat, a 2009 romantic comedy starring Vince Vaughn, Jason Bateman, Kristen Bell, and Jean Reno, among others. The film received largely unfavorable reviews but earned $171.8 million on a budget of $70 million.
Based on Marvel Comics' superhero team of the same name, 2015's Fantastic Four was a huge disappointment for the studio. It barely returned its massive budget of $120 million, earning $167.9 million worldwide, while reviews were mostly negative. Currently, it has an approval rating of 9% based on 263 reviews on Rotten Tomatoes, making it the lowest-rated film on the platform of all movies based on Marvel Comics.
Speed 2:Cruise Control is yet another critical and box office flop, earning only $164 million on a budget of $160 million. The sequel to the highly successful action movie starred Sandra Bullock but it seems audiences were expecting Keanu Reeves to return – he did not. The film received negative reviews and currently has only 4% on the Tomatometer. In contrast, the original film was a critical and commercial success, grossing $350.4 million worldwide on a small budget of only $30 million.
Catwoman performed even worse – the film received seven Golden Raspberry Award nominations, winning four of them. This included a Razzie for Halle Berry's performance, which brought her the Worst Actress trophy for 2014. On Rotten Tomatoes, Catwoman scored an 8% approval rating, while its box office performance was even worse. On a budget of $100 million, the film earned $82.1 million, turning it into a financial disaster.
Bad Movies That Turned Out To Be Highly Profitable
Taking all this into consideration, calculating the actual profit of a film is practically impossible without access to official documents and insider information. This is why we decided to focus on those films with box office revenues at least three times their budget and consider them "profitable".
It seems one of 2023's most poorly received films of the horror genre is the most profitable movie production. This is Winnie the Pooh: Blood and Honey, which despite its mere 3% on the Tomatometer made $4.9 million on a budget of around $100,000. According to the filmmakers, the budget was actually under $100K. After the beloved children's book Winnie the Pooh entered the public domain in January 2022, director Rhys Frake-Waterfield decided to turn the story into a slasher. It surprised everyone when it reached $4.9 million at the box office or 49 times its budget – especially considering it was screened only in selected theaters.
The sequel to the 1980s action comedy classic Crocodile Dundee also turned out to be a true box office success, bringing $239.6 million in ticket sales, which is 17 times its budget of only $14 million. Meanwhile, Crocodile Dundee II has a score of 9%, which is quite embarrassing compared to the original film's 89%.
Third in the ranking is 1990's Problem Child, for which the critics' consensus reads "mean-spirited and hopelessly short on comic invention". While the 0% score is really damning, the film was received well at theaters (at least compared to its budget), making $72.3 million on a $10 million budget. Another notable entry is Movie 43, a strange collection of stories featuring a star cast – Hugh Jackman, Kate Winslet, Elizabeth Banks, Emma Stone, Chris Pratt, Halle Berry, Richard Geere, and many others. Unfortunately, these names could not save the film from getting only 4% on Rotten Tomatoes. Still, grossing $32.4 million worldwide, it turned out to be a box office success – it had a micro budget of $6 million.
Parodies Fifty Shades of Black and Epic Movie also appear in the top 10, scoring only 4% and 2%, respectively, yet earning more than 4 times their original budget. Marlon Wayans' spoof of the hit movie Fifty Shades of Gray made $22.2 million at the box office, while Epic Movie earned $82.3 million. Sony's widely advertised animated comedy The Emoji Movie had a massive budget of $50 million, but once it was released, it became clear how absurd a film about the life of emojis really is. It was a critical flop, earning only 6% on Rotten Tomatoes, but at the same time, it made $217.8 million at the box office.
Other films that were heavily criticized but managed to earn three or more times their budgets are the Scary Movie V (4%) with Charlie Sheen and Lindsey Lohan, Dirty Grandpa (10%), which stars Robert De Niro and Zac Efron, as well as the third and final film in the Meet the Parents series, Little Fockers (9%). The comedy, starring once again De Niro, alongside Ben Stiller, Teri Polo, Blythe Danner, Owen Wilson, Dustin Hoffman, and Barbra Streisand, made $310.6 million over a $100 million budget, bringing the box office revenue for the trilogy to over $1.15 billion.